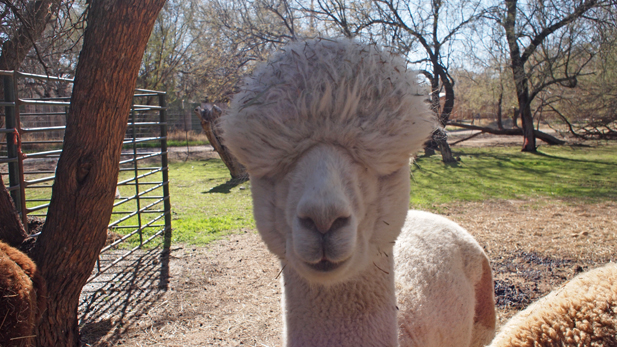 A growing number of Americans interested in raising livestock are turning to alpacas, a mild-mannered cousin of the llama prized for its dense, soft fleece.

Gisela Telis
Twelve years ago, Peter Livingston lost his deer. Disease decimated the small herd of sika deer that Livingston, an engineer, raised on his three acres in east Tucson. Only a single three-pound fawn survived.
The motherless fawn, named Lucky, made it through infancy because one of Livingston's dogs nursed him. But the dog couldn't teach Lucky to forage or eat hay. So Livingston bought an alpaca to mentor the growing fawn—and soon fell in love with the fuzzy camelid.
"Alpacas are sort of like cats: they each have distinct personalities, and they come to you when they want to," he says. "And they make this pleasing hum. It's very calming."
Twenty alpacas later, this small South American cousin of camels and llamas has become the Livingston family's way of life.
They travel to alpaca shows—in which alpacas are exhibited, judged and awarded prizes, as dogs are in dog shows—and proudly display all the prizes their alpacas have won. They've learned to trim their herds' nails and teeth, give them shots and assist in their births, process their fleece, and carefully breed them for ever-softer fleece, the holy grail for alpaca breeders.
Livingston, a child of the city who grew up six blocks from the University of Arizona, even makes his own soap, adding in the fleece for its exfoliating properties.
Livingston says one of his favorite aspects of alpaca living is the vibrant and friendly community of alpaca farmers and breeders. It's a community that's steadily growing nationwide.
--
According to the nonprofit Alpaca Registry Inc., there are about 165,000 registered alpacas in the U.S., and industry leaders estimate that as many as 100,000 more are still unlisted and uncounted.
The Alpaca Breeders of Arizona list more than 30 alpaca breeders in the state—more than half of whom are in southern Arizona—but admit they have only about half the state's breeders on the books.
The growing alpaca-raising community and increasing interest in the animals have spawned alpaca farmer collectives and a series of regional and national shows.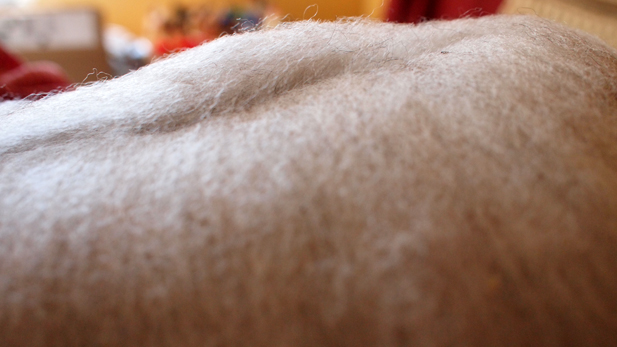 The alpaca's fleece is valued for its strength, density and softness. The highest quality fibers are spun into yarn, while lower-quality specimens are often woven into socks and rugs.

Gisela Telis
What draws would-be farmers and breeders (and what wins alpaca show prizes) is the animals' sought-after fleece—their dense, soft fiber goes for $3 an ounce.
Their gentle demeanor and efficient digestive tracts make them easy and inexpensive to keep, and the combination of ease and potential profit makes alpaca raising "a nice gentleman farmer kind of business," Livingston says.
--
The alpaca's unique qualities drew Sandi Baxter and her husband Chuck into the fold. As Chuck's career in the aircraft industry moved them from city to city, the couple always dreamed of ranching and working outdoors.
Then in 2005, Sandi came across a newspaper article about alpacas and, like Livingston, found herself smitten.
"Their faces were just so gorgeous—you just fall in love with them," she says. "We didn't even know what an alpaca was until we saw it in that article."
The Baxters began visiting alpaca farms and taking online courses on alpaca breeding and herd management. Before they knew it, they'd taken their retirement fund and spent it on a farm and three alpacas.
"Every bit of our family and friends thought we were nuts," she recalls. "It was quite a while until people saw it wasn't so crazy."
Thirteen alpacas now live on the Baxters' Marana homestead. The couple breeds the animals and processes and sells their fleece, and they've also become active in the alpaca-raising community.
"I've never met an alpaca owner I didn't like," says Sandi. "They're just really neat people."
The community has come to the Baxters' and the Livingstons' aid as they've faced their biggest challenge: valley fever. The fungal infection so common in southern Arizona is frequently deadly for alpacas.
Both Baxter and Livingston have lost animals to the illness. But neither would trade their alpaca adventure for anything.
"I think Chuck and I have gotten a lot calmer because of the alpacas—they're just very peaceful animals," Sandi says. "And there's still so much I want to learn from them."
--
The Southwest Regional Alpaca Show will take place February 18-19 at the Arizona State Fairgrounds in Phoenix. Click here for more information.