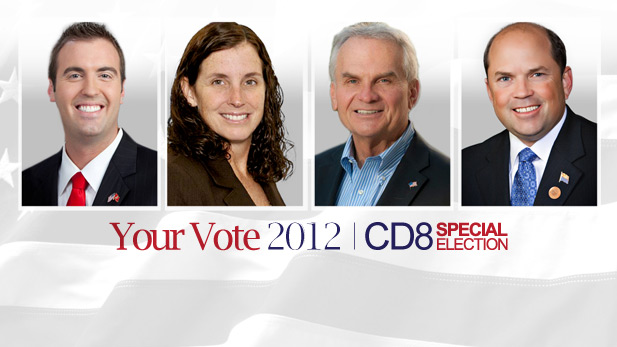 From left: Kelly, McSally, Sitton, Antenori.
The four Republicans seeking their party's nomination in the special election to fill the Congressional District 8 seat agree that the Mexican border must be secured.
The four discussed border security and a wide range of other issues in the campaign, including the economy, health care and federal spending, in a one-hour forum in Arizona Public Media's Studio A Wednesday afternoon. Watch the forum now:

Here's a small sample of what they had to say, on border security:
Frank Antenori - "The No. 1 role of government is to protect individual liberty. The federal government has failed to secure the border."
Antenori called for more fencing, sensors where fencing isn't possible and "more boots on the ground -- 3,000 to 4,000 more Border Patrol agents."
He also suggested the United States can help the Mexican government deal with what he called an "insurgency," but that so far, it has asked only for money.
Martha McSally - "Put more barriers in place and more intelligence operations. We need manpower, sonar, sensors. Operationally, we need to go after those who are trafficking weapons, slaves, drugs along our border.
"We must partner with Mexico to help it fight this war. Mexico has declared it a war," McSally said.
She said there is a "potential for instability" in Mexico because of its "ungoverned spaces," and she said the United States can help Mexico with its ungoverned spaces.
Dave Sitton - "We must secure the border. neither party has been responsible for border security."
Sitton said the United States needs a paramilitary-like operation along the border, including more Border Patrol officers. He said aircraft and more forward positions also are needed.
"If Mexico doesn't want our intercession, we can't give it," he said of the question of U.S. involvement in Mexico beyond financial aid.
Jesse Kelly - "It is the duty of the federal government to protect the American people. Fifty percent of the narcotics smuggled from Mexico come through this (congressional) district."
Kelly called for building the double fence that he said was approved in Congress a few years ago. He also called for operations along the Arizona border similar to what was done in San Diego -- "a high wall and a wide gate."
As for U.S. help in Mexico, he said, "It's not the job of the American taxpayer to send a blank check to any country."