Sergio and Rebecca Celis, Isabel's parents, days after the then 6-year-old girl that went missing. (PHOTO: Fernanda Echavarri)
A day after the family of missing Tucson 6-year-old Isabel Celis made an impassioned plea for her safe return, police continue to release few details in the case.
In a Thursday morning press briefing, Tucson Police Lt. Fabian Pacheco said the police are now going carefully through the information from more than 300 tips and 8-page "lead sheets."
"I can tell you it's a massive amount and that's what's taking a while. You have to be very thorough; you have to look at everything," Pacheco said.
He confirmed the Celises again have access to their home, and while their street has been reopened, there continues to be a police presence there.
"The home has been returned to the family. Whether or not they choose to return to their home, that's entirely up to them," Pacheco said.
In their first public appearance since Isabel was reported missing Saturday morning, parents Rebecca and Sergio Celis made a tearful statement Wednesday afternoon. Both were emotional as they read a statement first in English, then in Spanish.
Sergio's voice cracked as he asked that the person who has Isabel make their demands clear.
"Just please, please, to the person or persons who have Isabel, tell us your demands. Tell us what you want," Sergio said. "We are looking for you Isa. We love you, and we miss you so much, we will never give up."
Watch Rebecca and Sergio Celis in their first public appearance since their 6-year-old daughter was reported missing:
(VIDEO: AZPM)
The Celis family did not take questions, and afterward were embraced by people wearing matching T-shirts that said "Bring Isa Home."
Since the family's statement, Pacheco says police have seen a steady flow of tips coming in from the public.
Sergio Celis said the reward for information leading the police to find Isabel was increased from $6,000 offered earlier in the week. Tucson Police Chief Roberto Villaseñor confirmed later Wednesday that the reward is now $30,000.
FBI profilers have completed work inside the Tucson home of the missing 6-year-old, and police are switching from a search to an investigative phase, Villaseñor said Wednesday.
The chief said the case is the "highest profile case in the nation" for the National Center for Missing & Exploited Children.
Of the FBI search team, Villaseñor said, "I'm hoping they see things differently." He declined to disclose details of what the team found.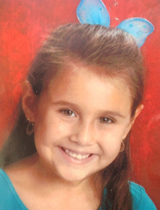 (PHOTO: courtesy of Tucson Police Department)
Police say there are significantly fewer officers working the case now than in the days following the report of Isabel's disappearance. The reduced number of investigators applies to staffing levels from Tucson Police Department and from the numerous outside agencies called to help.
"As time goes by and we have searched all the areas we can think of, we start phasing into the investigative part if we're not successful on the search part," Villaseñor said.
The chief said investigators "highly doubt" the young girl walked away from home. Her bedroom window was open and a screen was off, but he said police "have never said that was a point of entry."
Crews completed a search at the landfill where they were looking for trash collected Saturday morning from the neighborhood near East Broadway and Craycroft Road. Villaseñor said that was standard procedure and no major breaks came of the search.
More than 300 tips have been called in to 911 or 88-CRIME this week, and Villaseñor said officers are following up on every lead. He said the case is still listed as possible abduction but no suspects have been named.
"We are not ruling anybody out at this point. We're keeping a completely open mind," Villaseñor says.
Isabel Celis was last seen in her bedroom Friday night when she was put to bed and was reported missing at 8 a.m Saturday, police said.