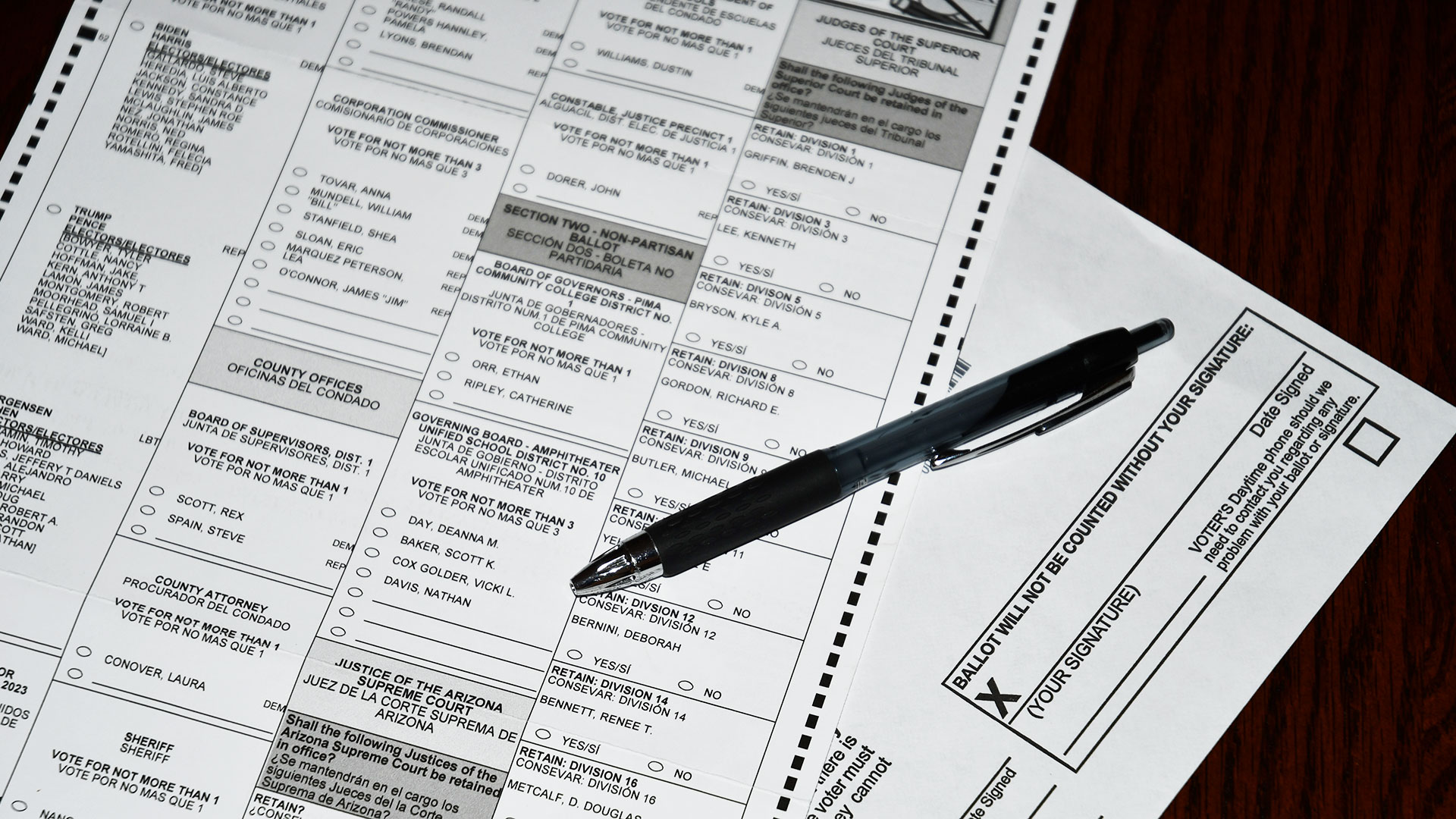 Your Vote 2020: Mail-In Ballot
CM Greer/AZPM
Many people who are in jail still have the right to vote, but few of them took advantage of it during the November 2020 election. A recent report from the Arizona Coalition to End Jail-Based Disenfranchisement looked into voter participation in Arizona's jails.
The group estimated the eligible voting population in jail in Pima County at the time of the election from population data as of mid-September 2020 at 833 with 18 actually ballots cast — that's only 2.2% participation.

Pima County Recorder Gabriella Cázares-Kelly said it's important to educate jailed voters about their rights.
"What we find very often is that people have the wrong assumptions about what their rights are and are really hesitant to participate," Cázares-Kelly said. "Oftentimes, we find that people are embarrassed to talk about their situation."
Navajo County had the most participation with 10% of eligible incarcerated voters casting a ballot, and Apache County had 9.7% participation from its estimated population at the time of the election.
The report outlines that it's these counties commitment to voter registration, voter education, access to early voting and election day voting that increased voter participation. By having a written statement outlining which charges do not affect a person right to vote, streamlining election-based mail, and developing strong communication between the sheriff and recorder's offices Apache County has the "strongest jail-based voting procedures in the state," according to the report.
Navajo County also received praise because jail employees verbally asked each individual if they were registered and wanted to request a ballot.
She said if people have one felony with one charge and have completed their sentence, they can register and vote. This means they've been to prison, fulfilled any necessary probation, fines or restitution.
If a person has two or more felonies or more than one charge on a felony, she said they need to go through rights restoration to be able to vote again, and that process can start with the Pima County Public Defender's Office.
"The idea is that if people have a felony that they're no longer worthy of participating in our democracy — that's not true," Cázares-Kelly said. She said she thinks this is "because a lot of people are in flux. They're in limbo. They aren't sure what charges are going to stick and maybe are not as familiar with the legal system where being charged versus being found guilty are two very different things."
Cázares-Kelly said her office used to have a "presence" in the county jails, but that it faded during the pandemic, even though the Office of the Recorder, then run by former Recorder F. Ann Rodriguez, sent out registration teams and pick up voted ballots during early voting.
She said educating people became harder throughout the pandemic, as information is passed between the Office of the Recorder, jail employees and incarcerated voters.