Southern Arizona is quickly becoming known for its advancements in the field of biosciences.
From headquartering a leading personal health medicine factory to creating the first globally approved full synthetic heart, it is making big strides towards being an integral part of the industry.
Syncardia, a Tucson-based company producing a handmade total artificial heart, is a prime example of biosciences growth in the state.
The company's Tucson compound contains all facilities necessary to create the artificial heart, from the materials to testing facilities. Syncardia's Vice President of Communications Don Isaacs says it's more than just that.
"This is the international headquarters for the world's only approved total artificial heart," Isaacs says. "This is the first total artificial heart to be approved in three large parts of the world. We really are becoming the standard of care."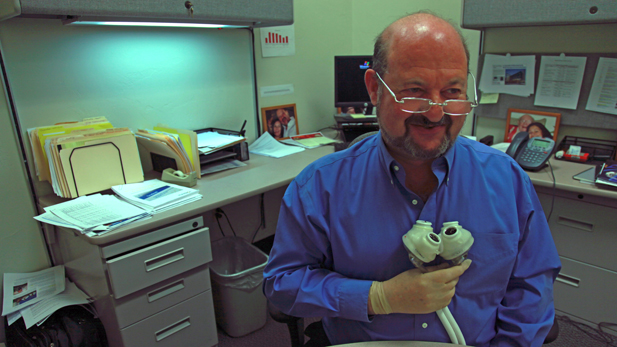 PHOTO: Nathan Mitchell
Don Isaacs of Syncardia modeling the total artificial heart.
Syncardia produces around 18 artificial hearts a month and hopes to increase production because of increased sales. Its growth reflects the expanding Southern Arizona biosciences industry.
Flinn Foundation, a non-profit grantmaking foundation that instituted Arizona's Bioscience Roadmap 10 years ago, has identified Arizona's strengths and weaknesses as a bioscience hub and along with the research institute Battelle, the foundation put the plan into action.
"Every state would say they have a bioscience initiative, and that would likely be true, but at various levels," Flinn spokesman Brad Halverson says. "Very few have a strategic plan that they follow like Arizona does."
Halverson says it's paying off. Between 2002 and 2010, the number of bioscience establishments grew 27 percent in the state. The industry sustained growth during the recession and boasts average salaries of $55,000. In that same time, the number of National Institutes of Health grant dollars coming into Arizona grew too. Halverson says these grants are the gold standard for funding.
"Arizona is growing more quickly in terms of getting NIH grants," he says. "Faster than the top 10 states are."
Locally, The Bioscience Leadership Council of Southern Arizona took responsibility for putting the plan into action.
Leslie Tolbert, vice president of research at the University of Arizona, says that while it's nice that Arizona is becoming more competitive the main goal isn't to ellipse leading states.
"Our goal is to be a thriving, entrepreneurial, high-tech kind of place," says Tolbert, whose background is in neuroscience and cell biology. "But we don't want to be Boston, we don't want to be San Diego, we just want to grow."
She says one of the reason's Arizona is growing so quickly is the willingness of the private and public sectors to work together. As a co-chair of the Bioscience Leadership Council of Southern Arizona, she sees the sectors actively working toward Arizona's growth.
The UA is the hub, Tolbert says, and Southern Arizona is filled with other research institutes, for-profit and not-for-profit.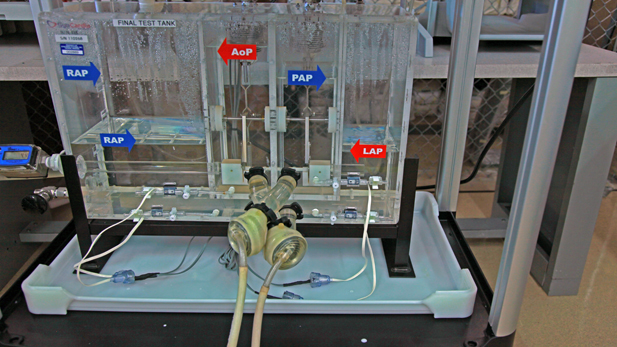 PHOTO: Nathan Mitchell
A simulation of the total artificial heart at work.