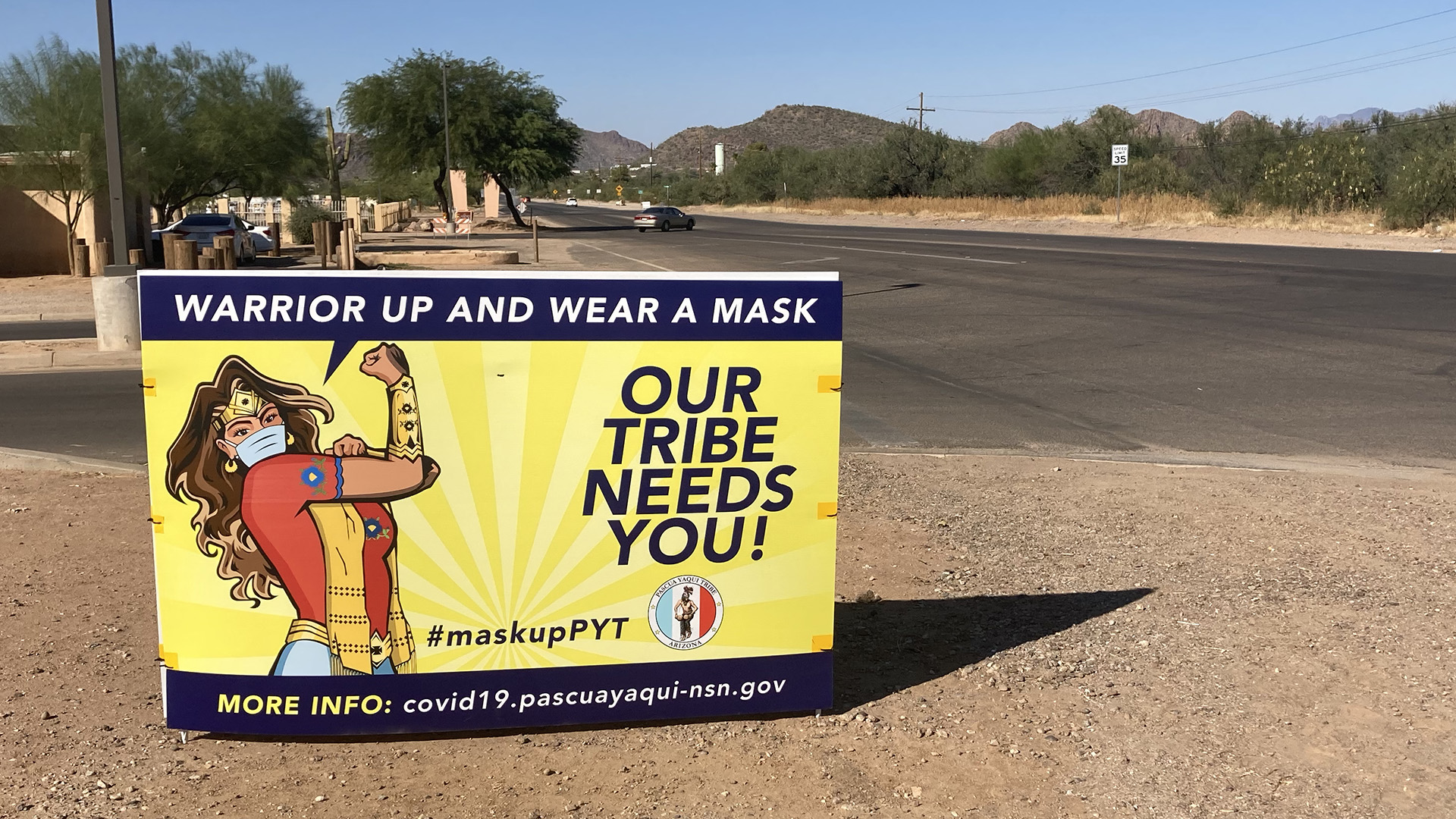 Sign in the Pascua Yaqui Tribe's lands urging tribal members to wear a mask during the COVID-19 pandemic.
Emma Gibson/AZPM
Local tribes are extending access to COVID-19 vaccine cash incentive programs. The Tohono O'odham Nation has pushed its deadline for members to qualify out to December 17, and the Pascua Yaqui Tribe has brought back its "Vax Cash" program "until further notice."

For the Tohono O'odham program, qualifying tribal members could receive $400, if they can prove they are fully vaccinated by mid-December.
When the program was rolled out in September by Chairman Ned Norris Jr.'s administration, it included people 12 and over.
Children 5 and 11 had not yet been approved to receive the COVID-19 vaccines. Its website still reflects the 12 and over age requirement. It's unclear if the program applies to tribal members in the younger age group, and Tohono O'odham Nation spokespeople did not respond for comment by the publication deadline.
Applications are due by December 31.
According to the last COVID-19 update posted on the tribal government's website for November 10, 54% of the people living on the nation are fully vaccinated. The nation has recorded almost 2,236 COVID-19 cases among tribal and non-tribal community members since the start of the pandemic, and 85 people have died.
The Pascua Yaqui Tribe's program offers $100 to fully vaccinated citizens 5 and up. As August 28, the tribe reported 2,010 COVID-19 cases and 37 deaths in the Tucson-area alone.