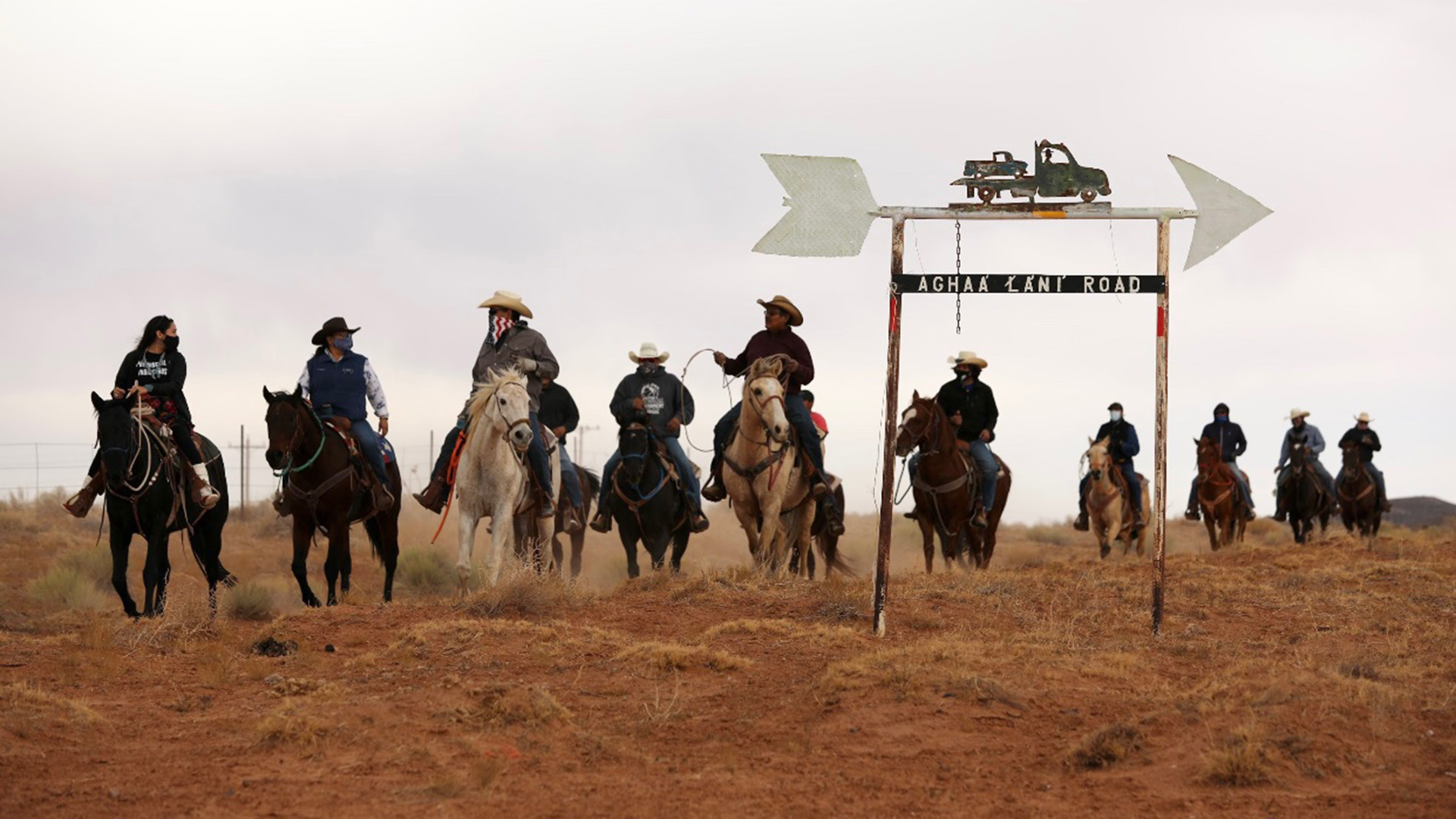 Allie Young, the founder of Protect the Sacred, leads voters to the polls within the Navajo Nation on Election Day 2020.
Courtesy of Sunshine Sachs; Photo by: Larry Price.
A national survey by Indigenous peoples for Indigenous peoples is asking for Natives to share their thoughts on identity, political priorities and how the pandemic has affected them.
Judith LeBlanc is a member of the Caddo Nation of Oklahoma and is the executive director of the Native Organizers Alliance.
The alliance along with IllumiNative and Research for Indigenous Social Action and Equity are conducting the Indigenous Futures Survey.
LeBlanc said the survey is open to all Indigenous peoples living in all communities — rural, urban, tribal.
"It is critical for Indian Country and for all of the United States to understand what Indian people in the 21st century are hoping for," LeBlanc said. "[The data is] going to portray our reality, so our reality is going to be backed up with facts and figures, and this for policy makers will be an incredible tool to use."

She hopes this data can be used to educate tribal and U.S. political leaders and inform how they write their policies and laws.
LeBlanc said beyond asking people about their experiences, this year the survey is exploring is the role of women. She said women tribal leaders taking the stage along with the historic appointments in U.S. politics — U.S. Secretary of the Interior Deb Haaland of the Pueblo of Laguna and U.S. Rep. Sharice Davids of Kansas, a member of the Ho-Chunk Nation — piqued their curiosity.
"Native women are highly visible, are playing big roles in this country overall, and what are their experiences, what do we need to take note of in preparing for the next generations of Native women to lead and shape the direction of policies in this country," she said.
In the first survey launched before the 2020 election, the organizations focused on the election and first months of the pandemic. It surveyed 6,400 people from 401 of the 574 federally recognized tribes and highlighted concerns for the environment, violence against certain minorities, mental health challenges, and language preservation, according to IllumiNative.
The deadline was Jan. 31, but LeBlanc said they're extending the deadline to March 1 due to the surge the COVID-19 Omicron variant.
You can find the survey on the Native Organizers Alliance website.
Correction: Judith LeBlanc's name was misspelled in a previous version of this story.