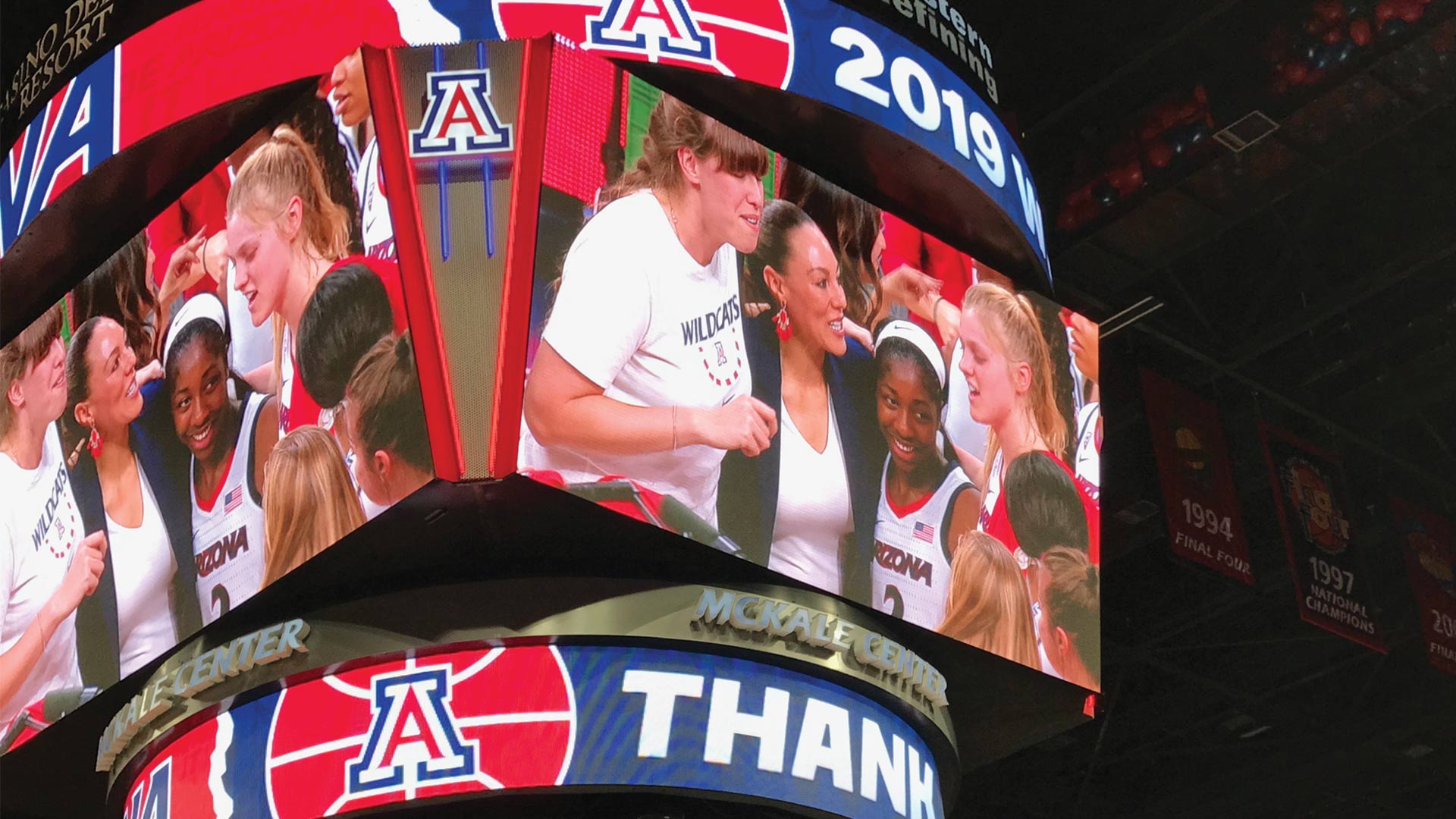 Title IX has helped power University of Arizona women's athletics to championship status.
Colleen Greer
This summer marks the 50th anniversary of Title IX. The federal statute has evolved into one of the most important advances for women's sports, but it also made an immediate difference for women in science.
One of the turning points in Mary Cleave's extraordinary career happened at Utah State University.
She graduated with a master's degree in microbial biology in 1975, but always had dreamed of flying planes.
Cleave applied for a job as an airline flight attendant, because she thought it was as close as she would get to her goal. She was told she wasn't tall enough.
Flash forward ten years.
Mary Cleave — by then with a Ph.D in civil engineering — found herself seated with six other NASA astronauts, prepared to fly aboard the space shuttle Atlantis.
Cleave told students and faculty at Georgetown University in 2019 that Title IX made all the difference. It was signed into law during Cleave's graduate school years at Utah State and ultimately put her on a career path toward scientific study in outer space.
Elise Lopez directs the University of Arizona Consortium on Gender Based Violence. She notes that in the early 1970s, some colleges and universities had an inflexible attitude toward women pursuing degrees.
"The idea was that if we bring women into the classroom, they're just going to get married and drop out and go have children," she said about the educators. "It's not worth them paying tuition, giving them scholarships, using professors' time to teach them, it would be uncomfortable for men to have them in class because they would be a distraction."
Enacted in 1972, Title IX prohibited sex discrimination in any educational program or activity that receives federal financial aid. Efforts in Congress to water down the law lasted for more than ten years. Lopez says the resistance was remarkable.
"Just because this was a new federal rule didn't mean everybody wanted to follow it," she said.
It took almost a generation before the impact Title IX created began to get noticed on athletic fields across the country. It opened the door for women's sports to draw players, coaches, spectators, and money.
Title IX helped drive the University of Arizona softball squad to multiple national championships and pushed the school's women's basketball team to the brink of an NCAA title in 2021.
But Title IX has never been completely about sports, or about women. UA Gender and Women's Studies department head Stephanie Troutman believes current conversation about what Title IX means should be more inclusive.
"Trans identity and trans bodies, folks identifying as transgender and how they would be included — I think that part of the conversation should definitely be shifting and evolving with regard to Title IX," she said.
Troutman adds Title IX should strengthen its engagement with restorative justice: seeking remedies in cases of sexual harassment and sexual assault.
"People want to be validated for what happened to them," explains Troutman. "They want that person to take responsibility for the damage they caused, and they want an accountability process that is going to cause that violence to stop and not occur again in the future."
Some critics note that the 50th anniversary has revealed Title IX is still too narrowly defined, and as a result has not yet been woven into the fabric of how Americans regard gender, sex, and identity in the classroom and the workplace.