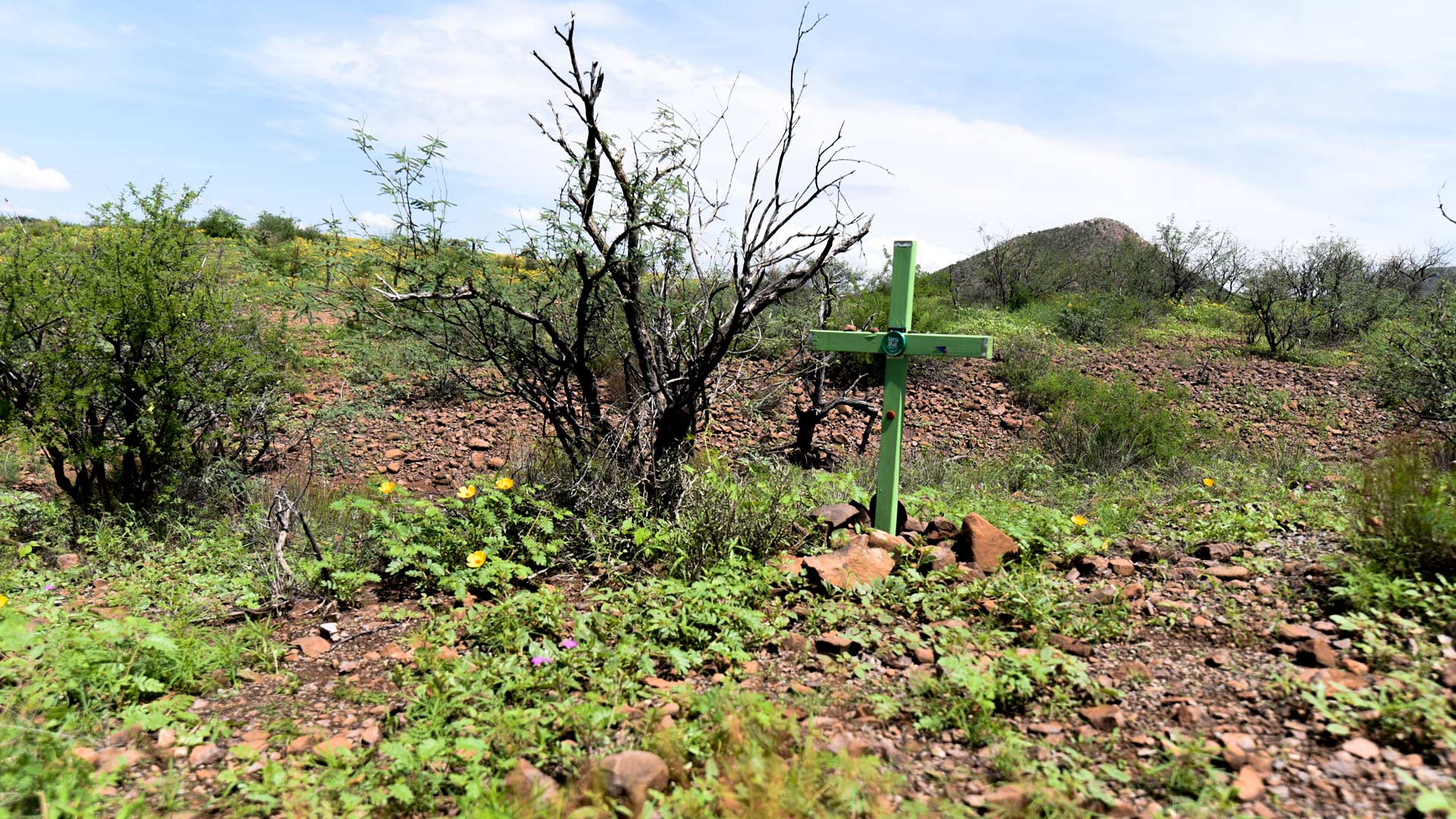 A cross marking the place where a man in his 30s died in 2009 lays a few hundred yards from one of the water stations Humane Borders sets out for migrants crossing the desert.
Alisa Reznick/AZPM
Local, national and non-governmental officials came to Tucson for the U.S. Customs and Border Patrol National Missing Migrant Program Summit in hopes to improve strategies along the border.
In April, the U.S. Government Accountability Office recommended improving data program reports to Congress regarding migrant deaths. At the time, Border Patrol did not collect or report complete data on migrant deaths to Congress nor did they have a plan to evaluate the program.
Assistant Chief George Serrano said that Border Patrol is working with non-governmental organizations, like Aguilas del Desierto, and Central American consulates, like El Salvador, Mexico and Guatemala, on creating consistent practices throughout all sectors.
"We don't want to get three reports for one person, and it's going to multiple sectors," Serrano said. "Then we're duplicating our efforts, and we're multiplying the number of people we're looking for."
Serrano shared that efforts to improve relationships between different stakeholders is a major step to improve those data reports.
"It's all about communication," he said. "But in terms of saying we've established right now, those relationships with them, and they're consistent. No, we're but we're getting there and that's what we're building towards."
Consul of Mexico Rafael Barcelo Durazo, along with other officials, encouraged migrants and families to call 9-1-1 .
"The missing migrant program by itself provides information to the circles of migrant people that someone they know, or they might know has passed away in their attempt at crossing these borders," he said.
According to a new November report, officials from the U.S. Government Accountability office visited six out of the nine border sectors to work with Border Patrol and external entities to help standardize the collection and reporting of migrant deaths.