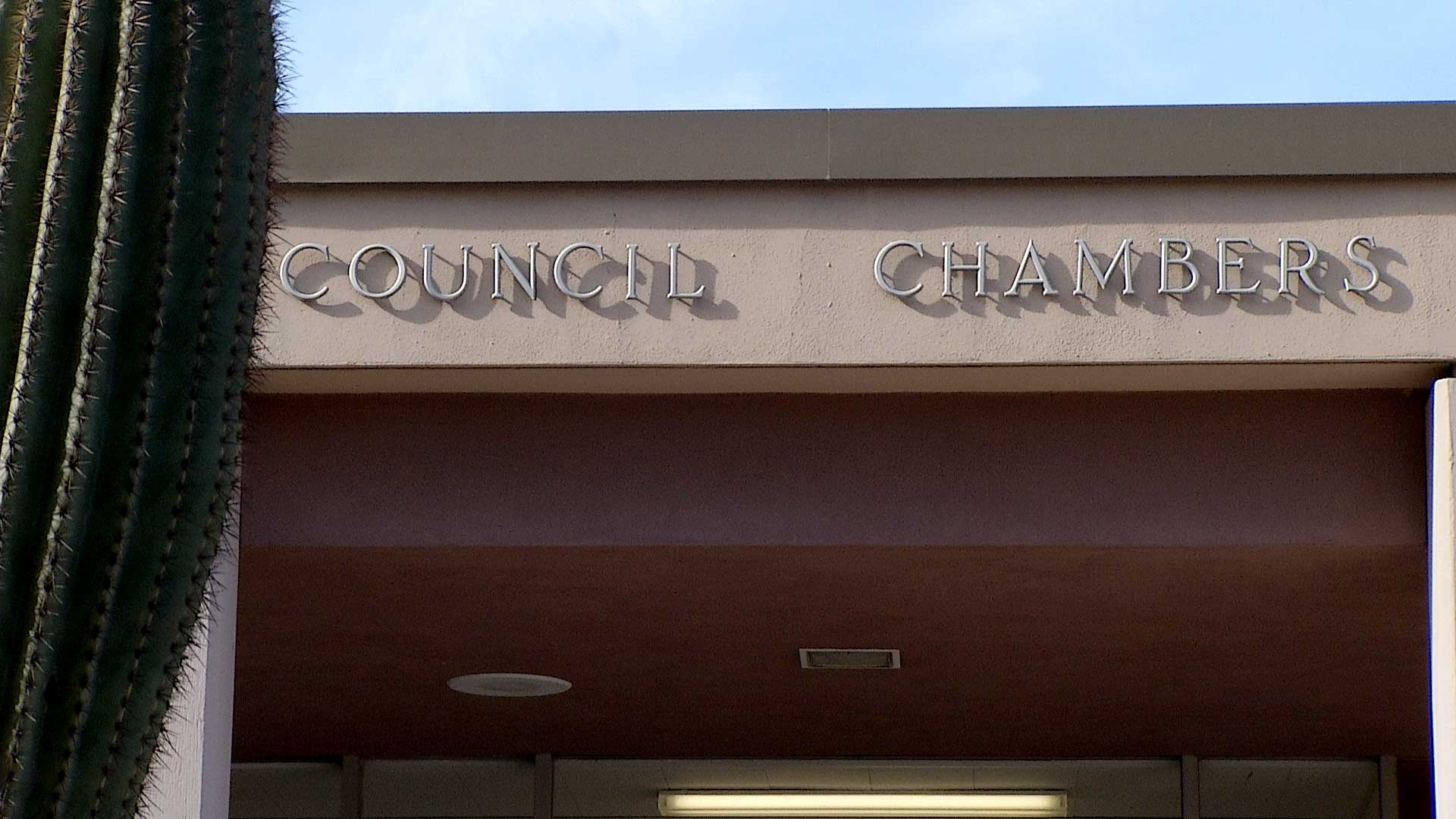 City of Tucson's council chambers in downtown.
AZPM Staff
The Tucson City Council unanimously approved a special election to allow residents to vote on a new 25-year franchise agreement with Tucson Electric Power. The agreement would raise current charges from 2.25% to 3%. The city is calling this new surcharge the "Community Resilience Fee."
The agreement would include:
a review and renegotiation of critical terms at the 10 and 15-year mark
The removal of abandoned poles
10% of the gross revenues towards Tucson's Climate Action Plan
These changes would increase an average residential bill by 93 cents a month. Small businesses could expect an increase to $2.65 a month.
The current franchise fee brings in about $14 million per year. If increased, it would generate an extra $5 million. The proposed surcharge would be used to cover undergrounding costs for future TEP line projects, like the Kino to Demoss-Petrie 138 Kilovolt Transmission Line. That project has faced scrutiny from residents and council members. The city pushed TEP to put the transmission line underground since it would affect scenic and gateway corridors.
The proposed agreement received pushback from activists attending the council meeting saying that it does not prioritize sustainability and climate change. Some even asked for a delay in voting. But, Mayor Regina Romero disagreed saying that TEP CEO Susan Gray has promised otherwise.
"She verbally made the commitment of getting the city of Tucson in terms of the power purchase agreement that we can negotiate getting us to 100% renewable energy for city operations and to work on that contract this year," she said.
Romero said if the council had delayed the vote until next year, millions in infrastructure costs would be needed.
During the meeting, councilmember Kevin Dahl expressed the need for the Kino to DeMoss-Petrie line. The project would run this his ward and said that if approved, work could begin "right away." Dahl proposed the approved change to include funding for the Climate Action Plan.
In accordance with city law, franchise agreements are limited to 25 years. The contract will be up for a vote this May.