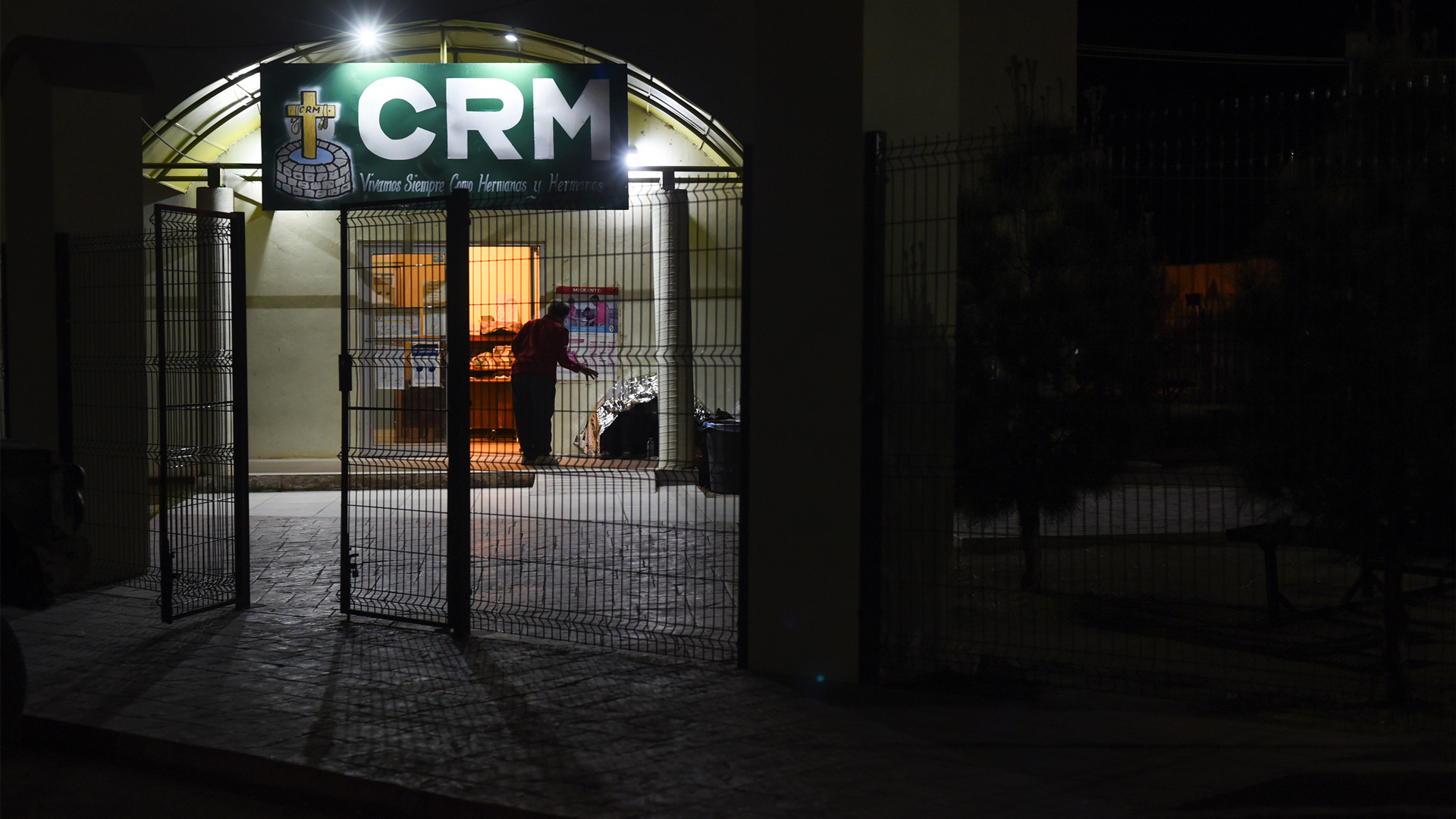 A volunteer speaks to migrants keeping warm under an emergency blanket after an early-morning expulsion at the Migrant Resource Center in Agua Prieta.
Alisa Reznick/AZPM
Title 42, the health law that deals with border crossers, is set to expire in a few months but officials in Cochise County call for both the legislation to end and for the federal government to step-up resources for the rural communities along the border.
Along the Southwest border, there have been 191,887 expulsions this fiscal year tied to Title 42 according to data from the U.S. Customs and Border Protection.
While Tucson gathers resources in preparation for Title 42's termination, officials in Cochise County are also bracing for the increase in traffic along the U.S.-Mexico border. But officials say that the county lacks resources and direction from federal offices.
Cochise County Sheriff Mark Dannels said that over the past 22 months, "We've seen 4 million encounters, another million that we know of, 1 million got-aways. That's five million breaches, over 1,000 deaths of migrants that have come across the border illegally have died on U.S. soil."
He said that the cost to Cochise County taxpayers for border-related crimes is $4.3 million.
"Last year, Cochise County in 2022, we put some 1,581 people in our jail for border-related crimes," Dannels said. "And that, that equates to about 40–44% of all the people in my jail, are border-related crimes."
Douglas Mayor Donald Huish said that Douglas, a city of 16,534 people, doesn't have the resources to handle a surge.
"Unfortunately, at our local crossing the way it sits right now, the Customs and Border Protection director here at our Port of Entry tells us that they can maybe handle 18 people a day," said Huish. "If they get more than that, or if they get a rush of trying to come across, they will shut down the border."
If that happens, he says not only would that be devastating logistically, but also familially.
"That's my biggest fear right now is that if we should get a large amount of people wanting to come across at a given time, that it will interrupt not only our economic portion of our interaction with Mexico, but many of our families here in Douglas have family members on both sides of the border that they check on on a regular basis," Huish said.
While Huish said that they haven't seen an influx of people coming through yet, he's concerned that Douglas isn't able to provide much in the way of resources once Title 42 is terminated.
"We don't have any facilities to handle an influx of asylum seekers," said Huish. "We don't have any shelters. We've been kind enough and blessed enough to have some churches come forward and say, 'well, I can handle five or six males, I can handle five or six females and I can handle maybe two families but only for a 24-hour period …
"So, our dilemma is how, then, do we get them transported to Tucson or Phoenix where there are some facilities, there are some shelters that could possibly assist these people?" he continued.
Dannels said he's calling on the federal government to provide leadership and resources.
"I'm not sure what to expect," said Dannels. "But one thing I know I don't have is a plan from the federal government to address local impacts. We haven't seen that for 22 months — 24 months. Am I a little frustrated by that, of course I am because that stuff, those resources for the almost 30 rural counties on the Southwest border, you would think they'd be a mandate."
Huish also looks to Washington to dedicate its efforts towards solving the issue holistically.
"And I wish the federal government would seriously take a nonpartisan look at it," Huish said. "It's becoming a humanitarian nightmare and it tugs at my heart to see these people wanting a better life but not really having the avenue to do it legally."
Arizona Public Media reached out to the U.S. Department of Homeland Security and requested an interview with Secretary Alejandro Mayorkas, and instead, received links to the department's January 5 statement that outlines plans for the use of the new CBP One app for scheduling appointments for persons to present themselves at the various Ports of Entries, DHS' expanded use of expedited removal under Title 8, and the creation of a new parole process for Cubans, Haitians, and Nicaraguans that is based on the existing one for Venezuelans and Ukrainians.
AZPM reached out to the local offices for U.S. Customs and Border Protection and they declined immediate comment.
In the meantime, Title 42 will remain in place until the U.S. Supreme Court rules on the case. The U.S. Supreme Court is set to hear arguments in the case for Title 42's termination later this month.