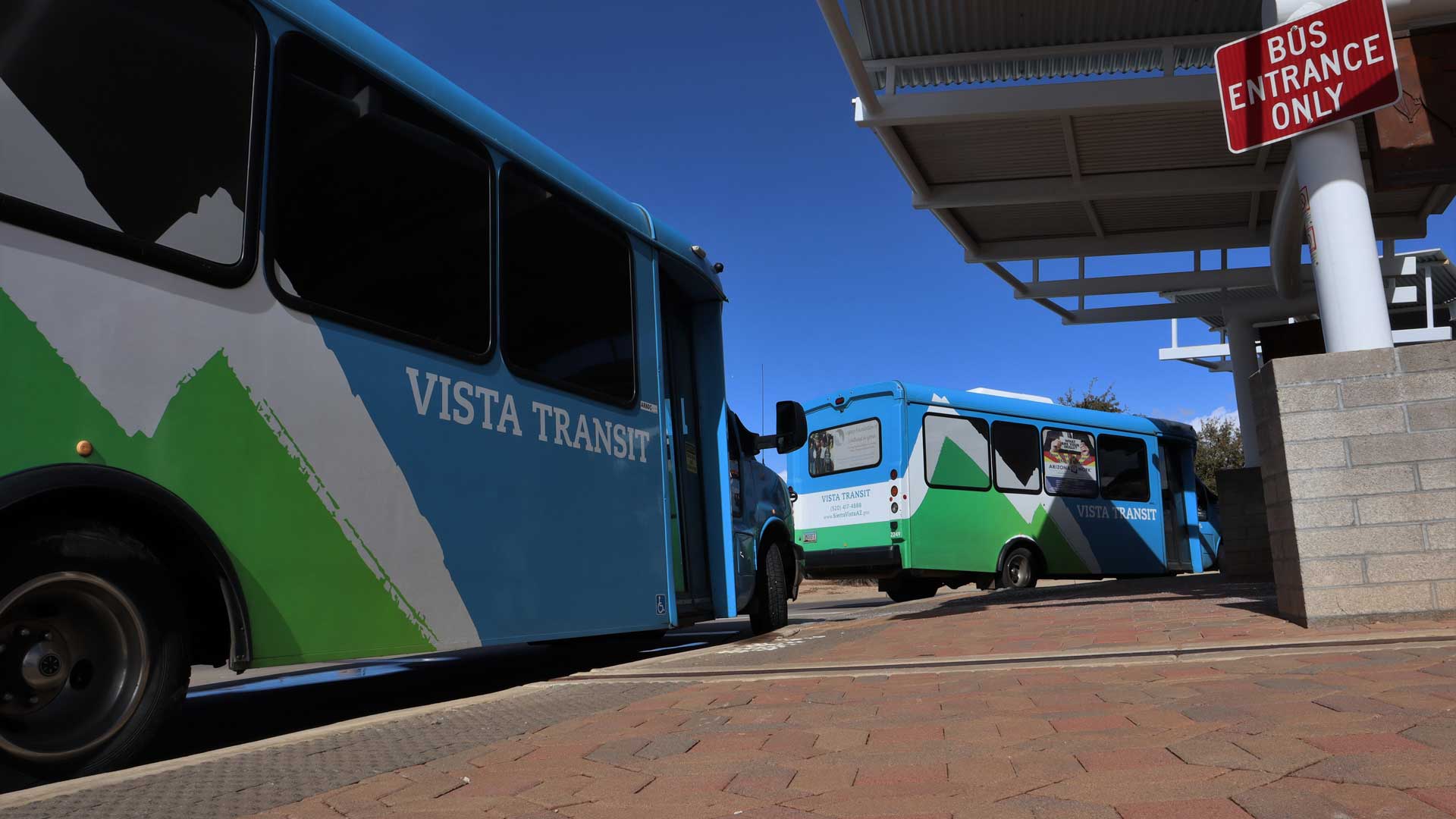 Vista Transit buses in Sierra Vista. February 2023
Summer Hom, AZPM
In an attempt to mitigate costs and hassle, Sierra Vista's Public Transportation System, Vista Transit, is going fare-free starting on March 1.
Public Works Director Sharon Flissar says that the amount of money collected through fares does not make up for the maintenance and operations expenses.
"Annual maintenance costs were about $80,000 a year, and we only collect less than $60,000 in revenue," said Flissar. "The amount of money that we were collecting in fares is a very, very small piece of our operational budget — a very small percentage, less than 10%."
Flissar said that fares range between 60 cents to $2.00 depending on the ticket type.
She added that the transit system is currently subsidized by the Federal Transit Administration grants and the city's general fund.
"So, the matched percentage vary, depending on what they're being used for, whether its capital or operations — usually between 50% and 80%," said Flissar in referring to how much the FTA grants cover the overall costs of running the bus system.
Flissar said that the FTA grants don't cover 100% of the costs. The city stated in a press release that anyone who's purchased a monthly bus pass in February will have the costs prorated and customers will only pay for a period ending February 28.
She said that ridership on Vista Transit has also declined with the onset of the COVID-19 pandemic.
Flissar says that in order to consider continuing the fare-free program beyond August, the city would like to see a boost in operational savings by not having to print passes and process cash from fares, an increase in ridership, and a reduction in driver stress.
"So, when our drivers tell us things like one of the primary sources of stress for them is collecting fares due to people not having exact change, not having money at all but wanting to get on the bus if we can increase driver retention and attract new drivers because they don't have to deal with collecting fares, that would be a huge positive for us," said Flissar.
Currently, the Vista Transit department has a staffing shortage, as Flissar says there are only three full-time drivers.
"Currently, we have three full-time drivers in the Vista Transit system and they are supported by three admin staff — some of which are currently driving due to staffing shortages," said Flissar. "We have more buses than we have drivers right now. If we are running normal operations, we run three-weekday routes plus two paratransit routes. So, a total of five, and then, one-weekend route again with a paratransit route. We have buses to meet that demand, seven or eight buses."
But the staff shortages have stretched the team thin and have caused the department to cut and consolidate routes.
While the city says the changes are temporary, the Vista Transit Saturday Red Route which circles the majority of the city from the west to the central side will be eliminated starting February 27.
Other routes to be temporarily consolidated on Monday include the Blue Route — one of the city's central routes — which will be merged with the Yellow Route, which covers parts of the city's west-central side to the far east side by Canyon Vista Medical Center.
While Yellow and Blue mixed together make Green, this new consolidated route will be called the Pink Route.
The paratransit routes, which are non-fixed routes that pick up customers at specific locations by request, will not be affected by the route changes.
More information on the Vista Transit bus routes can be found at the city's website