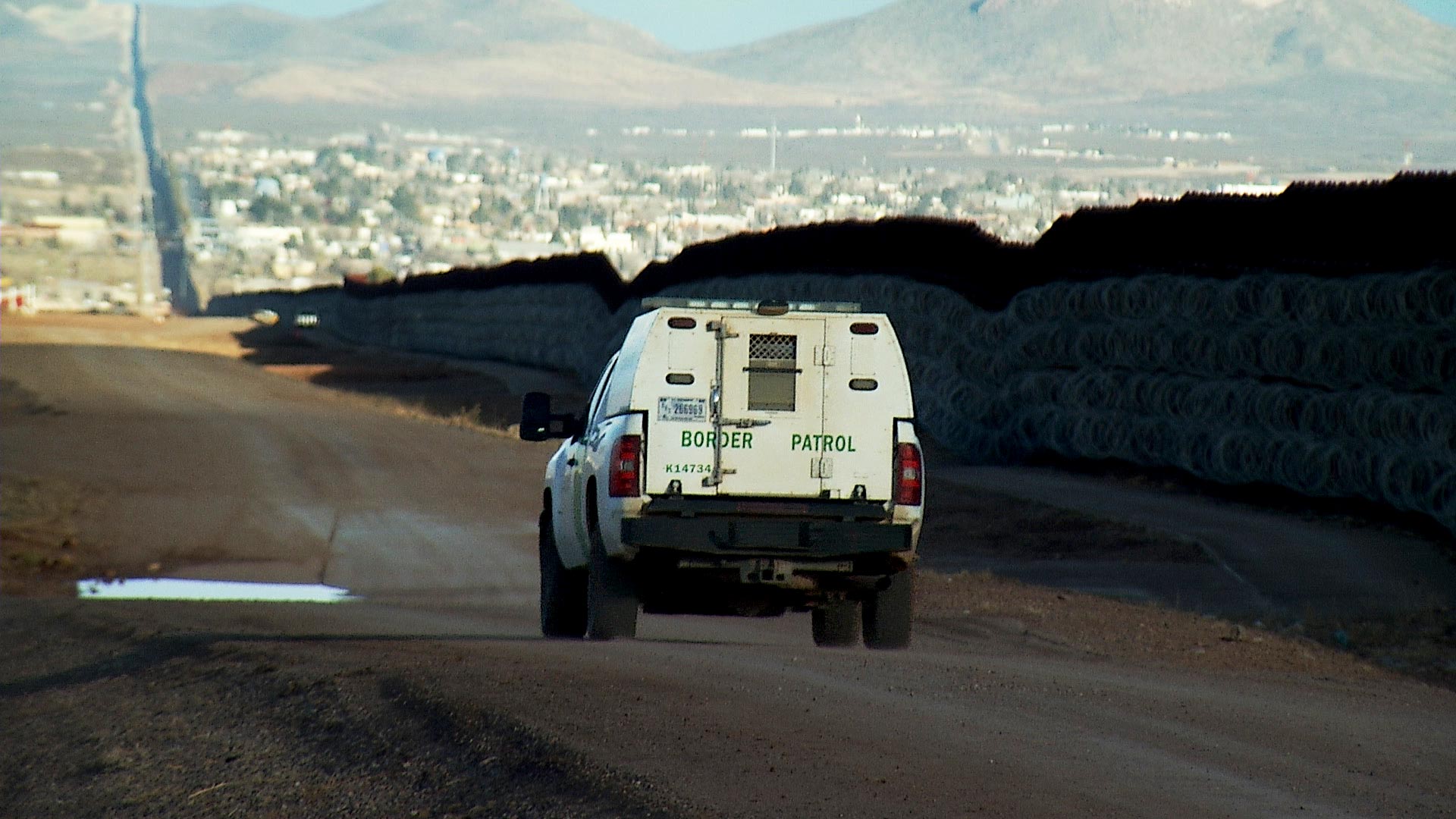 A border patrol vehicle drives along the border wall in Douglas, Ariz. January 2021.
Robert Lindberg/AZPM Staff
U.S. Border Patrol agents answering reports of gunfire shot and killed a man on a tribal reservation in southern Arizona after he abruptly threw something and raised his arm, the agency said Monday. The FBI and Tohono O'odham Nation are investigating Thursday night's fatal shooting of Raymond Mattia.
Monday's U.S. Customs and Border Protection statement said tribal police had asked Border Patrol agents for help in responding to a report of shots fired west of the Menagers Dam community on tribal land near the U.S.-Mexico border.
At around 9:30 p.m., the agents were told that reports indicated shots had been fired near the home of a "named individual" and a tribal officer went to the location to look for the person, with the agents following in separate cars, the statement said.
A few minutes after arriving, the police officer and the agents encountered a man outside of a home near their parked cars, the statement said.
The man threw some kind of object toward the officer that landed a few feet away and then "abruptly extended his right arm away from his body and three agents fired their service weapons, striking the individual several times," the statement said.
Because of bad weather, no air ambulance was available to take the man to a hospital and despite lifesaving efforts, he was declared dead shortly after 10 p.m., according to the statement.
An autopsy was conducted but the Pima County Medical Examiner's Office didn't immediately release details.
The three Border Patrol agents who opened fire and at least seven others were wearing body cameras and activated them during the incident, the statement said.
On Sunday, tribal chairman Ned Norris Jr. identified the man as Mattia, a member of the Tohono O'odham Nation.
Norris and the Border Patrol didn't immediately release other details about the shooting, including whether investigators had confirmed the earlier reports of gunfire and whether any weapon was found.
Tucson TV station KVOA reported earlier that family members of Mattia, who didn't want to be identified by name, told the station that he had called the Border Patrol because there were multiple migrants who had trespassed into his yard and he wanted assistance getting them out of his property.
Family members also said that Mattia had gone outside when he saw the agents and was only two feet from his front door when dozens of shots were fired at him.
Those details also couldn't immediately be verified.