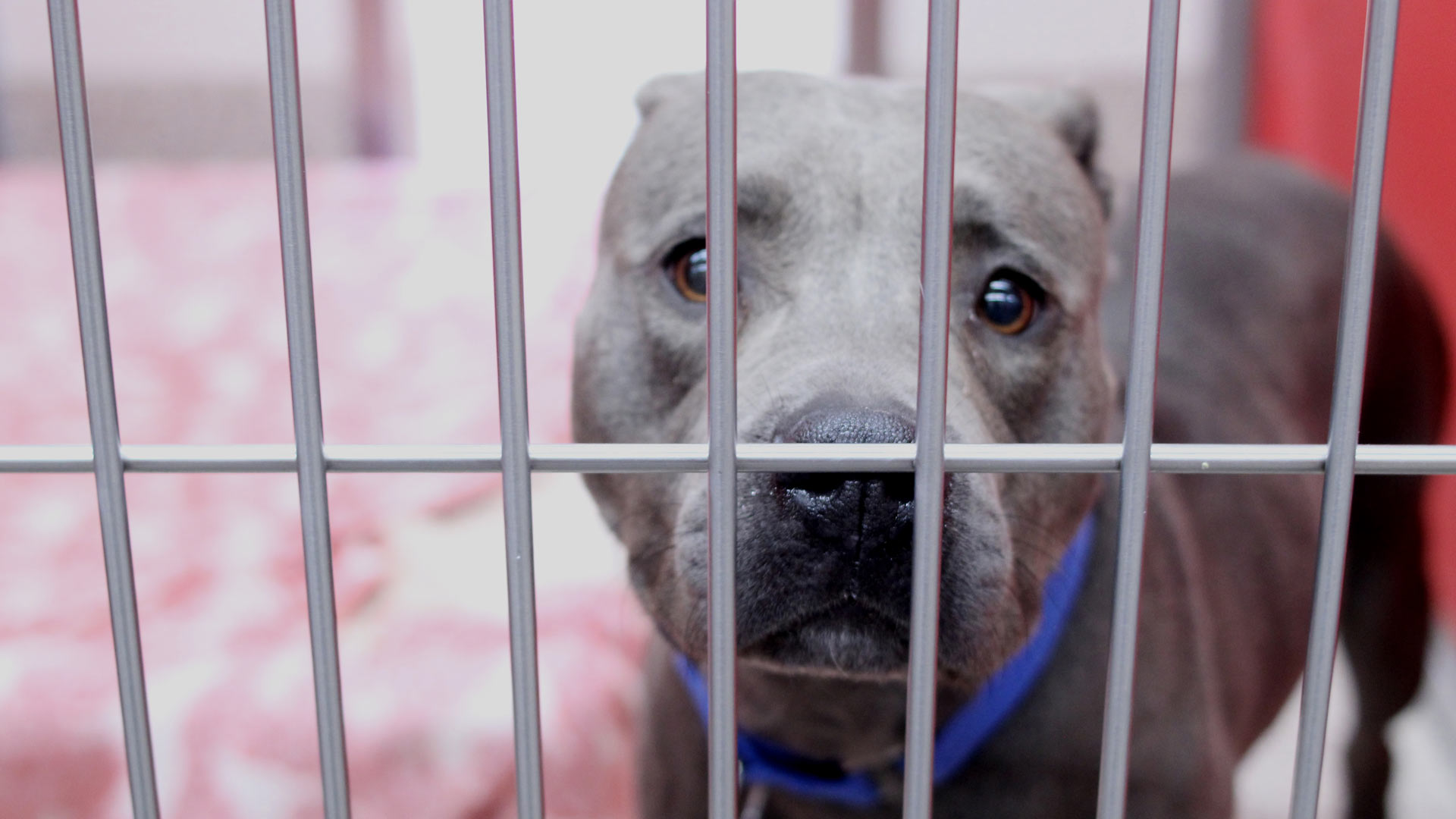 Star, a two-year-old pit bull terrier, has been at the Pima Animal Care Center since Oct. 7, 2022. She was rescued by an animal protection officer.
Paola Rodriguez/Arizona Public Media
Arizona lawmakers are rethinking how access to health care is more than just for humans. A bill, which was signed into law early May, will allow local veterinarians to expand their services into telemedicine.
Arizona is just one of a handful of states across the country that is making the move to meet the needs of rural and tribal pet owners. When access to care falls short, it means more animals will be surrendered into shelters. Arizona Humane Society President and CEO Dr. Steven Hansen says last year alone, they saw a 13% increase in the number of animals that were surrendered due to medical reasons.
"Today, if you call our hospitals, the first available appointment is six weeks out," Hansen said. "This new legislation helps to keep pets in loving homes and alleviate undue suffering."
Dr. Steve Farley, the CEO and President of the Humane Society of Southern Arizona, says that oftentimes care can be inaccessible and expensive. The expansion will begin to close the veterinary care gap that many face.
"This levels the playing field so everyone can have a pet and feel comfortable that when their pet has a health problem, they'll be able to get it solved and keep having a wonderful time with their pets," Farley said.
However, he also says this move will help more than just those living in rural areas.
"This is a game changer for people who are disabled…Their pet is a major companion and a major help to their own health," Farley said. "They can't easily get into a veterinarian office when there's an issue. Being able to do this via telemedicine really makes a big difference to their quality of life."
But, telemedicine is not new. During the pandemic, then-governor Doug Ducey signed an executive order to expand access. This new change will solidify that access.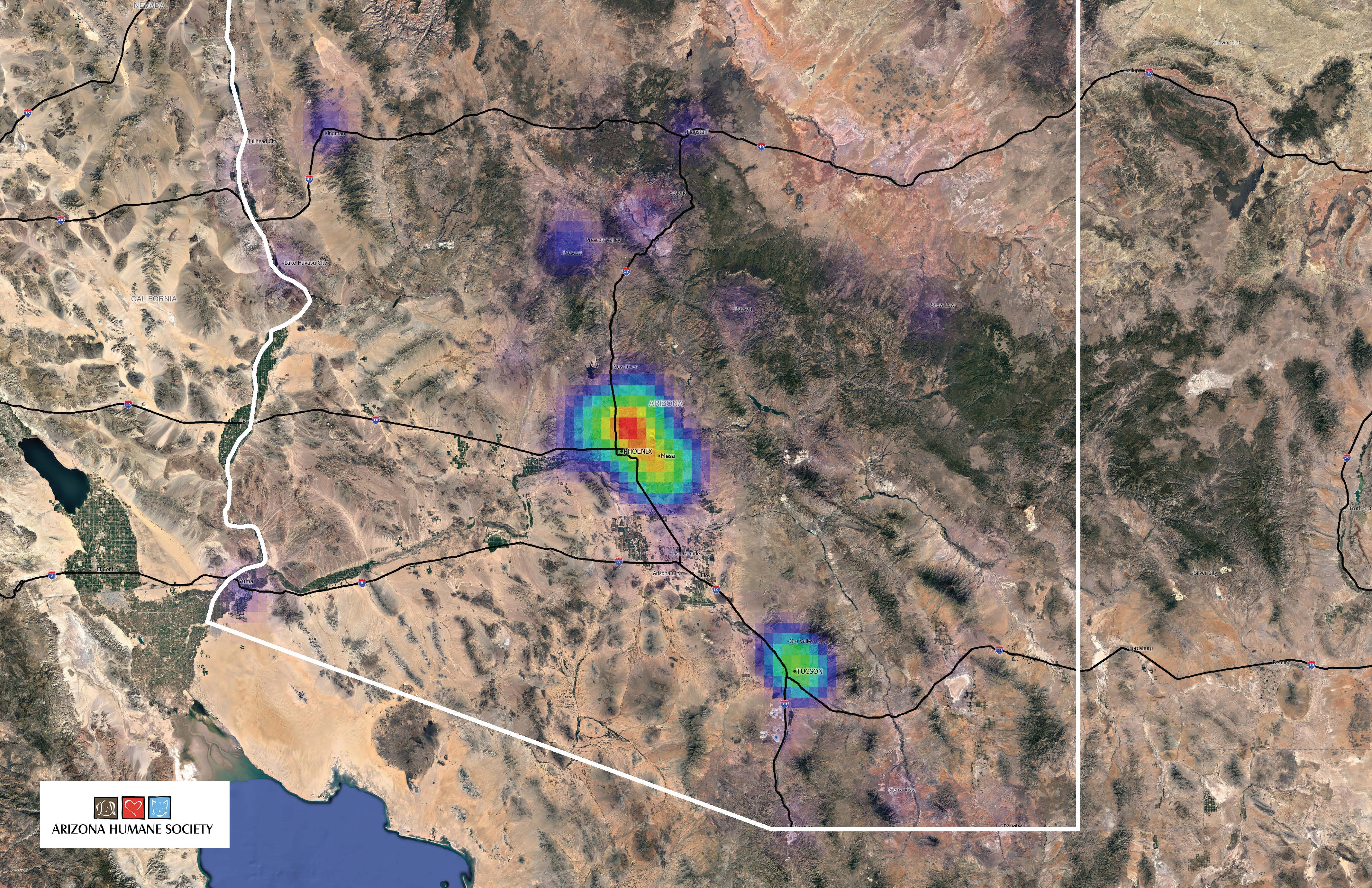 A heat map is displaying the locations of veterinary hospitals throughout the state.
Arizona Humane Society
Now, veterinarians can attend to their furry patients the same way humans would receive care online. Dr. Christina Tran, an associate professor at the University of Arizona's vet school and board member of the veterinary virtual care association, says this move might even improve the quality of care. For example, veterinarians do not always see the same things that owners observe in their pets when they come in for exams.
"Oftentimes, they get really stressed out when they get in the car and then when they get to that animal hospital, their adrenaline is pumping through them," Tran said. "What might have been a pretty obvious limp at home in a relaxed environment, now, they're not limping at all, because they're so nervous."
Tran is one of the faculty that taught UA's first veterinary class that will be graduating this August. She says, because of the pandemic, classes needed to pivot to meet their learning needs.
"My goal in talking with them is to introduce them to the topic so that they are well resourced and will informed and can make better decisions about (whether) telemedicine is something that I want to do as a veterinarian so that it's a part of my toolkit when I go out into practice," Tran said.
According to the U.S. Department of Labor, the job outlook for veterinarians is projected to grow 19% between 2021 and 2031–faster than the average for all occupations. But, that is not stopping the Legislature from incentivizing doctors to come to Arizona.
Last year, Arizona lawmakers passed a law that created the Arizona Veterinary Loan Assistance Program. That will allow veterinarians to receive up to $100,000 towards tuition costs if they work for two out of four years in an area designated by the U.S. Department of Agriculture as having a shortage or a nonprofit or municipal shelter.
For now, owners can expect to see changes and expansions as early as this fall when the law goes into effect.