Parents and teachers say sometimes it's hard to get kids interested in reading books. That's why many branches of the Pima County Public Library are offering a unique program where children can practice their reading skills in front of a dog.
The Read to A Dog program is designed to give children a stress-free environment where they can practice and enjoy reading, said Sharla Darby, Himmel Park Library manager.
"It's meant to be a relaxing and fun environment so as the children reading they don't feel there's judgment," she said. "That raises their confidence level and as their confidence level increases they want to read more."
The program started in 2006 with only one dog, Boomerang, and now there are more than a dozen dogs at 11 locations throughout the county that visit the library and sit while kids read to them.
Homer, a black and white mixed-breed dog, is the therapy dog at the Himmel Park Branch and most children there know him by name.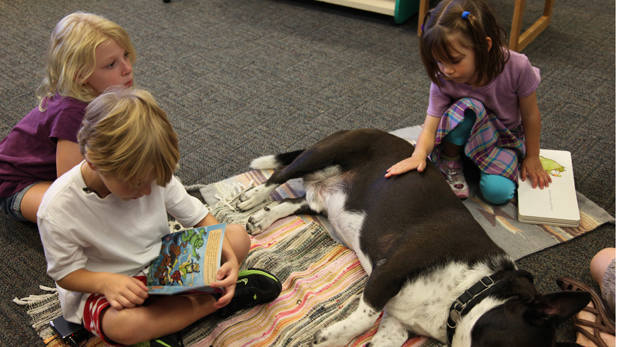 Kids reading to a dog at the Himmel Park Library

Fernanda Echavarri
Five-year-old Ben Walsh has been reading to Homer the dog for months and his mother, Honor, said reading aloud to the dog has helped her son's reading proficiency. Also, it has given him the confidence to know he can read in front of his peers.
"He's only five and he's an avid reader already," Walsh said. "He loves that Homer is his audience… his captive audience."
Library staff originally though the Read to a Dog program would be for kids in second or third grade who struggled with reading, but it has expanded to kids as young as two, said librarian Beth Rubio.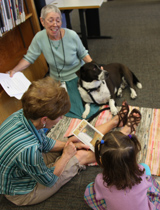 Librarian Beth Rubio joins in on the Read to a Dog program

Fernanda Echavarri
"Toddlers would come and sit and yammer away," she said. "The book might be upside down but they don't care, the dog doesn't care and the child doesn't know any better, it's about the love of reading."
That's a feeling 5-year-old Lilly Latimer understands. She likes to read but said that when she picks up a children's book, she still doesn't recognize all the words.
"The dog doesn't care if I don't know the words, he likes it, and I like to pet him," she said.
Library officials say the animals used for the program are licensed therapy dogs assigned to a particular branch.
Judy Christenson is Homer's "person," as she described herself. She rescued Homer from a local animal shelter after he had been waiting to be adopted for months.
"I saw him sitting there and he was so calm," she said. "Even in that environment, he just watched people go by."
After taking Homer home, Christenson realized he would make a great therapy dog because he was so calm and could focus on a person without being distracted by his surroundings.
She said Homer enjoys interacting with the children at the library and she hopes he can continue visiting them weekly.
"Homer and I really enjoy being part of the program here, I like to see the children and to me it's like a family," Christenson said. "I'm just glad I'm able to do something in the community."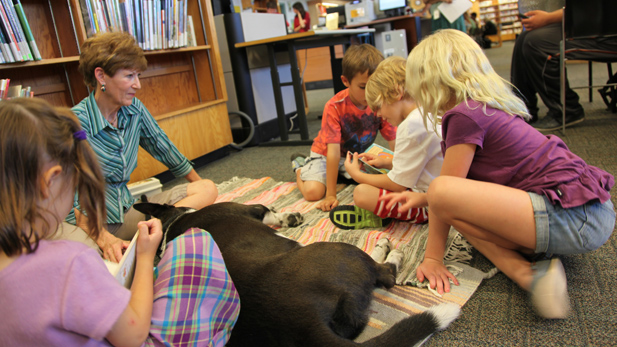 Children sit around Homer the dog at the Himmel Park Library. Some read to the dog, others pet him.

Fernanda Echavarri