(VIDEO: AZPM)
Arizona's winter tourism season looks better than it has since before the recession but still has a ways to go for recovery, industry officials say.
"We're feeling modestly optimistic now," said Lynn Ericksen, general manager of the Hilton Tucson El Conquistador Golf & Tennis Resort. "We're beginning to see the fundamental demand in our business beginning to return."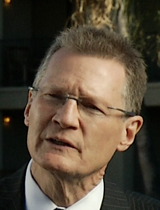 Lynn Ericksen, general manager of the Hilton Tucson El Conquistador Resort. (PHOTO: AZPM)
Ericksen and others in the tourism and hospitality industry discussed the state of tourism in interviews for the Friday evening Arizona Week broadcast.
State officials say tourism is a $17 billion to $18 billion industry, providing 150,000 jobs. Much of that comes in winter, when mild weather allows Phoenix and Tucson to host professional golf tournaments, the Tucson Gem and Mineral Show has its run and Major League baseball spring training comes to the Phoenix area.
A key sign of recovery is increased corporate and other group bookings, Ericksen said.
"What's particularly compelling is we're starting to see those groups - the big groups that book maybe three, four, five years out - those groups really were what were missing during the recessionary economy," he said. "They're starting to gain the confidence to move back into the market now."
Brent DeRaad, president and CEO of the Metropolitan Tucson Convention and Visitors Bureau, agreed that tourism is moving in the right direction but has more room for growth.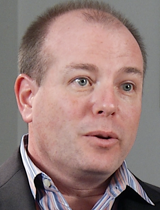 Brent DeRaad, CEO of the Metropolitan Tucson Convention and Visitors Bureau. (PHOTO: AZPM)
"We're not quite there yet," DeRaad said. "When we fell off during the recession starting back in 2008, that drop was pretty precipitous. We pretty much fell off a cliff. The gradual climb back - we're getting to where we were back in 2006-7. We're not quite there yet. It's been a long climb. Things are certainly much better than they were four or five years ago, but we still have a way to go."
DeRaad and Ericksen said Arizona is lagging the nation in tourism recovery, and Tucson is even farther behind, but still seeing growth.
This season promises to have stronger hotel bookings, both for groups and individual travelers, they said, while DeRaad added that hotel rates are still lower than what they need to be.
"It is absolutely a solid move in direction of the norm," said Ericksen, who is immediate past chair of the Metro Tucson visitors' bureau. "We still have a growth story that we need to work on in this region. We will be working on that story for the next three to five years to really get back to where we were pre-recession."
A big part of the winter tourism picture is the restaurant business, and there, business also is looking up, said Janos Wilder, chef-owner of Downtown Kitchen + Cocktails in Tucson.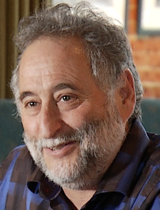 Janos Wilder, chef-owner, Downtown Kitchen + Cocktails, Tucson. (PHOTO: AZPM)
"We really saw a good turnaround coming out of the summer," Wilder said. "October was a strong month, November and December good months. ... We're just on the cusp of what really we would call full-on season, really this weekend."
He said 40 percent to 45 percent of his annual business comes in the three months of "the traditional season that we all look forward to."
The season's success depends on many factors, not the least of which is the weather, both in the desert and in colder climes, DeRaad said. Asked if he is praying for sunshine, he said:
"Not only sunshine here, but we pray for cold weather in the Midwest and East this time of year. Anytime we can get that 50- to 70-degree differential between Tucson and some of our top feeder markets, you really start to see a lot of additional activity on our website, people calling and booking those vacations. Sleet and snow in the Midwest and the East - that's our best friend right now."