(VIDEO: AZPM)
The U.S. Department of Justice gave Tucson City Court $430,000 to launch a domestic violence court project.
The court will partner with the Emerge! Center Against Domestic Abuse and the Community Outreach Program for the Deaf, to provide educational programs for court staff members, judges and the community.
Until now, domestic violence cases were spread among Tucson's nine judges. Now a single judge, Wendy Million, will handle the majority of the cases.

Million said the consolidation will make it easier to connect defendants to advocates and services for victims of domestic violence.
The grant from the Department of Justice's Office of Violence Against Women will last for three years.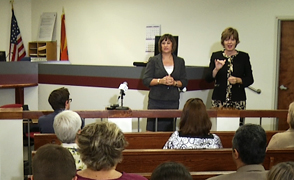 City Judge Wendy Million
Emerge! plans to assign a victim advocate to domestic violence court full time as part of the project.
The Community Outreach Program for the Deaf will provide specific to the deaf community and make interpreters available to hard-of-hearing domestic violence victims.
Deaf women are often unaware they are being abused or don't know what resources can help, said Anne Levy, executive director of the program. Deaf women and teens are also twice as likely to be abused and less likely to report it to authorities, she said.
In 2012, there were almost 8,000 domestic violence cases reported to the Tucson Police Department. City officials said in the same year, fewer than than 4,000 cases were prosecuted.
Those who work to prevent domestic violence said that is a fraction of the number of incidents that occur because people are afraid to speak up and ask for help.