(VIDEO: AZPM)
On a clear November morning, a white passenger van carrying seven teenagers arrives at a lush, five-acre property in northwest Tucson. It's week four of a "hands-on" nine-week program called Youth Achieving Resource Development Skills.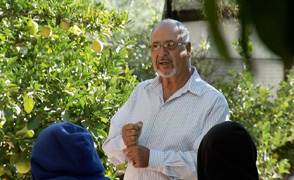 José Cano teaching students about irrigation systems.

Steve Riggs
YARDS instructor, José Cano, leads the session.

"It's completely different when you say, 'show me, show me how you do it', so I always want to forget a little bit about the books and do it practical," Cano said.
This in-the-field approach to teaching is one of the central features of the YARDS program. Today, he will teach them about irrigation systems.

Cano is an expert with more than 30 years of experience in the nursery and landscaping business. His journey has led him from the University of Chihuahua in Mexico, where he graduated with a degree in fruit science, to his current role as maintenance supervisor for Pima County Natural Resources, Parks & Recreation.
The students here, also, are on a journey.

Students observe as José Cano demonstrates.

Steve Riggs
They're juvenile offenders who were recommended for the YARDS program by their probation officers. YARDS is a joint effort between the Pima County Juvenile Court System and Tucson Clean & Beautiful, a local nonprofit that works to beautify the community through education, sustainability and clean up programs.

Joan Lionetti, the executive director of Tucson Clean & Beautiful, wrote the proposal for the YARDS program in 2006. Then, YARDS was funded by The Wolslager Foundation of San Angelo, Texas, and launched January 2010. The foundation also funded a matching grant in 2011.
"The primary mission, I would say, is to give these kids an opportunity to reinforce self-esteem and to make them feel that they're the architects of their life," Lionetti said. "… each of us has a second chance regardless of where we are in life or what we're doing in life...it's very important that these kids aren't so hard on themselves..."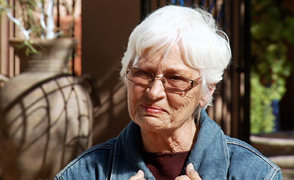 Joan Lionetti says her "heart pounds" when the kids show up for YARDS.

Steve Riggs
Lionetti said, the program aims to reduce recidivism. The Juvenile Court System said it sees this effort as a viable and proactive way to help these young people, one that looks beyond their transgression, to their potential.
"...reinforcing these kids in looking at who they can be, what they can be, what their values are, becoming just basically aware of their environment where they live, trees. All these kids are looking at trees now," Lionetti added.
Among the trees, José Cano is patient as he shares his knowledge, coaxing and cajoling along the way. He does not see juvenile offenders.
"When I see them, I just see students and somebody who wants to learn," he said. I see them like I see my kids, like my grandkids, you know this place is great for them."

Participation in YARDS is voluntary, but requires a commitment of time, effort and focus, and nine Saturdays in a row, when many teenagers are sleeping in.

Anisa, 16, is a YARDS participant who said the early mornings are the hardest part. The best part is learning.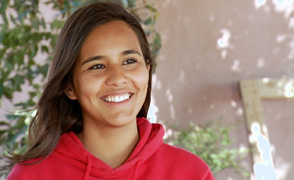 Anisa, a 16 year-old YARDS participant, says she plans to be a marine biologist.

Steve Riggs
Jesús, 17, is another YARDS participant who is glad he joined.
"I got detained from the street to 'juvey', but from 'juvey' they gave me a chance," he said. "My probation officer offered the program, I accepted his offer, he said it was a good program, I would learn a lot and he was right."
"I see it as moving forward, progressing. I'm trying to do something good. Because, this program has taught me a lot, that if you mess up there's a chance. This is only one chance that I have, that they gave me. That's why I'm trying my best, I've been taught a lot of things that will help me move on," he said.
Lionetti finds her own reward in every moment that occurs over the nine-week session.
"All of it," she said. "Every week that the kids show up, my heart pounds."