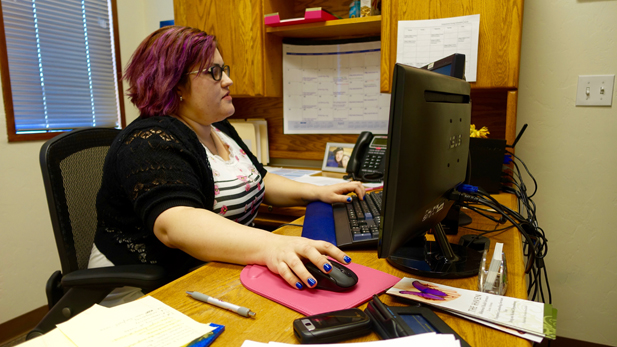 Heather McNeeley works as a recovery coach at an outpatient clinic where she facilitates groups, does case management work, intakes and peer support

Vanessa Barchfield, AZPM
Listen:
Heather McNeeley came through the front door at The Haven, an addiction treatment center for women, for the first time four years ago.
She was first arrested on drug charges in 2009 and served seven months of her one-and-a-half year sentence at the Perryville Prison in the outskirts of Phoenix.
"And then when I got out it was just really hard," she said. "I couldn't stay sober. Couldn't really get a job so I started selling drugs with my ex-husband and then of course that led me to get arrested again."
She said that arrest saved her life
"The amount that I was using towards the end, I was shooting up five grams a day in my neck."
That's five grams of heroin.
"Who knows, if the police hadn't of come, I might have overdosed that night."
McNeeley was enrolled in Pima County's Drug Alternative to Prison, or DTAP, program.
Here at The Haven she got clean and started learning how to deal with her anger and parse through the trauma of her past.
"It taught me so much mindfulness and self-awareness about myself," she said.
She said during her own recovery she started to believe that she could help other people as well.
She got training and has been working for the past two years as a recovery coach at The Haven's outpatient clinic.
"I facilitate groups, I do case management work, I do the intakes over there as well, I do peer support."
McNeeley's speaking on the success stories panel at the Second Chance Community Forum on Wednesday.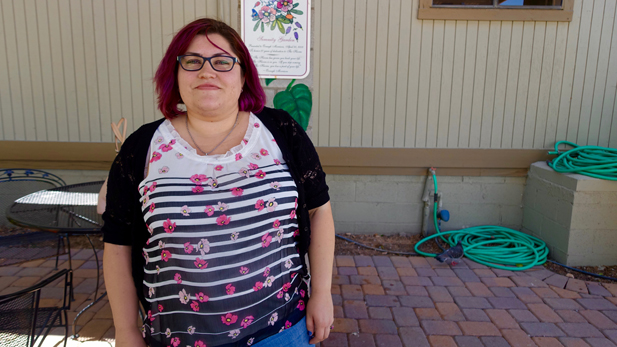 McNeeley got clean at The Haven and started learning how to deal with her anger and parse through the trauma of her past. "It taught me so much mindfulness and self-awareness about myself," she said.

Vanessa Barchfield, AZPM
U.S. magistrate judge Charles Pyle started Second Chance in 2012. He noticed through his work on the bench the great need for more community support for people with convictions.
"I was involved in sending people back to prison over and over again. And most of the time not for committing new felony offenses."
He said mostly they were technical violations - missing appointments with probation officers or having a positive drug test.
"And it just seemed like we should be able to have some success with these people if we were less passive about our help," Pyle said. "Instead of saying, you need to go get a job, actually being involved in saying 'this is what you need to do to get a job, and here are some people who will interview you.'"
To that end, Second Chance hosts forums like Wednesday's and annual job fairs. More than 1,200 job seekers came to the most recent career fair on a sweltering day last August, cramming into packed rooms at the Convention Center for chance to talk with the 42 participating employers.
Pyle said it was a huge success, but more employers need to get on board.
"We probably individually reached out to 300 or 400 employers."
Pyle said he hopes that the 42 that came to the fair and now have experience employing people with criminal records will share their success stories with their peers. He wants the job fair this coming September to have many more companies willing to take on eager job seekers despite their criminal records.
"If we can help these people get their lives going in a better direction, it's great for families and it's great for them," he said. "But it's also great for all of us in terms of our community safety and our community prosperity."
Joyce Morgan, chief of clinical services at The Haven, puts it more bluntly.
"I think without employment you have failure. Because we don't have a society that pays to take care of people who can't take care of themselves," she said.
Nearly one-third of the staff members at The Haven are in recovery and almost all of them have criminal records. Morgan said that's intentional.
"It really helps our clients see that there's a future."
The Haven might be unusual for having such a large number of people on staff with criminal records, but if Second Chance continues to grow, so too might be employment options for people with convictions.
And if that's the case, there will be many more stories like Heather McNeeley's
"I try to make amends every single day for what I put everyone through, just by doing good and living the life I live and helping others," she said. "I don't think of it as being successful. I just think of it as being me and living the life that I was originally meant to have."