(VIDEO: AZPM)
Tucson Circus Arts is located just south of downtown at Rhythm Industry Performance Factory.
Katherine Tesch is the coordinator of the year-round program, which offers programs in everything from aerial acrobatics to dance.
"I think Circus is awesome because a lot of the kids come in and they see us do things and they're like 'that is impossible, I'm never going to do that', and then when they do it, they're like 'oh, when I work hard I can do things that are impossible...' so, that's for me the most important thing," Tesch said.
Along with running the all-ages Circus Arts program, Tesch is an aerial acrobat and performer with Flam Chen Pyrotechnic Theater. She performs aerials, stilts, fire spinning and also serves as co-director of the All Souls Procession.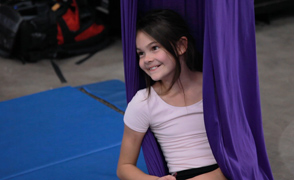 Ten-year-old Nola rests inside an aerial silk at Rhythm Industry Performance Factory.

Mitchell Riley
"I want them to get just a sense of confidence in themselves and also a sense of focus that they can use here and other places. And also just strength and exercise in general and just an appreciation for fitness," Tesch said.
Nola, one of Tesch's ten-year-old aerial silks protégés, said there are great rewards in the hard work.
"It's hard, it is, but once you've done something or accomplished something really cool, you have this great feeling inside you and you're like 'wow, I actually did that'", Nola said. "It's really a nice feeling."