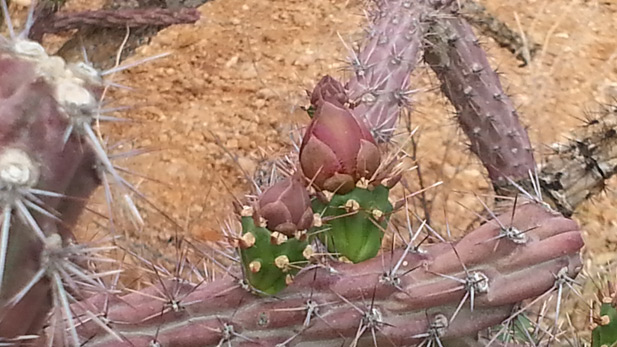 Staghorn cholla buds.

Laura Markowitz
Listen:
For many generations of native people, springtime in the Sonoran Desert meant it was time to harvest cholla buds. And, in the search for sustainable, local foods, there is new interest in the prickly plants.
The Native Seeds/SEARCH recently offered a workshop on how to harvest and prepare the desert food. Participants came from all over Arizona. Ethnobotanist Martha Ames Burgess led the workshop in her backyard in the Tucson Mountains.
There's an assortment of cholla plants in the Sonoran Desert, including chain fruit cholla, pencil cholla, teddybear cholla, the red-flowered Christmas cholla, among others. All the buds and the fruits of the cholla are edible, but the plants are covered with a thick layer of needle-sharp spines.
Burgess recommended bringing a tweezers for the smaller spines and a comb for the bigger pieces.
The workshop participants took their bags, buckets, metal tongs and hand-held whisk brooms and followed Burgess into the desert, where staghorn chollas abound.
"Can you explain what we're looking for in terms of what to harvest?" asked a workshop participant.
Burgess pointed to a flower bud that sat on top of a light green knob. That green knob is the edible part. It's about the size of a grape. On top of the flower bud was a glistening speck that looked like a dew drop, but Burgess explained that it has the consistency of honey.
"It's caused by an extra-floral nectary. Scientists couldn't figure it out until they began observing. You will see ants crawling up this plant and feeding as if piggies are at a trough," she said. "It is the plant that has learned to feed its helpers. The packrat will be deterred by the ants, or other chewing critters. Maybe round-tailed ground squirrels, maybe even marauding birds, maybe even cactus beetles. So it's a symbiosis."
Burgess came to Tucson in the 1960s, and she learned all about desert foods and medicines from a Tohono O'odham elder named Juanita Ahill.

"She would honor the plants and thank it in her way," Burgess said. "She would make an offering to the plant: a hair from her heard...I've seen her give water; I've seen her give gorp. It's related to an understanding of how the world works. You don't take take take without giving back."
After the participants collected a few cups of cholla buds, Burgess showed them how to use a hand-held whisk broom to roll them around on a metal grate, which knocks off the spines. After a few minutes, she scooped up a handful of the cleaned buds. "They feel like rubber balls," she said.
But they're not ready to eat, yet. All cholla buds and fruit have a biochemical protection against herbivores: oxalic acid. It's an irritant to the throat, so the buds can't be eaten raw. Boiling away the oxalic acid only takes 15 minutes. Burgess lead everyone back to her patio and used a Coleman stove to heat up a pot of water to boiling.
When the cholla buds turn olive-green, they're ready to eat.
Stabbed with toothpicks and passed around, they look a little like gherkin pickles at a cocktail party. The first bite is a bit gooey – close to the consistency of okra. But workshop participants compared the flavors favorably to asparagus, artichoke and Brussels sprouts.
Burgess threw a handful of the chopped buds into a salad and sautéd a few cups of boiled buds in a mole sauce. The desert delicacy is a tasty ingredient for salads, salsas, or whatever the culinary imagination can dream up.