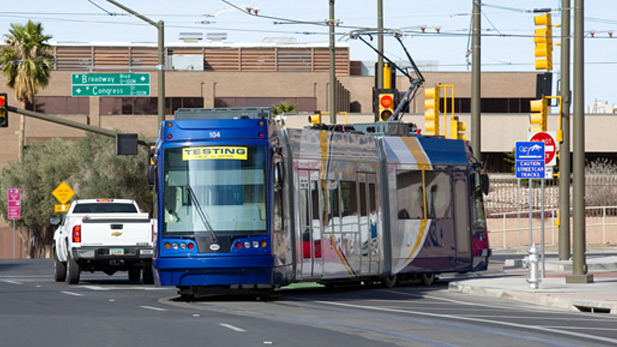 City of Tucson
Listen:
That sound is already ubiquitous at the University of Arizona and in downtown Tucson. It's the Old Pueblo's new streetcar, and after months of test runs, it begins shuttling passengers Friday at 10 a.m.
Andrew Quigley, co-manager for what is officially called SunLink, the Tucson Streetcar, said the city sees the streetcar as a project that could redevelop a portion of central Tucson.
"This project is an economic development project first and foremost for the city of Tucson, and I think the residents and businesses have seen how much change has come to downtown," he said.
SunLink gives an estimated number of more than $1 billion in economic development, which has either gone on or is in place since the modern streetcar project began.
Streetcars will run from morning rush hour to late at night in 10, 20, and 30-minute intervals, depending on time of day and day of week.
During those times, it will cover its four-mile route from near Mercado San Agustin west of downtown to just south of University of Arizona Medical Center.
Test runs in the last few months have already made the streetcar highly visible.
"In June, we started what we call pre-revenue service simulations. We were running as if we were in service, on the hours and the headways, but not picking up passengers, in order to really test the system and also train the drivers," said Shellie Ginn, project manager for the Modern Streetcar project.
One result of the testing was heightened awareness by transit officials of the need for pedestrians, bicyclists and motorists to exercise safety.
"It's a new mode of transportation in the city, and people need to be aware of the streetcar," Quigley said.
He said the city has already seen issues between drivers and the streetcar when it comes to parking.
"We have lines on our parking spaces, and you need to ensure that you park within those lines," he said.
The city has cranked up its safety campaign to let people know the laws and procedures along the streetcar route.
Cyclists are cautioned that streetcar tracks and bicycle tires don't go well together. They are advised to either ride with caution alongside the tracks or choose an alternate route.
They also shouldn't pass streetcars, even when they are stopped.
There's no fare box and no cash collected on the streetcar, as Ginn explained.
"On a streetcar, we have two wide doorways to facilitate rapid on and off boarding and a proof of purchase system versus having the driver check over your pass," she said.
The system is similar to what is in use in other cities. Tickets are purchased before a passenger boards. Once on the train, the passenger scans the ticket at a screen to validate it.
One-way tickets are $1.50 and day passes are $4, though kiosks at the streetcar stations will only sell the day passes.
SunGo transit passes and prepaid cards are also accepted.
Quigley said Tucsonans will get accustomed to the streetcar simply by using it and being around it.
"It's a new form of transit, and it's something that will just take all of us a little time to get used to," he said.
The streetcar begins operation tomorrow morning. For the first three days, through Sunday, all rides will be free.
See an in-depth report on the development and launch of the streetcar, including more from project manager Shellie Ginn, on Metro Week with Andrea Kelly, Friday night at 8:30 p.m. on PBS 6.