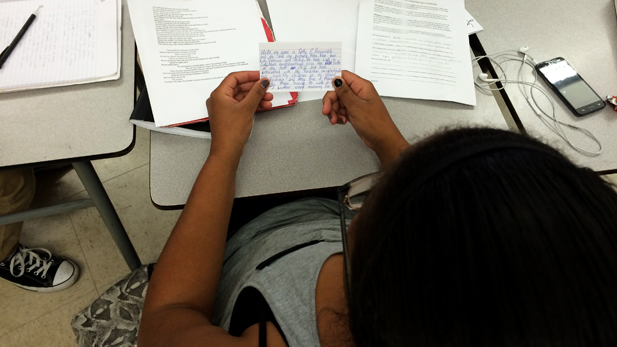 A student in Tucson High School's African American literature class

Fernanda Echavarri, AZPM
Listen
The Arizona Department of Education gave the Tucson Unified School District until Wednesday to address concerns with some culturally relevant courses.
TUSD Superintendent H.T. Sanchez said he has done everything the state required.
"We spent time tweaking some of the instructional delivery and had conversations on how to really tighten it up to align with the district curriculum," Sanchez said. "There were some places where it wasn't to tightly aligned. We've gone to the level of collaboration that we needed to, so I'm hopeful."
TUSD could lose 10 percent of its state funding if Arizona Superintendent of Public Instruction Diane Douglas determines the classes still violate state law.
In response to multiple interview requests for this story, Douglas' spokesperson said she was "not available."
Douglas has said her department is "satisfied with the curricula for ethnic studies developed by TUSD at the district level and supports the program," but some of the implementation of the curriculum is illegal.
"If any child educated in Arizona is not exposed to the suffering, trials and triumphs of all ethnic groups who have contributed to our state's rich cultural mix, then we are failing to teach accurate history," Douglas said in a written statement last month.
Her approach is distinct from that taken by John Huppenthal, who left office last month as state schools superintendent. On his last day in office, Huppenthal sent TUSD a six-page letter saying some of its "culturally relevant" curriculum was in violation of state law. The same law was used to shut down the district's Mexican American studies classes in 2012.
The state said the classes violated a state law that prohibits classes that "promote the overthrow of the United States government," and "promote resentment toward a race."
Although the state shut down the classes, a federal desegregation order requires TUSD to teach "culturally relevant courses" that included Mexican American and African American history and culture.
The state did not oppose TUSD's new curriculum, and some high schools have been offering the new courses as electives this academic year.