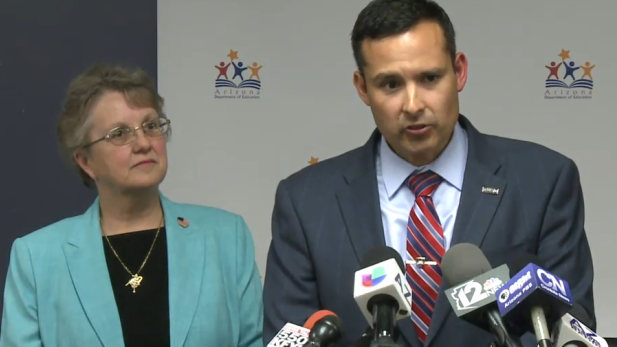 State Superintendent of Public Instruction Diane Douglas and Tucson Unified School District Superintendent H.T. Sanchez at a joint news conference, March 3, 2015.

Courtesy KPNX, News 12
The Tucson Unified School District will not lose state funding for now, but the state will continue monitoring how it is teaching ethnic studies, Arizona Superintendent of Public Instruction Diane Douglas said Tuesday.
Douglas said at a news conference that her department will continue making visits to TUSD classrooms announced and unannounced.
"Given TUSD's cooperation with the monitoring process and evidence of their attempts to improve compliance with the statute, it is in the best interest of the district's students to move forward without denying any state aid," Douglas said in a prepared statement.
Douglas said at the news conference that her department has concluded that "the district-approved curricula do not appear to violate statute," she said. "However the department remains deeply concerned that some TUSD teachers are not following the curricula for the ethnic studies classes, and while TUSD has clearly corrected a few situations, there is still work to be done."
TUSD Superintendent H.T. Sanchez joined Douglas at the news conference in Phoenix.
"I appreciate the state superintendent's willingness to work with our district throughout this process," Sanchez said. "Together we were able to avoid a costly loss of funding, and I remain committed to improving culturally relevant classroom instruction so that in the future monitoring will no longer be required."
The Arizona Department of Education had given the district until Wednesday to address issues with how some "culturally relevant" courses were being taught.
Douglas had said in recent weeks that she supports the teaching of ethnic diversity in schools. She said TUSD's curriculum complied with state law, but not the way some teachers were delivering it in classrooms.
Sanchez said last week he and the district had done everything the state required days ahead of the deadline.
"We spent time tweaking some of the instructional delivery and had conversations on how to really tighten it up to align with the district curriculum," Sanchez said last week. "There were some places where it wasn't too tightly aligned. We've gone to the level of collaboration that we needed to, so I'm hopeful."
On his last day in office in January, former state superintendent John Huppenthal sent TUSD a six-page letter saying some of its "culturally relevant" curriculum was in violation of state law. The same law was used to shut down the district's Mexican American studies classes in 2012.
Huppenthal said the classes violated a state law that prohibits classes that "promote the overthrow of the United States government," and "promote resentment toward a race."
TUSD started teaching its "culturally relevant" classes last year after the federal judge overseeing a desegregation order said the district must teach "culturally relevant courses" that included Mexican American and African American history and culture.
The state did not oppose TUSD's new curriculum, and some high schools have been offering the new courses as electives this academic year.