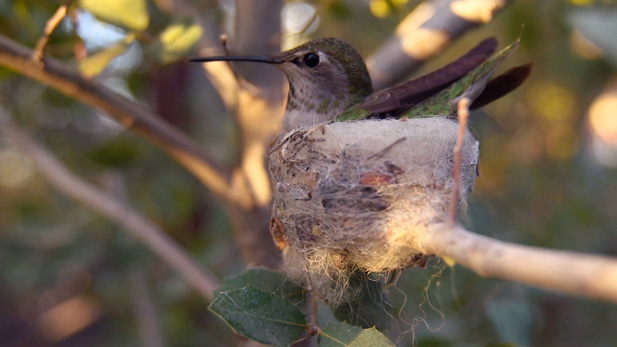 A broad-tailed hummingbird in Arizona sits in the nest she built.

© THIRTEEN Productions LLC
An ornithologist whose specialty is hummingbirds led the public television show Nature on an expedition to the Chiricahua Mountains. The goal was to find out more about the tiny bird's approach to finding safe places to nest...
Listen:
Harold Greeney and the black-chinned hummingbird are featured on NATURE: Animal Homes tonight at 8 on PBS 6.
Harold Greeney explains the black-chinned hummingbird's nesting behavior in detail:
Greeney: "Over the past hundred years, people have been finding black-chinned hummingbird nests all over the south western United States, including California and New Mexico. Several scientists have noted that when they walk along the riparian area or a wash where the hummingbirds are nesting, they don't find any for a very long time and then suddenly they find a whole bunch.
This idea that black-chinned hummingbirds were clustering their nests together has been known for quite some time. This is fairly unique in hummingbirds. The hummingbirds tend to be solitary nesters and so finding colonies, if you will, of hummingbird nests was unexpected. As of about ten years ago, no one had really figured out why this might be and it was generally assumed that they were doing this somewhere near feeding resources like flower patches.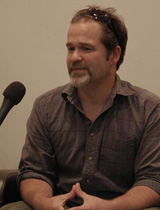 Ornithologist Harold Greeney
When I went to the Chiricahuas, I found the same thing. I would walk along the wash, I would find no hummingbirds, nothing, and then suddenly I would find one. While I was taking information about that one, I would notice another one in a tree down a little father and I would realize there was quite a cluster of them.
As I started putting these on a map, I realized that right in the middle of each of these clusters of hummingbirds was a Cooper's hawk. I thought that the first thing to do is to see if there is a benefit to nesting near these Cooper's hawks. We did some very simple analyses looking at the relationship between nesting success of the hummingbird and distance to the raptor.
Sure enough, what we found was the closer they are to the raptor, the better off they do. I thought this must be because this raptor is big and scary and it's scaring off someone who is otherwise harmful to the hummingbirds. There are many animals and birds in that habitat that would love to eat a hummingbird nest. They start out with these two little "tic tacs" full of protein and fat and all these good nutrients and then those hatch into tiny raisins full of fat and yuminess and those slowly grow into hummingbirds. There pretty much isn't anyone that wouldn't love to gobble those up from squirrels to lizards to snakes and things like that.
But the most obvious and most abundant predator in that area are the Mexican jays. Jays as a whole are well known to be predators of other birds' nests. They really like to eat eggs and nestlings of other species. Jays are also right in that preferred sized range of prey for the accipiter, I thought that possibly, the jays were the ones that were driving this pattern. In other words, it was the hummingbirds fleeing the jays that caused them to cluster around the hawks thus gaining protection from the jays.
What we did then was started recording where the jays were moving within this habitat, how many jays there were and that sort of thing. What we expected to find was a blank circle of no jays anywhere near these hawks and otherwise the habitat was full of jays. Interestingly, we didn't find that. We were a bit discouraged and started thinking about other ideas.
In the meantime, we decided to re-plot on a graph our data about where the jays were foraging. We decided instead of just distance and direction from the hawk, we would also plot how high they were above the ground. Imagine looking at a graph and looking down at the landscape with the hawk in the center and all these little spots that are jays. Now you turn it sideways, lift it up and look at it from the side with the hawk in the top of the tree in front of you.
Indeed what we found is that the closer the jays get to the hawk, the higher above the ground that they forage. So, those jays are very aware that the hawk is there and are, rightfully so, very scared of this hawk.
But the hawk is a sit and wait predator who sits near the tops of the trees and silently swoops down. Aptly said, they are "death from above" for these jays. As the jays get closer and closer to where they fear there might be a hawk (such as the hawk's nest), they stay higher and higher above the ground. They don't want to be underneath the hawk.
If a jay lands on a branch next to a hawk, there's really not that much danger from the hawk. The hawk is bigger and stronger and it could hurt the jay but the jay is really agile and can quickly jump out of the way. It's that "death from above" aspect of the hawks that allows them to swoop in silently and quickly and get the jays. It is not a circle of safety around the hawks that the hummingbirds are exploiting but it is a cone of safety. If you imagine a cone shaped circle around a pyramid shape, with the hawk in the center - looking down and outwards - the hummingbirds are all trying to get within that area."
Transcription by Caitlin Dean