Stink Bug Love
Artist and writer Beth Surdut listens to ravens and paddles with alligators in wild and scenic places. But she also knows that true adventure can be found just outside your window -- and sometimes, it's pretty racy...
Listen:
Watching two big black stink bugs mate is about as exciting as watching a tortoise race. No, I take that back. There's more action with the tortoises. Usually.

One day, I witnessed a buggy ménage-a-trois right outside my door. Two stink bugs had assumed the position—stacked on top of each other, his belly on her back, his head over her head, and not moving for a very long time—causing me to wonder if he does his reproductive duty and then dies in the saddle—when a third enterprising beetle tried to join in by crawling on top. Each beetle has six legs, so, for a moment, it looked like an X-rated Rockettes rehearsal.
The original top was having none of that threesome action. He moved sideways, dislodging the bold intruder who literally went belly up, then righted his bulky carapace and wandered away while Mr. Stink reset himself on top of his mate. Then I saw the unexpected—he was gently stroking her in a swimming motion, an Australian crawl without the benefit of water. Using his two front appendages, he gently and repeatedly touched her on both sides.
"It's okay honey. Really. Calm down. We can do this."
And then they went back to the stillness of corpses that I was accustomed to seeing.

But maybe not.
Maybe I was witnessing tantric bug love. Maybe they were experiencing deeply satisfying hours of communion, practicing inner flute and achieving pleasure most humans can only fantasize about.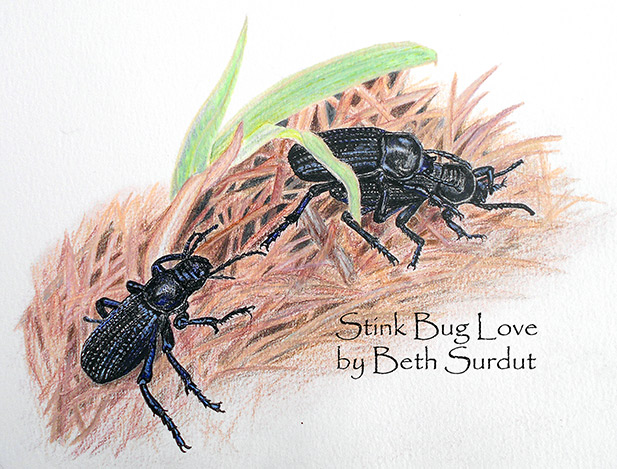 Beth Surdut
I began to wonder what I really knew about my neighbors who engage in sex in public places and appear to wander around like tourists without a map. Named by French zoologist Edouard Guerin-Meneville in 1844, these peregrinators feed on caterpillars and are quite benign. Let me clarify that these are not the vilified ¾" shield-shaped Halyomorpha halys, better know as the Brown Marmorated Stink Bug (aka Stinkies) that are infesting houses. These are Calosoma peregrinators, one of 167 varieties found throughout the world. Here in the Southwest, they are big, black, about 2 ½ inches long, and are determined walkers—hence the name peregrinator. When they feel threatened, which is often, they assume downward dog position —tush up, head down-- and excrete a stink that might as well be a rumor because it never reaches my nose. Otherwise, they kind of remind me of golden retrievers-- ubiquitous, mildly curious, just yup-yup-yupping around, checking things out, not seeming dumb, but not wildly smart, like my raven buddies.
As I write this, a stink bug is exploring a napkin in my studio and I'm taking him outside to his home, my home, our home in the desert.
Find more of Surdut's drawings - and true stories about spirited critters - at listeningtoraven.com and surdutblogspot.com.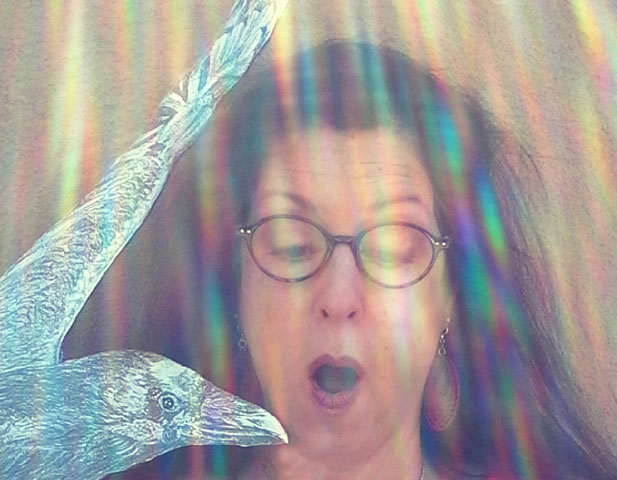 Beth Surdut's illustrated work Listening to Raven won the 2013 Tucson Festival of Books Literary Award for Non-Fiction. Elements of her raven clan have appeared in Orion Magazine, flown across the digitally looped Art Billboard Project in Albany, New York and roosted at the New York State Museum in an exhibition of international scientific illustrators.
The Raven segment of Encyclopedia of Santa Fe and Northern New Mexico by Mark Cross is illustrated with The Reason Why along with her explanation of Raven calling her to the Southwest to draw and collect first person stories of interactions with this clever corvid and iconic spirit guide.