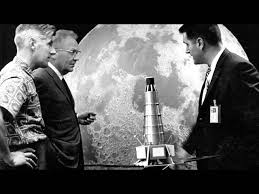 Gerard Kuiper (second from left) with NASA engineers 1964

Photo courtesy: NASA
Listen
July 31, 1964 isn't typically listed among the historic dates of space exploration.

However, it marked a significant moment for NASA scientists and engineers in the drama of the Space Race.
They successfully crash-landed an unmanned spacecraft, called Ranger 7, on the moon.
Previous missions had failed, dropping the United States further behind the Soviet Union. Ranger 7 changed that, and much of the credit went to Dutch astronomer Gerard Kuiper, who had just started a small Lunar and Planetary Sciences program at the University of Arizona.
U of A graduate Jason Davis researched Kuiper's career for a documentary he produced about the astronomer last year.

"A few people thought there would be a layer of dust so thick that any spacecraft or astronaut landing on it would just sink out of sight," said Davis. "But Ranger, with its photographs up close of the surface, was able to show boulders sitting on the surface that had been thrown out of craters, and Kuiper was able to show the bearing strength and say, yes, definitively a spacecraft could land on the surface. That paved the way for robotic missions and eventually Apollo in 1969."
If Kuiper's name sound familiar, it's because it was given to the Space Sciences building on the U of A campus, and to the Kuiper Belt, a region of the solar system beyond the planet Neptune. It's an area now being explored by NASA's New Horizons spacecraft.
The New Horizons mission is the latest space science success built on the work of Kuiper, who died in 1973. Some of Kuiper's findings about dwarf planets at the solar system's extreme edge are ironic, because Kuiper himself doubted their existence.
"When scientists began discovering these objects, they started calling this area the Kuiper Belt," Davis said. "But what Kuiper described as the Kuiper belt was not what scientists were seeing in the '90s and now know of today. He kind of predicted an anti-Kuiper belt of sorts, yet he is credited with the name and the name still sticks."
Kuiper became a well-known astronomer decades before he arrived at Arizona. He earned notice in the 1940s for finding moons orbiting the outer planets. Then, Kuiper turned his attention to making a map of the Earth's moon.
Timothy Swindle now heads the U of A's Lunar and Planetary Sciences department. He says Kuiper helped the American space program bridge an important gap in moon exploration.
"Mapping the place is an essential first step in figuring out how to interpret what's there, if you're going to go there, figuring out where to go," he said.
Davis adds, "When we did the film we had a lot of fantastic stories about just (Kuiper's) childlike enthusiasm. His daughter described to me one time going on road trips, and he would see some rock formation along the side of the road, and pull his family up and say, 'this is exactly what we're seeing on the moon, this formation looks very familiar to me.' And so he was just a very, very true, curious scientist and I think that's a good model for scientists to look up to today."
NASA used Kuiper's maps to select landing sites for the Apollo astronauts. The space agency also used Kuiper's research for deep space journeys by unmanned satellites to the outer planets.
"A lot of this research might have happened without Kuiper," said Swindle. "But it certainly happened faster because of him."
Kuiper developed his first theories when traveling to the moon was mere science fiction. Now he's getting credit for bringing those stories closer to reality.