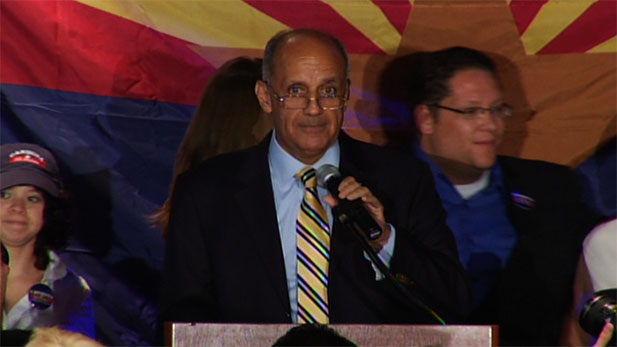 Carmona gives a victory speech. (PHOTO: AZt)
LISTEN:
Health care in the United States remains riddled with disparities in terms of access and quality of care, former U.S. Surgeon General Richard Carmona said Thursday in Tucson.
Hispanics, Native Americans, African Americans and the poor have the least health care, most disease and shortest lifespans of any demographic groups in the country, Carmona told a lunch audience for the Tucson Hispanic Chamber of Commerce.
"We are a nation divided by our health metrics. Those health metrics are tied directly to our economics. Because the greatest indicator of health status in this country or the world is socio-economic status," Carmona said.
He said the federal government must find a way to provide access to quality health care to its entire population. But the burden doesn't fall exclusively on the shoulders of policy makers, the public also has a role to play.
"Never smoke, wear a seatbelt, wear a helmet, eat healthy when you have a choice," he said.
Carmona said the other element needed to improve health is more funding in another area - education.
"This is just a smart investment. It has nothing to do with politics."