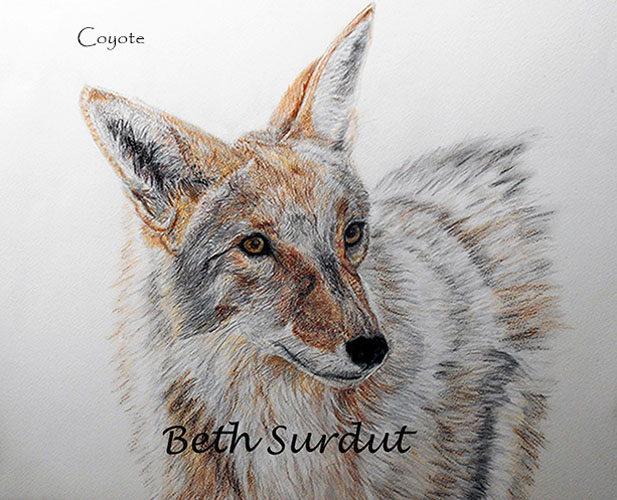 Beth Surdut
Listen:
The Art of Paying Attention: Coyote © Beth Surdut, 2016
Walking in the suburban desert, Coyote turns her head to look at me as our paths cross, then squats her fluffy self right in front of me and stares at me as she does her business -- just in case I need a reminder of whose territory this is.
Another day, another coyote—small, lanky-- stands close, looking in through the glass door of my studio. We trade looks and then he trots downhill into the dusky desert.
I have come to think of the coyote who often crosses the arroyo near my house as my coyote, my night watchman often illuminated by my headlights as I drive the road home.
One Sunday morning, just before dawn, soon after I'd hugged my former partner goodbye and wished him a safe plane trip, he called and left a message:
"Hey, beautiful. Unfortunately, I'm like 500 yards away from the house, and a coyote attacks my car. Right off the side of the road, just came right up my car. I hit him and terrible noise, and I stopped oh, ten yards later, 15 yards later, and he was yelping, but he was off in the brush, nothing I could do. Anyway, if you hear an injured coyote around, it tangled with my car. I love you, bye. "
I look up county animal control phone numbers to take with me on my coyote hunt. The moon is still hanging around as I stand in the driveway. I look across the road at the neighbor's house. I know he has a gun, probably plural. Once I found out about the guns, I started avoiding him, but now I'm thinking, maybe he'd come help. I mean, what else good is a gun for? It's not like I can go up to a wounded coyote, pick it up, put it in the car, and bring it to a vet…especially on Sunday. Or, if it's really badly hurt, do I have what it takes to break its neck-- fur and muscle and bone twisting in my hands, pungent wet musk that I'll never be able to wash away. And is it okay to shoot a coyote? I guess so, since there are reprehensible killing contests run by gun shop owners who give assault weapons to the human who kills the most coyotes.
Mmmmm…For now, I'm on my own.
At the incline where the accident happened, Raven perches atop a juniper tree, spreading out his neck feathers and looking at me as I scan and listen for coyote panting, whining in the sharp cut of the arroyo.
I look for blood, but there isn't any. I hear a hawk calling, thrasher singing, small critters skittering--every sound except coyote's. God, I hope it's not my coyote.
That night, I lie in bed listening to the neighborhood pack sing wild triumphant songs that announce another little creature has died in those mouths.
Yet another night, the clock letters on the dashboard glow 1:10 am.

I like to drive on back roads really slowly with my car windows open to the night sounds and perfumes. I sense, more than see, a shape moving on my right.
I stop. Turn off the engine, leave the lights on.
Wait.
A young coyote comes out of the brush, trots figure eights in front of the car, headlights showing a dark stripe on a furry tail.
Quiet, quiet, I tell myself just as a few beckoning sounds canter unbridled from my lips.
Coyote child comes a little closer, heading towards my kisses.
There are so few humans worthy of trust.
Best coyote learn that now.
I turn off the lights, roll up the window, and watch coyote meld into the night.
SPECIAL EXHIBITION:
The Art of Paying Attention: Beth Surdut's Illustrated Nature Stories
February 1-28, 2016 at The Tucson Botanical Gardens' Porter House Gallery, at 2150 N Alvernon Way.
Visual Storyteller Beth Surdut invites you to observe, with unbounded curiosity, the wild life that flies, crawls, and skitters along with us in our changing environment. From exotic orchids and poison dart frogs to local hawks and javelinas, Surdut illustrates her experiences with wild and cultivated nature by creating color-saturated silk paintings and detailed drawings accompanied by true stories.
You can find more of Surdut's drawings - and true stories about spirited critters - at listeningtoraven.com and surdutblogspot.com.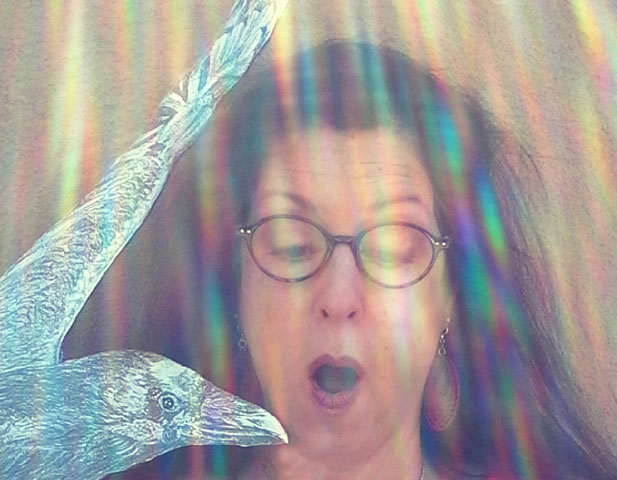 Beth Surdut's illustrated work Listening to Raven won the 2013 Tucson Festival of Books Literary Award for Non-Fiction. Elements of her raven clan have appeared in Orion Magazine, flown across the digitally looped Art Billboard Project in Albany, New York and roosted at the New York State Museum in an exhibition of international scientific illustrators.