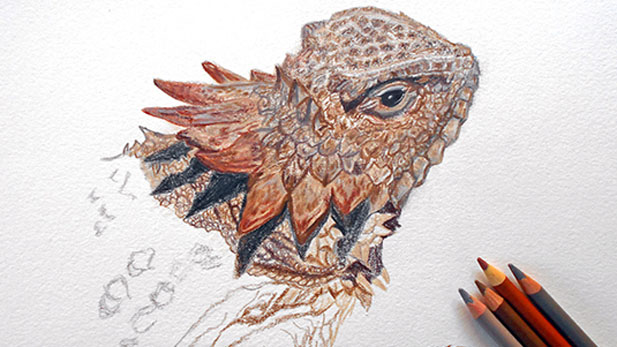 Beth Surdut 2015
Guidebooks, by necessity brief in description, are a gateway to learning more—kind of like speed dating—and a great place to begin.
In my illustrated Art of Paying Attention radio series, I invite people to look closely at the bounty of wildlife around us and get to know the individual personalities and habits of our year round and migrating critters.
When I found a Regal Horned Lizard on my front stoop, I found out that even though I thought I was paying attention, the learning process wasn't just about looking, it was about looking it up.
In the Arizona Highways Wildlife Guide: 125 of Arizona's Native Species, I began with the animals I'd already featured -- owls, bats, coyotes, javelinas, hummingbirds, rabbits, ravens, lizards, hawks, doves, and snakes. I found either the specific critter or a closely related one in a slim volume that fits in my backpack.
Author Brooke Bessesen offers pertinent identification features as well as behavioral quirks. Book and magazine designer Keith Whitney presents a visual feast from a large group of talented photographers, some of whom I have met in person and through an online resource coordinated by Peggy Coleman-- the Facebook group Birding Arizona and the Southwest.
The author, designer and 8 photographers will be presenting in Tucson at Antigone Books, 411 North 4th Avenue on Friday, February 10 at 7 p.m.
Realizing that it was a challenge to pick a favorite child, I invited three photographers -- Doris Evans from Tucson, and Robert Rinsem and Peggy Coleman from the Phoenix area -- to choose a favorite photo and tell me how they came to take it. Here are their stories:
There is a story behind most of my photos that appeared in Arizona Highways Wildlife Guide, but the one that comes to mind foremost is that of the Coachwhip snake that appears on page 129 in the "Reptile" section. Maybe it is because it goes along so well with your "Art of Paying Attention" theme.
Each morning my husband and I take a walk along the streets in our neighborhood in northwest Tucson. I always have my camera along in case a cooperative bird, lizard, insect – or the occasional bobcat or coyote – presents itself for a photograph.
One June morning, as we walked by a group of palo verde trees along our street, I instantly noticed a long dark shape entwined in the branches about 6 feet off the ground. My first thought was that someone had tossed a fanbelt or like object into the tree, but as we came closer it was obvious that it was a snake. About 5 feet of Coachwhip snake – an agile climber - was in the tree, no doubt in search of bird nests looking for an egg or hatchling breakfast. I took some photos, of course, before continuing on home.
The next day it was back in almost the same place. As we stood nearby watching it, one of our neighbors jogged by within a few feet of it. I called to her and pointed to the snake. It took her a moment to see it. A few days later the snake was back again. Another neighbor walked by and I had to point it out to him even though he walked right by it. Soon we passed two other neighbors who would have walked by the snake moments earlier. We asked if they saw it. Nope.
It never ceases to astonish me how people can walk right by something that to me is so obvious, but they do not see it. How many wondrous bits of nature do they walk by each day and never notice, never learn something new about this fascinating desert around us.
I cherish my snake sighting and went back to spend time watching it slither through the branches. One day, a family of Black-tailed Gnatcatchers perched nearby scolding it as I held my breath wondering if the snake would strike out and catch a bird. Whew. Didn't happen. Little did I know that my Coachwhip would end up being a star in an Arizona Highways publication.
All because I practice "The Art of Paying Attention".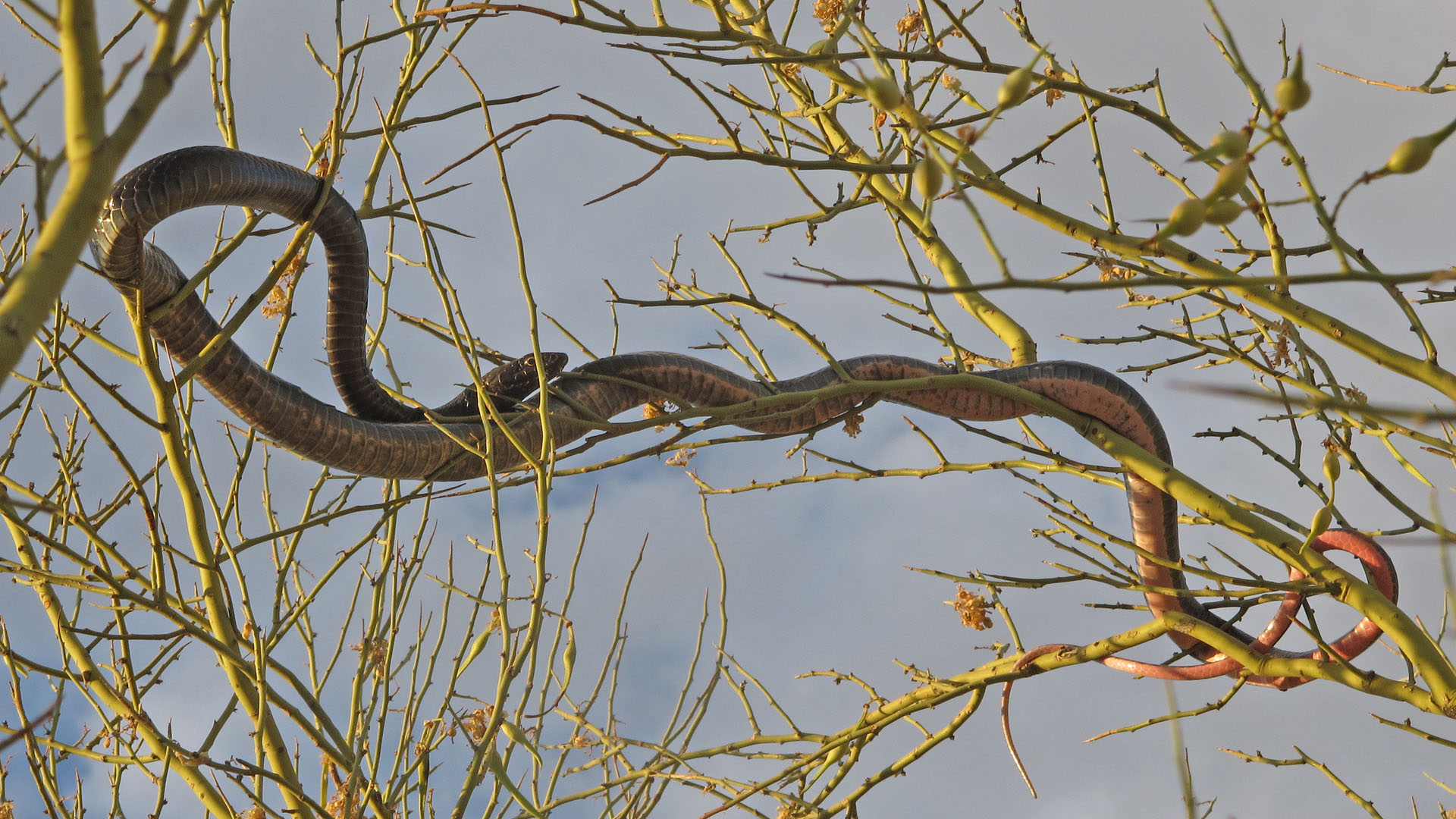 "Coachwhip Snake in Tree"
Doris Evans
I have attached my image of "Pronghorns In A Field Of Gold". I was honored to have it featured as a two page spread in the Arizona Highways Wildlife Guide.
As you know, I love photography and have a passion for wildlife. I have driven around the state photographing pronghorns with mixed success. Then one chilly February day, outside of Prescott, luck was with me.
We had driven around the areas frequented by pronghorns, with no luck, so headed off to Goldwater Lake to photograph Bald Eagles. On the way home, we decided to take one last look and were thrilled to find a herd of pronghorns in one of the best settings I could have hoped for.
Golden grasses on a downhill slope provided the perfect scene. Pronghorns can be skittish, so slow movements were necessary getting out of the car, setting up my gear on a tripod and inching my way into a position with complementary light and a good angle for the shot.
There are many times where you feel a thrill photographing wildlife, but this was one I will remember as I immediately knew I had the shot I was searching for.
Pronghorns In A Field Of Gold.
Robert Rinsem
Choosing a favorite is nearly impossible for me. It is difficult for me to single out a favorite when each represents a blessing, an epiphany, sometimes a little victory or moment of insight.
The moment with "Spiny on the Rocks" was not so unusual. I had seen and photographed many desert spiny lizards at the Arizona Desert Botanical Garden. In fact, because of her coloring and camouflage, I nearly passed her by. But, when she moved, climbed up on the granite, glanced back at me with her oh, so confident stare, I knew she was special.
As I began to move around her, trying to find the best angle without sending her running for shelter I realized it was not as much about her unique pose as it was about her way of blending into her surroundings. It wasn't about standing out. It was about becoming one with her nature. In fact, I realized, her ability to do so insured her survival.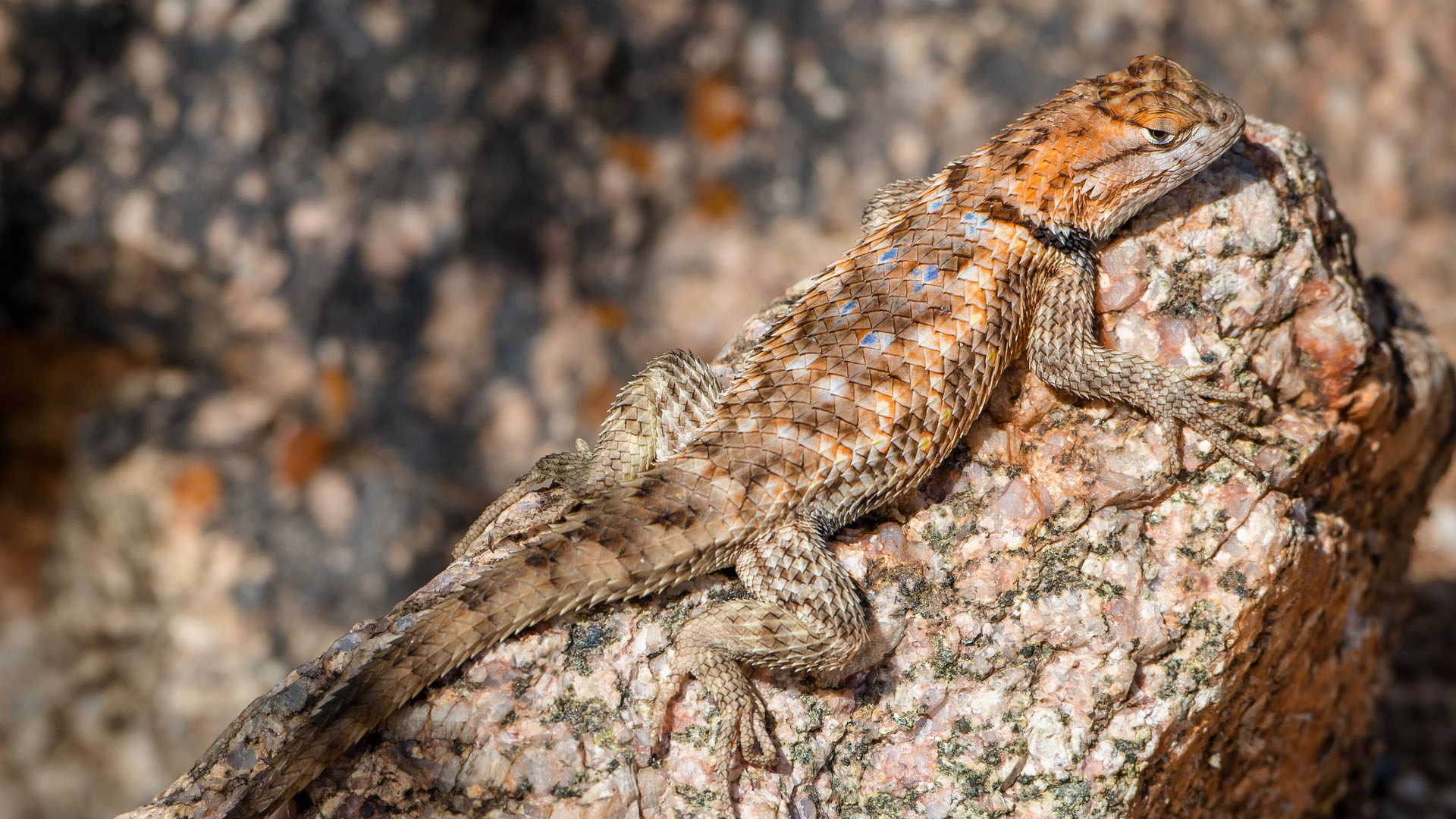 "Spiny on the Rocks"
Peggy Coleman
Ambling up the dirt path to pond five of the Gilbert Riparian Preserve is a trek I have taken hundreds of times. I always welcome the woodsy, musk fragrance of the preserve and this day the musk was heavier in the air than usual. There was a coyote nearby. Surely, he had already noticed my arrival. Was he hidden in the underbrush of the overgrown trail? In this case, his fragrance would be my only indication of his presence.
As I rounded the corner I could see the brushy field of the half-filled, half-empty pond five. There in the early morning hours were several photographer friends, perching on their monopods and tripods and focused on something actively engaged in the field. Their attentive presence signaled the discovery of a hawk, a harrier or possibly, a coyote.
As I moved closer to the field, I could see it was indeed, a hunting coyote. He was oblivious to his audience as he hunted field mice or perhaps a bird with what appeared to be a sense of pure ecstasy. He would search, run, pounce and repeat as we watched with anticipation that soon he would emerge with a prize.
Camera up and now fully engaged with his rhythmic behavior I checked settings for morning light, high shutter-speed for activity and depth of field to limit the background while keeping him focused and sharp.
He did not disappoint. "Pounce," as I was soon calling him, delivered a first class show of innate skill, perseverance, timing, as well as physical agility. The prize was captured; a plump cotton rat for the coyote and an award-winning image of Pounce for the Arizona Highways Wildlife Guide.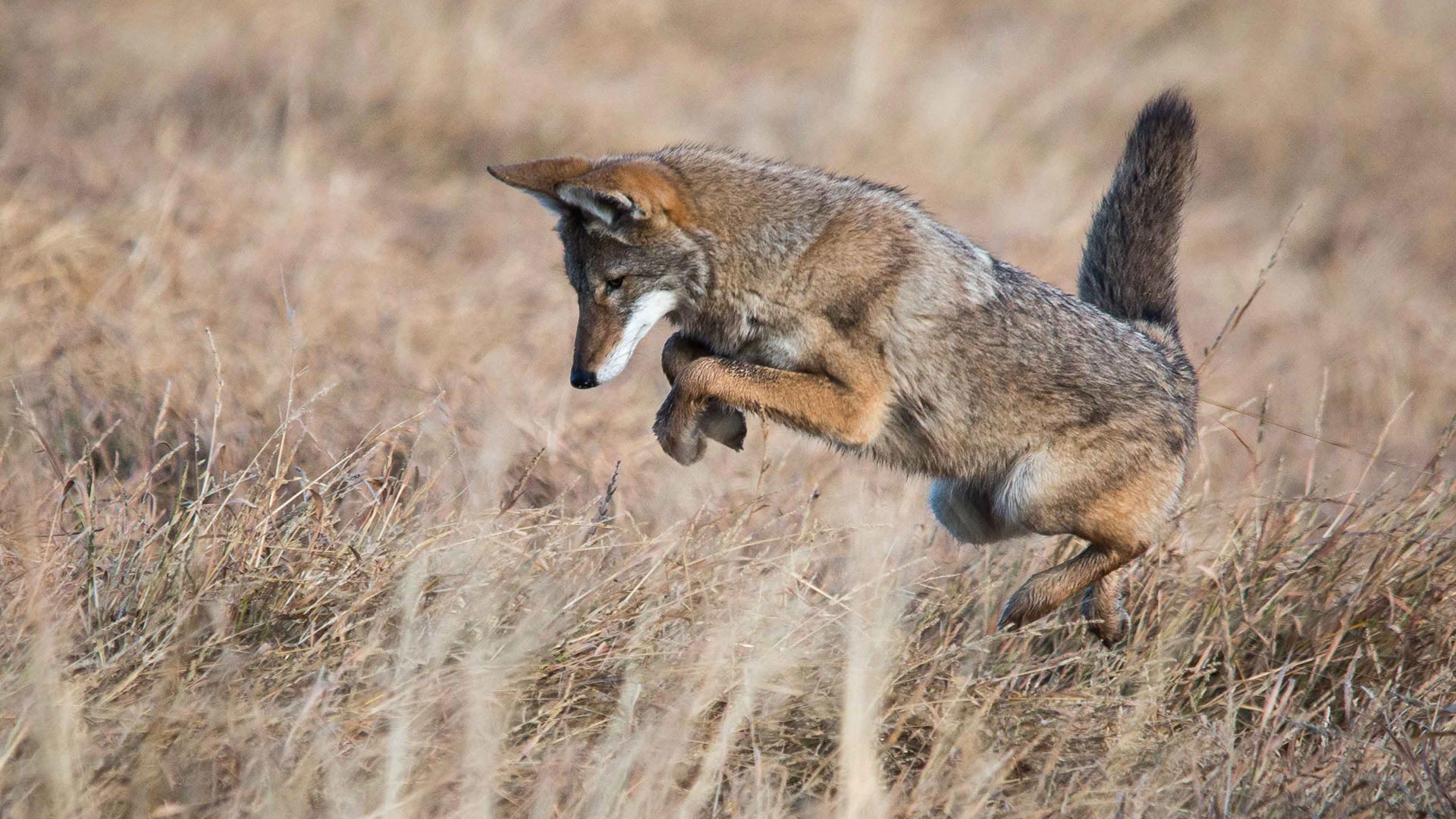 Peggy Coleman