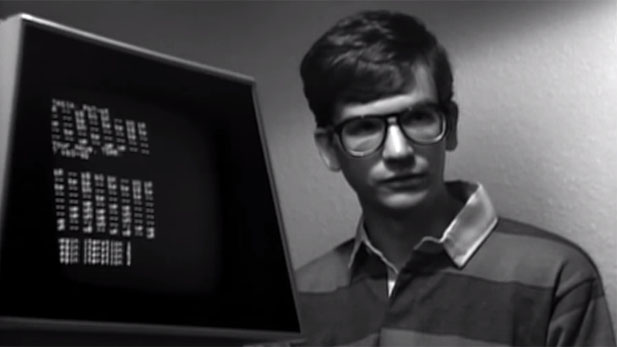 Patrick Riester as Peter in Andrew Bujalski's film "Computer Chess" (2013)
Let's All Go to The Lobby! was once a common intermission refrain. It was an invitation for the audience to take a break between movies to restock on popcorn, candy, and soda pop at the concession stand, the only place theaters and drive-ins turned a profit.
Now, Arizona Spotlight producer & host Mark McLemore, film essayist Chris Dashiell, filmmaker & teacher Robert Loomis, and photographer Pamela Sentman invite you to join them in the lobby between movies, to restock on great recommendations, some fascinating film history, and a wide range of opinions in a fun, open-minded conversation about films from anytime and everywhere.
Discussed in Episode 8: "From Silent Films to Computer Chess" Chris reveals the ugly truth about silent films / "Sure, you can laugh at it, but try watching it instead!" / From pantomime to film acting in a million exaggerated steps / "Calling Dr. Jeeeekyll, Dr. Henry Jeeeekyl!" / Mark pitches the idea of Revenant happy meals / The group's diverse reactions to Computer Chess, a comedy with no actual jokes that once almost took Pamela's life...
Discussed in Episode 7: "Hard to be a Bond" The group discusses the 2015 James Bond film Spectre, and ponders the nature of Christoph Waltz's earlobes / Chris recommends the mind-blowingly gory, grungy and gutsy Hard to be a God, the last film from legendary Russian director Aleksei German / plus, find out why at Mark's house, you fall asleep during a movie at your own peril...
Discussed in Episode 6: The birth of obsession / Mel Gibson's leathers / Silent film watching for dummies -- and you / The flop with the dragon tattoo / seeing the world through orthochrome specs / Superman in grey and brown / and more...
Discussed in "After Oscars", Part 2: Paying for the whole actress but only using the edge / From The Great Train Robbery to Sledge Hammer! / How Luis Buñuel helped to create Pam / Robert pines for the by-gone days of art riots / Times when religious depictions in film have caused outrage / Chris recommends Court / and more.
Discussed in "After Oscars", Part 1: How did they do this year? / Social media storms in tea cups / The genius of Wong Kar-wai and the slippery definition of "pure cinema" / Chris recommends Victoria / Show-off directing / Lessons taught by good ol' Citizen Kane / and more.
Discussed in Part 1: The Oscar controversy / Is it bi-opic or bio-pic? / Why Robert dislikes "Room" / Hitting the Celluloid Ceiling / Do they make movies like "Alice Doesn't Live Here Anymore"? / Pam loves "Brooklyn", which Mark is surprised is NOT a Spike Lee Joint.
Listen:
Discussed in Part 2: "Argo" vs. the Argonauts / The worst Steven Spielberg breakfast ever / Does the "Bridge of Spies" go nowhere? / Eddie Redmayne: friend or foe? / To foreign films with love.
Listen:
Discussed in Part 3: Trumbo! Trumbo! Trumbo! / Chris still doesn't like those darn ol' Oscars / Robert surprises everyone by revealing he hates movie stars / The group recommends their favorite recent viewing experiences.
Listen:

Chris Dashiell
Chris Dashiell has been writing about movies for twenty years, serving as the editor of the online film lovers' guide Cinescene for ten of them.

He currently reviews films for Flicks, a weekly program on Tucson's community radio station KXCI, and makes regular appearances with essays about films and the topics that surround them for Arizona Spotlight, a weekly radio show heard on NPR 89.1 in Tucson.

Chris confesses to shamelessly idolizing Carl Dreyer, Jean Renoir, and Luchino Visconti.

Mark McLemore
Since 2007, Mark McLemore has been the host of Arizona Spotlight on NPR 89.1, a weekly radio show with a very wide beat. Mark has done stories about topics ranging from mountain wildfires to deep sea research, from global refugees to Arizona's centenarian population, and from dinosaur fossil finds to the proper care of urban chickens. He is also a jazz DJ, and enjoyed playing music for Friday night NPR listeners for more than 15 years.

Mark was born and raised in Fort Worth, Texas, where he studied music and art, and spent time working as a film projectionist, museum guard, and musician. He has played drums in bands since he was a teenager. It was a sudden chance to play in a friend's band that first brought him to Tucson in 1991, a decision he has never had time to regret.

Robert Loomis
Robert Loomis was born in Nürnberg Germany on January 31, 1966. After that, he moved every couple of years or so until he was captured by the vortex that surrounds Tucson, Arizona.

He studied art, art history and media arts at the University of Arizona, where he later taught film production and film financing courses. He is currently a lead instructor in digital film and video at the Art Instititue of Tucson.

Robert has been involved with independent film making for over twenty-five years. In addition to many shorts, videos, and commercials, he has produced four and directed three feature length films: Dog Years, Angry Young Man, and Dropkick.

Pamela Sentman
Born in Elkhart, Indiana, photographer Pamela Sentman describes herself as a starving artist-type person -- the kind who pays her Hulu subscription before her phone bill. ("They have the Criterion Collection!") She currently works at Pop-Cycle on 4th Avenue in Tucson, and often volunteers for Arizona Public Media, especially during the pledge drives.

She has no experience in film making, but has had enough friends in the industry that she can pretend she knows what she's talking about.

Pamela believes Mark asked her to participate in this podcast based on her controversial preference for the original theatrical cut of Blade Runner.
All opinions expressed on Let's All Go to the Lobby! are those of the participants only, and do not reflect or represent Arizona Public Media.
Music by Isaac Rodriguez
Engineering and tech support courtesy of A.C. Swedburgh & Isaac Rodriguez