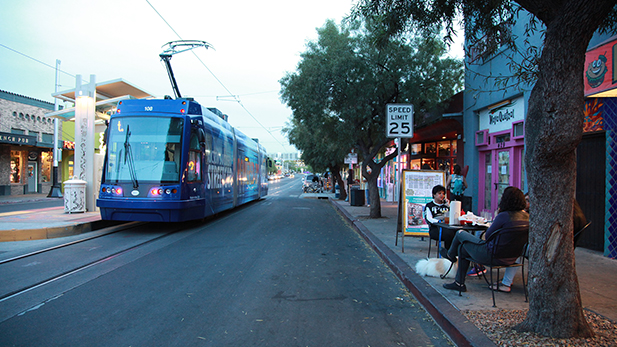 The streetcar passes people eating dinner on 4th Avenue on April 5, 2015.

Tess Salmon, AZPM
Listen:
During his trip to Tucson, John Rosshirt saw some parallels between this city's downtown and the downtown of the city he has called home for decades.
"When I first moved to Austin, the downtown was boarded up," he said. "It was part of that suburban sprawl. They were building cheap homes, no one lived downtown any more and it was kind of a sad look."
Rosshirt is an Austin-based real estate agent who tours the country as part of a National Association of Realtors class that teaches those who were interested how to effectively plan growth.
He said Tucson is not the only town that is seeing a revitalization of its downtown area.
The trend benefits municipal governments by keeping the cost of growth low on their end.
"We have all this infrastructure," said Rosshirt. "We have streets, we have fire stations, we have libraries. We have everything here. What's missing are the people."
Rosshirt is not alone in his belief.
"The costs of extending infrastructure, water, sewer, electric, roads, and maintaining that infrastructure is huge," said state Sen. Steve Farley, a Democrat who represents midtown Tucson. "And it ends up being borne by the taxpayer and not the developer."
Local investment draws business interest
Rosshirt and Farley agree that Tucson has taken a first step in enticing urban revitalization in downtown.
The city's four-mile streetcar route has piqued public interest and drawn money from the business sector.
"We put in $100 million in local money, and we end up getting more than $1 billion in development," Farley said.
Many of the new and renovated properties in downtown have increased substantially in value as a result, he said.
"The student housing called The District: It was built for $37 million. Eighteen months later, it was flipped on the real estate market for $67 million," he said.
The high price tag that accompanied that property value increase does concern some.
"At $25 million a mile, running it in an area that is evolving and can benefit from it and you can see an appreciation in land values that are adjacent to it, that's what we need to be focusing on," said Regional Transportation Authority Deputy Director James DeGrood.
The RTA and city of Tucson paid for the $100 million local price tag for the streetcar and the two groups did not cover the full cost. Another $100 million came from the federal government, utilities and other sources.
Farley said he thinks that price tag would drop significantly for any expansion due to a lack of federal involvement.
"If you can actually do it locally and privately, without having to use federal funds, you can build a street car extension for about a third of the cost in half the time," he said.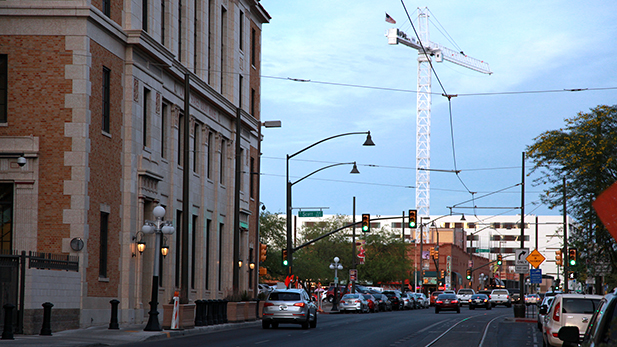 Construction for a hotel in downtown Tucson on April 5, 2016.

Tess Salmon, AZPM
'Smart growth' taps community concerns
As for how to get the private sector involved, Farley said he thinks there is plenty of incentive for a public private partnership.
Investors may want to chip in on a new leg of the streetcar in an area where they own property in the hopes that they would see an increase in value similar to what happened with The District.
There may be more to learn from the start of the streetcar than its ability to raise property values and revitalize an area.
What may be at play is broader move in where people want to live.
"I think right now there's a lot of interest in what's called transit oriented development. And transit oriented development can occur in the outlying communities," DeGrood said.
In his example, DeGrood pointed to Oro Valley and Marana, two communities that are expanding around major car thoroughfares, Interstate 10 and Oracle Road.
Many developers and community planners are now espousing a notion called 'smart growth', and part of abiding by that notion is identifying key concerns for a community.
Whether they are taking a streetcar or driving on a multi-lane highway, Tucsonans could be showing the same priority, a want to not spend so much time on the road.
"When you say smart growth, smart is different for everybody because they have a different history and different assets," Rosshirt said. "People come to their town for different reasons."