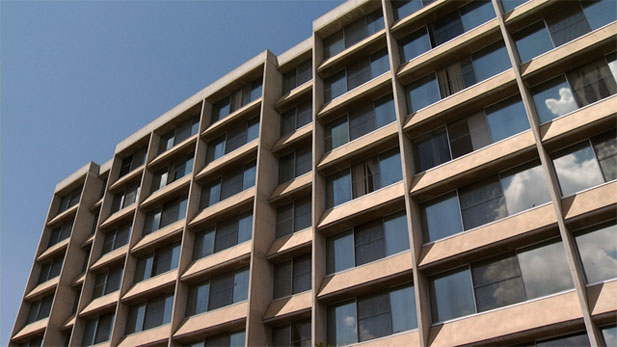 The Armory Park Apartments have occupied a prominent place in downtown Tucson's skyline for 40 years. Residents are now in the process of vacating the aging building and moving into new Section 8 housing located in the Mercado district on West Congress.

AZPM
For people with criminal records, finding a place to live can be a challenge.
The first obstacle comes in the form of a little box on a housing application that you have to check if you have a criminal background.
"And in the past, people would just be denied flat out for that reason," said University of Arizona law professor Joanna Medrano, who is taking part in Pima County-sponsored housing fair aimed at bridging the gap between landlords and those looking for a home.
Medrano said the situation changed in 2016 when the Department of Housing and Urban Development issued new guidelines that said people cannot be banned simply for having a criminal background.
"That doesn't mean that you have to accept everybody into your housing," she said. "But if you're a landlord or a public housing authority, you have to look into specific factors of, 'When was it, what have you done in the meantime, what kind of conviction was it?'"
In other words, taking an individual and their circumstances into account, not just the criminal conviction.
Medrano said all of society benefits when people get into stable housing.
"Housing is one of the biggest things to stop recidivism."
Registration is closed, but the event will be streamed on Friday on the Southwest Fair Housing Council's Facebook page.