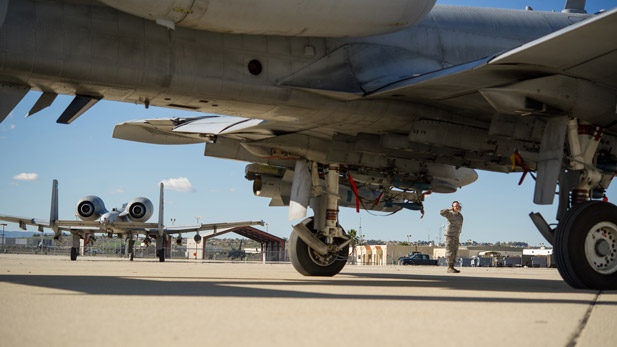 A-10s from Davis-Monthan Air Force Base taxi at March Air Reserve Base, California. February 1, 2016

U.S. Air Force/Senior Airman Steven A. Ortiz
Listen:
The new, National Defense Authorizations Act (NDAA) reiterates that the Air Force may not retire the A-10 airplane.
The A-10 is the primary plane flown at Tucson's Davis-Monthan Air Force base.
The Air Force has tried to retire the A-10 as a cost-saving measure, but Congress has fought back.
This year, the Air Force relented and said the plane will fly until 2022.
The NDAA protects the A-10 if Air Force officials change their plans. The document says the Air Force may not "retire, prepare to retire, or place in storage any A-10 aircraft."
It also requires the Air Force maintain 171 A-10 designated as "primary mission aircraft."
Nearly half of the A-10 fleet is based at Davis-Monthan Air Force Base.
The NDAA faces votes in the full House and Senate.
Read the 2017 NDAA

View at Google Docs
|

Download File