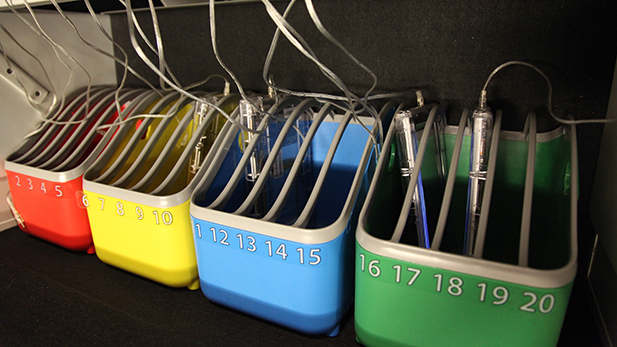 Tablets available for inmate use charge in a housing unit of the Pima County Jail in May 2016.

Andrea Kelly, AZPM
Inmates at the Pima County Jail joined the digital age Thursday when they were handed tablet computers.
Jail officials said they see the technology as a means to encourage good behavior and minimize repeat offenses.
Each of the nearly 2,400 inmates will receive a tablet computer in the next week. They will have some game and will serve as inmates' phone, said Capt. Sean Stewart, a division commander at the jail.
Global Tel Link provides phone service in the jail and furnished the tablets and accessories at no cost to taxpayers, Stewart said. The company stands to make money from inmates who pay to make phone calls, buy video games or books or rent movies.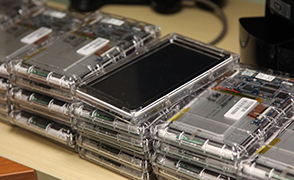 Pima County Jail is making tablets available for inmate use starting in 2016.
"We were looking for something that was going to be beneficial to the inmates and the jail as both a tool to try and prevent recidivism, to try and help the inmates stay in contact with their families," Stewart said.
He's confident jail inmates won't break the devices, or use them as weapons. In fact, the jail sees very few instances of broken phones or TV sets because they are the inmates' link to the outside world, he said.
"The inmates are gong to maintain them. They'll take care of them because that will be their device to be able to communicate."
All tablet use will be confined to a secure computer server in the jail, so inmates won't be able to reach the Internet. They also will not be able to take the tablets with them when they depart.
"There's not going to be inmate Facebook, or there's not going to be something that allows them to Google somebody or get outside the facility," Stewart said. "It only gets them to a secure server inside this facility, and they'll only have access to what we put on that server."
The tablets will also replace paper forms at the jail for inmates to file complaints or request medical services.
"The majority (of inmates) are pretrial detainees, innocent until proven guilty," Stewart said, and they need something to do while they wait for their court dates.
He said it will help corrections officers encourage good behavior, because inmates won't want to lose tablet access.
"This is the biggest advancement I've seen in my 24 years of corrections, especially with garnering positive behavior through a device along those lines," he said.