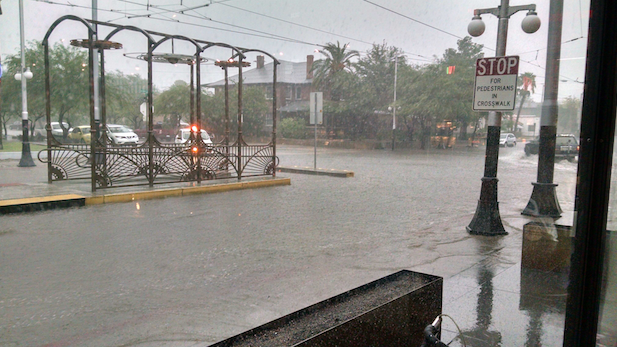 Curb-to-curb rain runoff on East University Boulevard in Tucson in Aug. 9, 2016 rainstorm.

Nick O'Gara, AZPM
A flash flood warning was in effect for the Tucson metro area through mid day Tuesday after the remnants of Tropical Storm Javier began dumping heavy rain.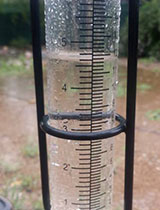 Over 4.5 inches of rainfall were recorded in a backyard near Ft. Lowell and Tucson Blvd on Aug. 9, 2016. (PHOTO: Jane Coppola)
"Doppler radar and automated rain gauges indicated thunderstorms producing heavy rain in parts of the Tucson metro and eastern portions of the Tohono O'odham Nation," the National Weather Service said in its warning shortly after 9 a.m.. "Over an inch of rain has been recorded in some areas in the past hour."
The warning covered a wide range of locations, from Three Points on the west to Tanque Verde on the east.
An earlier report from the National Weather Service said rainfall was expected to be significant.
"We're expecting from Tuesday afternoon going into Wednesday evening, we're looking for 0.75 inch to 1.5 inches of rain in the valleys, with as much as 1.5 to 3 inches in the mountains," National Weather Service meteorologist Chris Rasmussen said Monday.
The storms could push the area's rain totals up to what is considered normal for the monsoon. The 2016 season had 4.89 inches of rain as of Monday evening. A normal season is 6.09 inches.
The rain closed roads throughout Pima County, including the Congress Street exit off I-10 according to the Department of Public Safety. The westbound ramp was reopened just before 11:00 AM.
The latest Pima County Road closures can be found here
MORE:
Arizona
,
Cochise County
,
Pima County
,
Environment
,
Monsoon
,
News
,
Santa Cruz County
,
Tucson
,
U.S.
,
Water
,
Weather