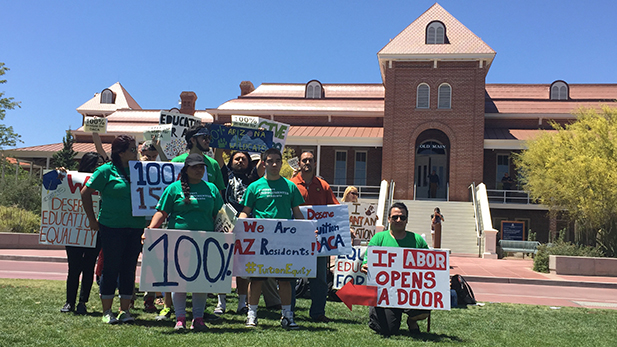 'Dreamers' demonstrate on UA campus for in-state tuition, April 29, 2015.

Vanessa Barchfield, AZPM
"Dreamers" at the state's three public universities could lose in-state tuition following a ruling this week from the Arizona Court of Appeals.
The decision comes two years after a judge in the superior court extended in-state tuition to the students with DACA status, or those brought to the country illegally as children.
In a statement, Arizona Board of Regents President Eileen Klein said the board is reviewing the decision, but if it stands, the cost of studying will indeed increase for Dreamers.
This week's ruling may be appealed to the state Supreme Court.
Klein acknowledged that the ruling is difficult news, but noted that the affected students may be eligible for a special nonresident tuition rate for students who graduated from high school in Arizona.
That would mean Dreamers would pay 150 percent of in-state tuition.
According to the Board of Regents, less than 300 Dreamers are enrolled at the state's three public universities.