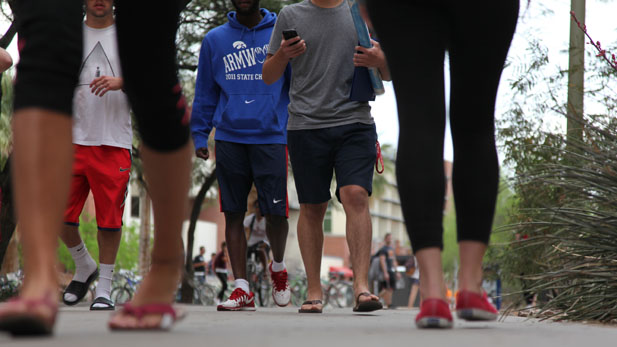 On the University of Arizona campus.

Andrea Kelly, AZPM
The University of Arizona's admissions process will not be affected by news that the U.S. Department of Justice plans to sue colleges over affirmative action policies.
Race and ethnicity have not been taken into account in the UA's admissions process since 2010 when voters passed Proposition 107, which amended the Arizona constitution to bar universities and the government from granting preferential treatment on the basis of race, sex, color, ethnicity or national origin.
That, in effect, ended affirmative action in Arizona's public universities.
Dean of Undergraduate Admissions Kasey Urquidez said when that law passed, there was a lot of concern around the state about non-white students losing access to higher education, but that hasn't been the case at the UA.
"Every year we have increased the diversity of the incoming class and, as a whole, the campus is a very diverse place," she said.
Statistics for the upcoming year haven't yet been finalized, but according to Urquidez, right now it looks like around 45 percent of the incoming freshman class identify as non-white.
In-state students with a 3.0 GPA or who are in the top 25 percent of their high school class are guaranteed admission to one of Arizona's three public universities.