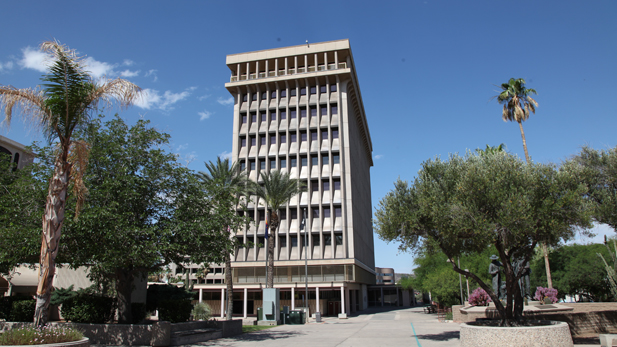 Tucson City Hall.

Andrea Kelly
Registered Tucson voters get to decide if they want to give members of the Tucson City Council and Mayor Jonathan Rothschild their first pay increase since 1999.
The mayor currently makes $42,000 a year, and if Proposition 406 is to pass, his pay would increase to nearly $69,000. City councilmembers' salary would rise from $24,000 to around $39,000 a year.
The initiative was placed on the ballot by the Citizens' Commission on Public Service and Compensation and will be put to a vote Nov. 7.
The Tucson Metro Chamber supports the proposed increase. President and CEO Michael Varney said it is justified because of the time councilmembers put in on the job.
"City Council positions are supposed to be part-time positions, but anybody who is close to the City Council representatives knows that it is clearly a full-time position," Varney said.
Paul Cunningham was the only member of the City Council who voted against sending the proposal to voters.
"If they're going to bump our compensation then you need to add commitments that we're not going to have another job or side business," Cunningham said, who thinks it could potentially lead to a conflict of interest.
The last pay increase for Tucson's City Council and mayor was in 1999.