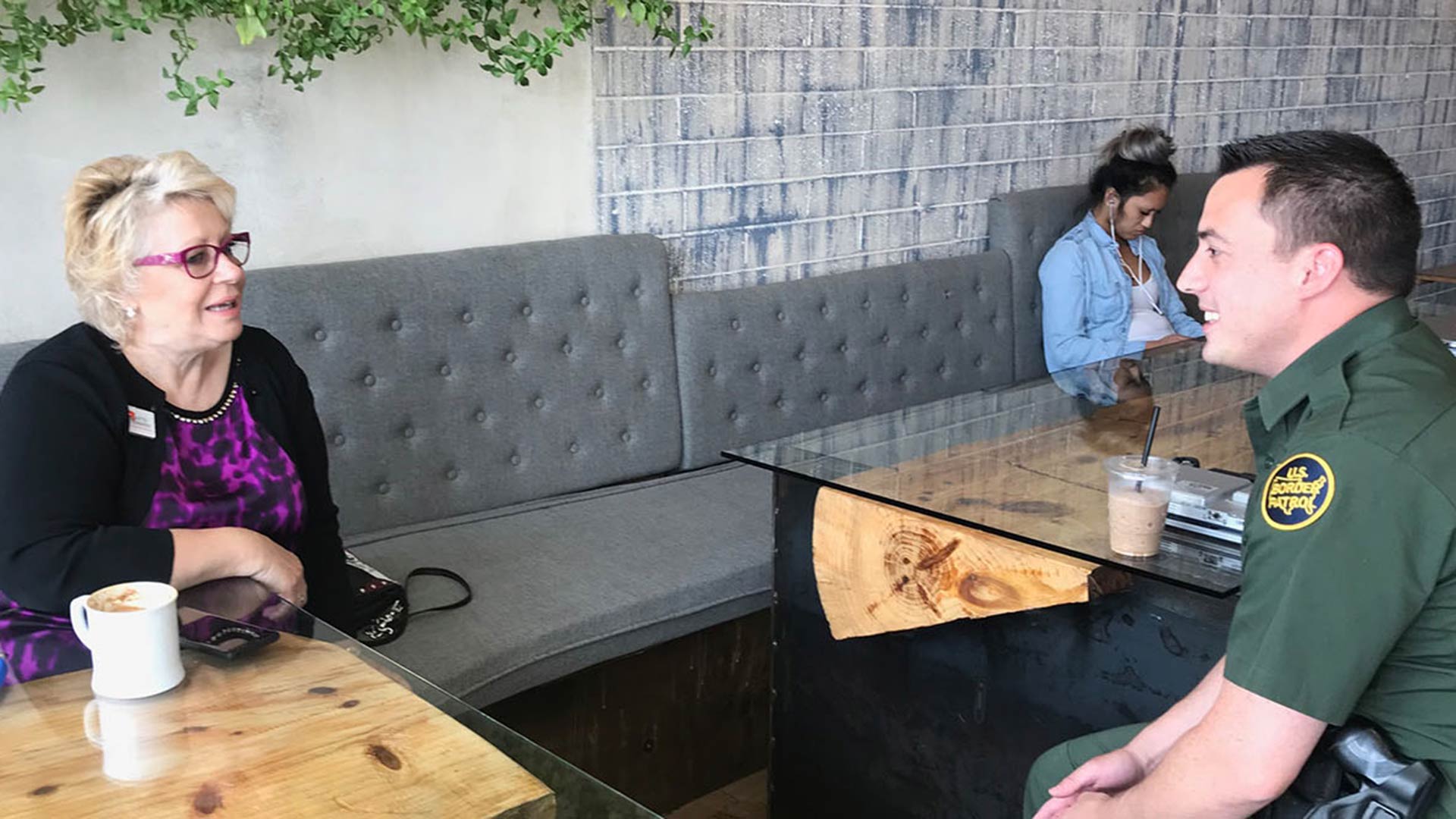 Real estate agent Jutta Lunario talks with Border Patrol agent Christopher Sullivan.
Nancy Montoya, AZPM
Police officers from around the country started the idea of "coffee with a cop" more than a decade ago. The goal was to skip the media and go directly to the public with their own message. A few years ago, the Tucson Sector of Border Patrol adopted the same concept.
Now, Border Patrol is stepping up its efforts to meet with members of the public in coffee houses around Tucson.

They sat across from Customs and Border Protection Agents to have a one on one conversation. They weren't politicians or members of any pro or anti-CBP group.

At an east-side coffee shop, people were rushing in and out. But sitting at various tables with customers were Border Patrol agents. At one table was Jutta Lunario, a real estate agent who was supposed to meet a client.
"I was stood up this morning," laughed Lunario.

Agent Christopher Sullivan introduced himself and asked to join her. Pretty soon they were deep in conversation. Lunario had something she had always wanted to say to a Border Patrol agent.
"You know we see on television, we see the bad news. We hear the bad news," said Lunario. "But I know they're doing a tough job, especially those that are out in the field in the hot desert with these poor people who are really just trying to get into this country," said Lunario.
All around the coffee shop agents were sitting with customers. Sullivan says all the events surrounding family separation have left CBP with a bit of a black eye.
"This is an opportunity to talk one-on-one with the public," said Sullivan.
Don't be surprised if in the future you're sitting at a coffee shop and a Border Patrol agent walks up and starts a conversation. They're not just protecting the border, but also trying to protect their reputation.