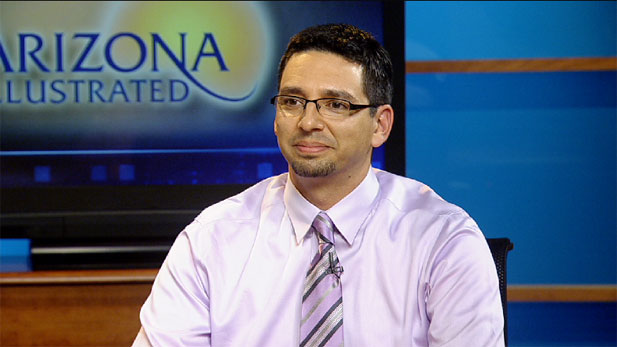 Ethnic Studies teacher Curtis Acosta talks about the recent decision regarding the program.

AZPM
The Ethnic Studies Program at the Tucson Unified School District has been under scrutiny and controversy for years. Now, after reviewing materials and instructional content of the Mexican American Studies Department at TUSD, State Superintendent of Public Instruction John Huppenthal says it violates state statute.
Specifically, according to a statement from the Arizona Department of Education, TUSD has "promoted resentment of a race or class of people, has run a program primarily for pupils of a particular ethnic race, and advocated ethnic solidarity instead of treatment of pupils as individuals."
"The decision is not about politics, it is about education," Huppenthal says in his decision. "In my role as state superintendent of public instruction, I have a legal responsibility to uphold the law and a professional imperative to ensure every student has access to excellent education."
TUSD teacher and program supporter Curtis Acosta is not surprised by the decision, but he believes it's the wrong one because he says many students have benefited from the program and have been inspired to continue their education beyond high school as a result.

Acosta affirms the program has been open to members of all ethnic backgrounds and races, and does not teach resentment or anti-American sentiment, as has often been stated.

"We ask our students to do a lot of critical thinking, a lot of reading and writing and I guess that's what is revolutionary, that we teach reading and writing," Acosta says. "And to enjoy different voices and to embrace the fact that this is the Southwest, this land has a rich tradition of many different peoples and we embrace all of those."

Acosta is one of eleven plaintiffs who filed a lawsuit that is challenging the constitutionality of the statute which originated from HB 2281.
"Chicano literature, Latino literature, Latino-American literature is American literature. Chicano history, the history of the Chicana is American history," he says. "I guess my answer to that is why should we run away from the contributions that so many great Americans have made?"
Tony Paniagua interviews Ethnic Studies teacher Curtis Acosta about the recent decision regarding the program.
AZPM