The Bighorn Fire burns in the Pusch Ridge Wilderness near Oro Valley on Saturday, June 6, 2020. The fire was caused by lightning on the evening of June 5, 2020.
Christopher Conover/AZPM
(This story has been updated)
Alert for potential expansion of evacuation zone
(12:04 pm) Residents in neighborhoods bordered by Alvernon Way and Sabino Canyon Rd., North of Skyline Dr. are being advised to consider voluntarily relocating and to be alert for an official evacuation order
Evacuation order in effect
(10:04 am) The Pima County Sheriff's Department ordered residents and businesses in the Catalina Foothills to evacuate as the Bighorn Fire continues to grow.
The evacuation order covers north of Ina Road between Alvernon Way and First Avenue.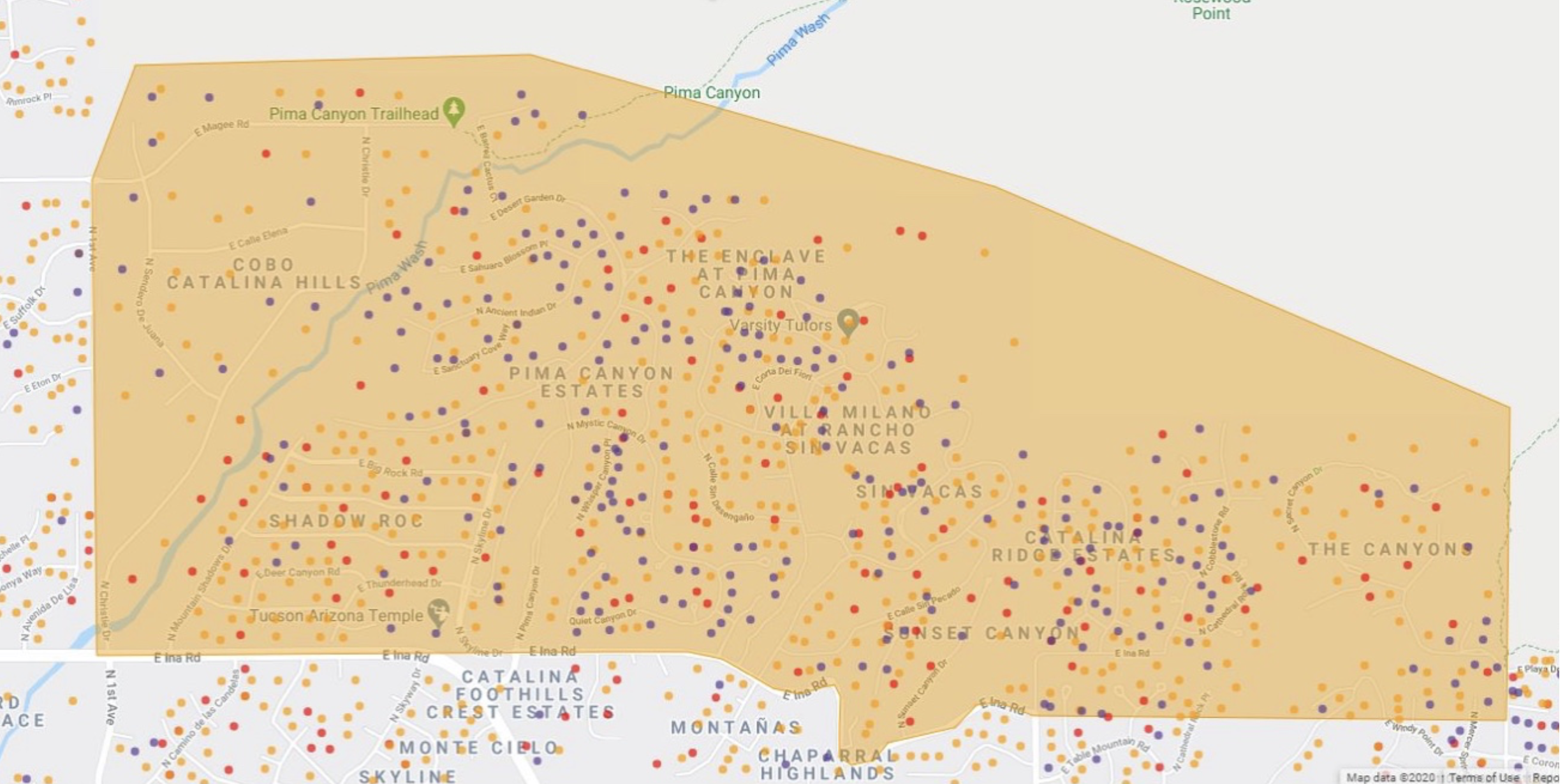 VIEW LARGER The Pima County Sheriff's Office posted a map of the evacuation zone due to the Bighorn Fire. The boundaries are Ina Road to the south, Alvernon Way to the east, and First Avenue to the west. The colored dots represent structures.

Pima County Sheriff's Office
Pima County has set up a cooling shelter at CDO High School, 25 Calle Concordia, in Oro Valley.
The Sheriff's Office will make door to door contact residents in the area to make sure the message is received.
As of Thursday morning, the Bighorn Fire had burned more than 3,000 acres. Fire crews are spending the day setting back fires to stop the advancement of the fire.
Public information officer Adam Jarrold says the steep terrain coupled with 100-degree weather and low humidity are making it a tough fire to fight.
"This area it's burning in is very steep, very rugged," he said. "So it's really difficult for us to get any of our hot shot crews any of our firefighters on the ground into areas, because of course where we put them in, we want to make sure it's safe and this really steep and rugged area is just not a safe place for our firefighters to be."
The fire began Friday night after a lightning strike.
Questions from residents in the area should be directed to 351-FIRE (3473) Bighorn Fire information can be found at: http://www.pima.gov/Bighorn
Pet and livestock care for evacuees
Pima Animal Care Center has a plan in place to board pets for the evacuated residents.
"When you are in the middle of an emergency it can be overwhelming to figure out the best way to take care of your family and pets," said Kristen Hassen, Director of Animal Services. "We want to put folks at ease by helping them with their pets so that they can focus on other things like taking care of the humans in their family."

If you need to make an arrangement with the shelter to take your pet, please call (520) 724-5961. PACC will be making room for these pets in the kennels throughout the shelter. Fortunately, there are many pets in foster care so the shelter already had some immediately available space for these dogs and cats.
"Pets are family," Hassen said. "The shelter is already working hard to make sure these evacuated pets get plenty of enrichment in our care."
The shelter is equipped to care for dogs, cats, birds, and pocket pets like gerbils, hamsters, rats, etc. PACC is also working with the Pima County Fairgrounds if additional space is needed. People with livestock can contact Martina Gonzales at the Rillito Racetrack at (520) 419-2369.