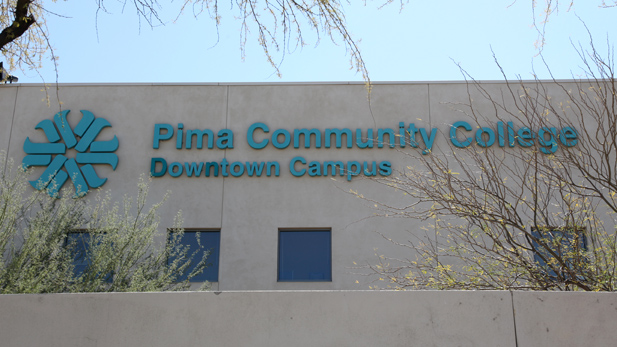 Pima Community College Downtown Campus

Fernanda Echavarri, AZPM
In the last eight years, when Roy Flores was the chancellor at Pima Community College, 57 top administrators left the college, according to PCC records.
That is about 100 percent turnover, four times the rate at a comparably sized community college in El Paso. Compared with the University of Arizona, which is significantly larger, PCC had four times as many top administrators leave.
Former employees of the college say the turnover can be attributed in part to Flores' leadership, which they say invoked fear and intimidation.
Flores is on medical leave and a college spokesman said Wednesday he is unavailable for media interviews.
Scott Stewart, chair of PCC's Board of Governors, said in an interview that the high turnover rate is disappointing but not surprising.
"I know how things are run here, and I know the various problems we have had at all levels over time, and I'm not surprised at the level of turnover," Stewart said.
In January, Flores said he would retire at the end of 2012. One week later, he reported having heart problems and went on medical leave. While on leave he recommended that the Board of Governors appoint Provost Suzanne Miles as his successor.
But after public opposition, the board voted for a national search instead. Flores quickly took his retirement offer off the table, and the board agreed to pay his salary for the next 16 months, although he will not be acting as chancellor when he comes back from medical leave.
In a series of interviews, two former Pima employees went on the record as blaming Flores fror the high turnover rate and their own decisions to depart. Others who were interviewed confirmed the sentiments but declined to be identified for fear of retaliation. Some are still Pima employees.
Gregory Hart started working for the college under the previous chancellor 12 years ago as dean of adult education. He departed in 2007.
"From what I can gather there's been over 100 percent turnover of administration, and I think that's very unusual for an institution of this size and importance as Pima Community College," Hart says.
The college has lost social capital and institutional memory and people who were "deeply dedicated educators with years of experience and creative ideas," he says.
Pima's board members have been told of the many issues administrators had with Flores, but Hart says they "did not understand the depth of the difficulty," of those problems.
Sylvia Lee was a campus president at Pima and worked for the school for 15 years. She has been outspoken about Flores' forceful ways and says many people did not complain about his behavior, because administrators work under one-year contracts and many of them feared losing their jobs.
"I've had a number of people come forward saying they are very distressed because the environment is of fear and intimidation," Lee says. "I personally witnessed that directly from Flores."
A half-dozen current and former employees shared similar negative experiences working under Flores, but were not willing to go on the record for fear of retaliation.
Board Chair Stewart described Flores as blunt and candid, something he says can be intimidating.
"When people are not doing as well as they need to be and they're told that, you'd like to have something more inspiring that will get them to do better, but when that doesn't work sometimes you just have to be very clear and blunt," Stewart said.
Interim Chancellor Miles and Flores will each receive the chancellor salary of $288,000 for the next 16 months. When Flores comes back from medical leave he will work from home and perform only jobs given to him by the board.
Hart and other employees say the community is having a hard time understanding the double-chancellor pay in the current economic climate.
Stewart has said the board is not bringing Flores back as chancellor because the community reaction to that would be too difficult.