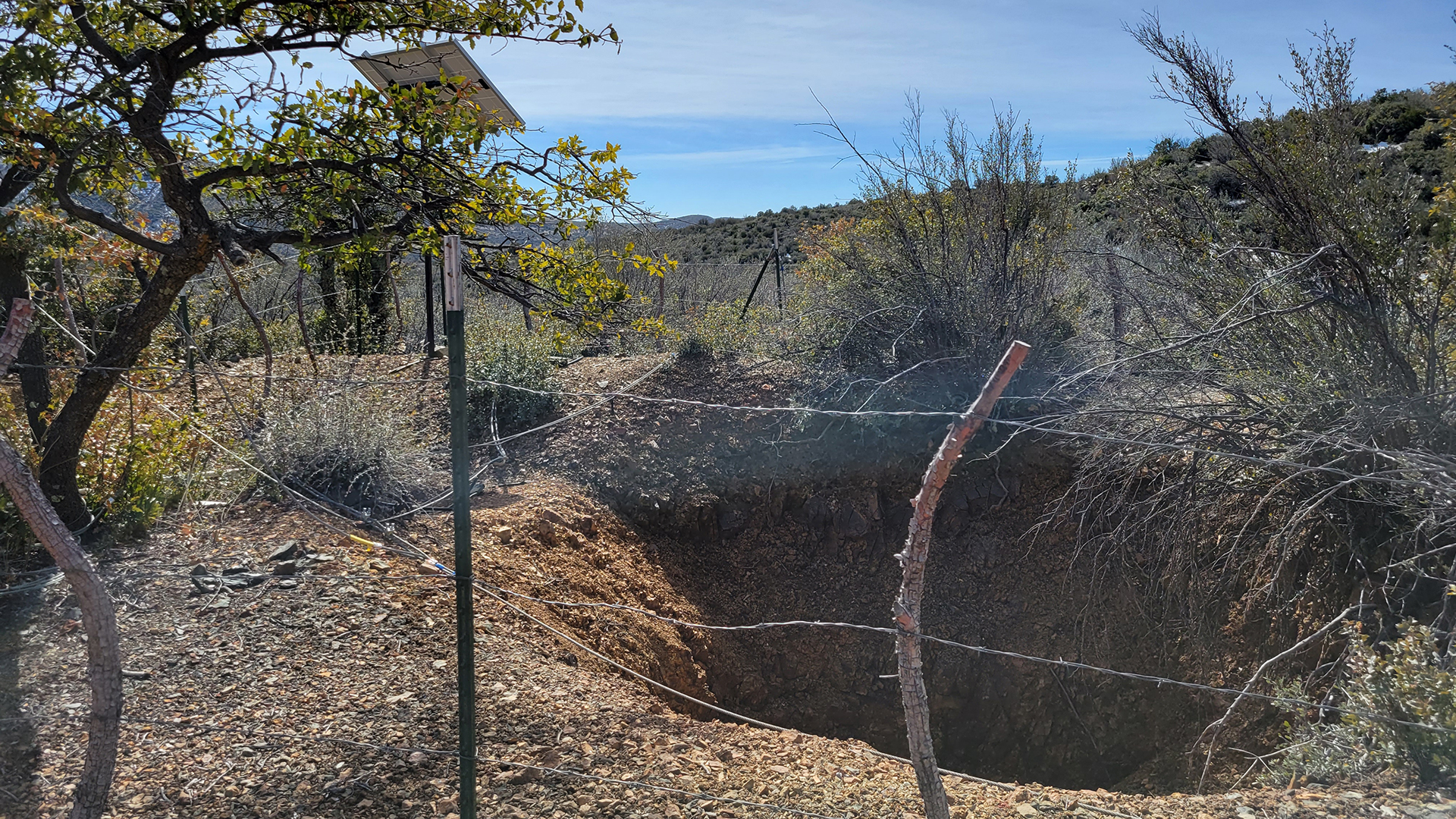 The Uncle Sam Mine, prior to the completion of work to seal it.
Zac Ziegler
Despite a lack of solid data on exactly how many there are, it is easy to say that Arizona has an abandoned mine problem.
Low-end estimates, such as those in the U.S. Mine Safety and Health Administration's database, show around 1,300 abandoned mines in the state. While estimates from other groups such as the Bureau of Land Management or professors at the University of Arizona put that number at more than 200,000.
Regardless of how many there are, they represent physical danger to people and animals, as well as environmental dangers to the air and water supplies.
In an attempt to mitigate that problem, agencies ranging from private non-profits to the federal government are working to lower or eliminate risk.
That includes ongoing efforts in Yavapai County, where the U.S. Forest Service is cleaning up abandoned mines in the Prescott National Forest.
One such project is in the southwestern corner of the Verde Ranger District near a community known as Cherry.
The Cherry Creek Mines encompass six mines, many of which have been defunct for decades.
Current efforts are focused on the Uncle Sam Mine, which has not been in operation since at least 1940, and experts say was likely a pilot mine that did not lead to a strike of the valuable gold and silver that prospectors were looking for.
Work at the site begins before the mine, where contractors are building what is known as a consolidation cell.
"We excavated a big hole, put the contaminated waste in the hole, and cover it back up with the excavated material," said Maria McGaha, environmental engineer for the U.S. Forest Service's southwestern region.
Between the six mines, about 10,000 cubic feet of contaminated soil and mine waste will receive this treatment.
The waste is mostly the ground that was dug up by miners while searching for valuable minerals that fill Arizona's soil. While this area, known as the Black Hills is rich in gold, silver and copper, it also has large deposits of lead and arsenic.
Those deposits can mean either a rich mining operation, such as the one near Jerome, Ariz. about 10 miles to the north, or environmental catastrophe like what is seen at the Iron King Mine and Humboldt Smelter, and EPA Superfund site about 10 miles to the southeast.
While this site is remote, its waste can easily travel downstream. Precipitation that falls here runs into Cherry Creek, a small tributary of the Verde River. And the Verde's terminus is at a point where it empties into the Salt River, which feeds large reservoirs that provide water to the Phoenix metro area.
The consolidation cell sits in an area that McGaha refers to as "high and dry," where rain and snow waters running over it will not end up in the water supply of millions of people.
"We're covering it with clean material so that when there's storm water and all the precipitation, it's not migrating off site into our waters. That's the objective here, to reduce or eliminate that contamination in the environment."
Between the cells and the mines is a rough road, and much of the work done by contractors from the contractor, Environmental Remediation Resources Group, is to construct a road that will allow heavy equipment to the remote former mine.
"[Before the work started] probably you could get a side-by-side through, maybe a Jeep," said ERRG's Cameron Paez, "but we have to get tracked equipment and haul trucks that are about 12-feet track width. It takes a fare amount of days, we talking excavators, bulldozers, heavy equipment. A lot of these [mines], there are existing roads, but we have to widen them and make sure they're safe to haul on."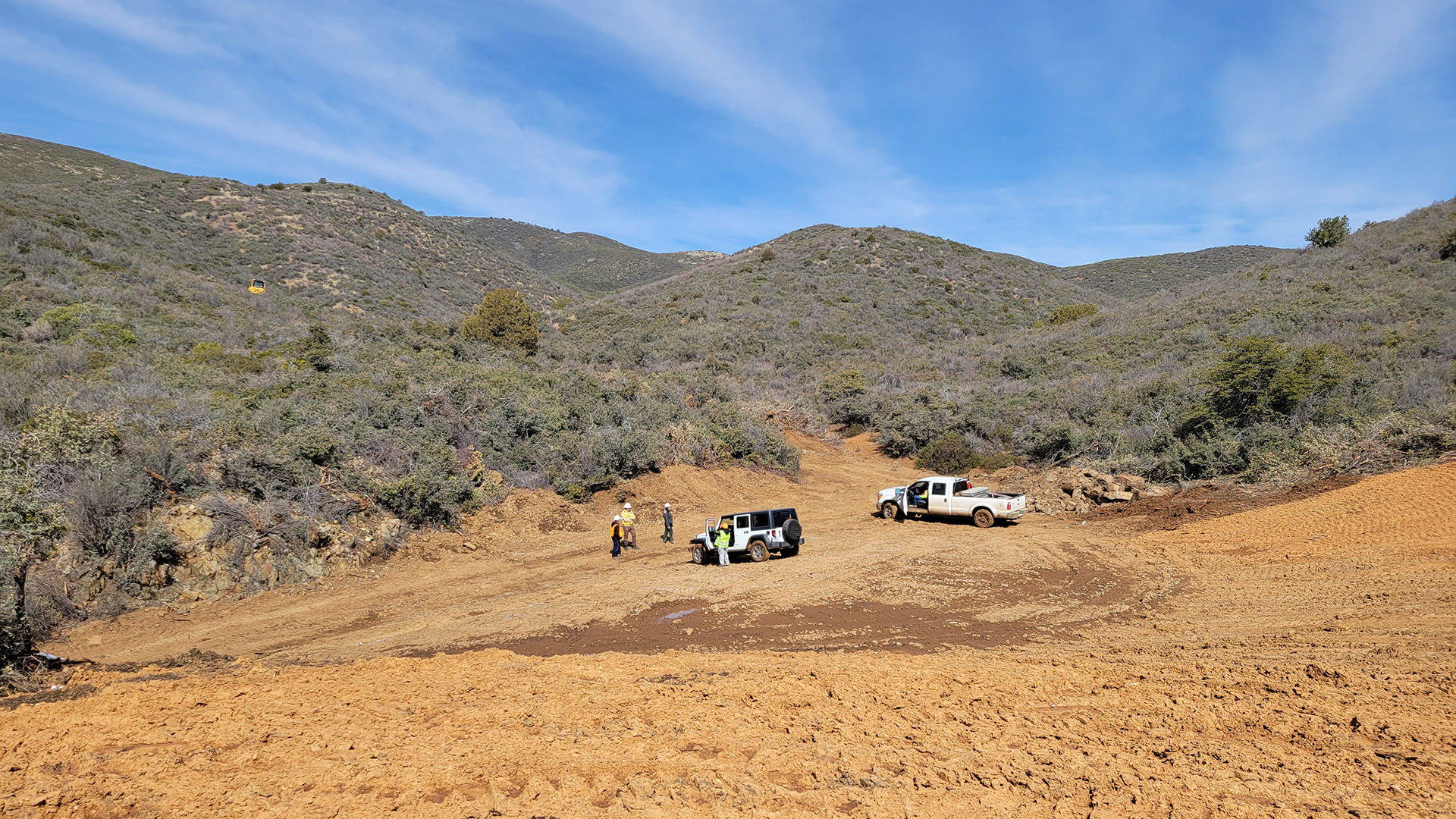 Crews removed mine waste that had been contaminated with naturally-occurring arsenic and lead from below the shaft of the Uncle Sam Mine.
Zac Ziegler
Once the road is built, the first task is to remove tons of soil that was dug up by prospectors, a task which ERRG workers recently completed at the Uncle Sam Mine, leaving a site that is scraped, leveled and looking like it could accommodate a new house.
That area will not remain clear, it will be covered with native plant seeds, along with large rocks and vegetation that was removed to clear the road. The rocks and dead plants will stabilize the soil while the seed takes root, preventing erosion of the area and further contamination from the arsenic and lead that naturally occur.
On the hill above the site sits a fence that surrounds a water tank, a small solar panel and a large hole that will soon be covered with a cupola, a domed structure made of thick metal bars that sit on concrete footers.
"The closure will be four-inch tubular steel that will go across the top with a gap of five-and-three-quarter inches, welded in place," said Mark Schwab, the abandoned mines program lead for this project. "It has to be at least two-and-a-half or three feet from the edge of the collar for safety, and has to be anchored into the ground."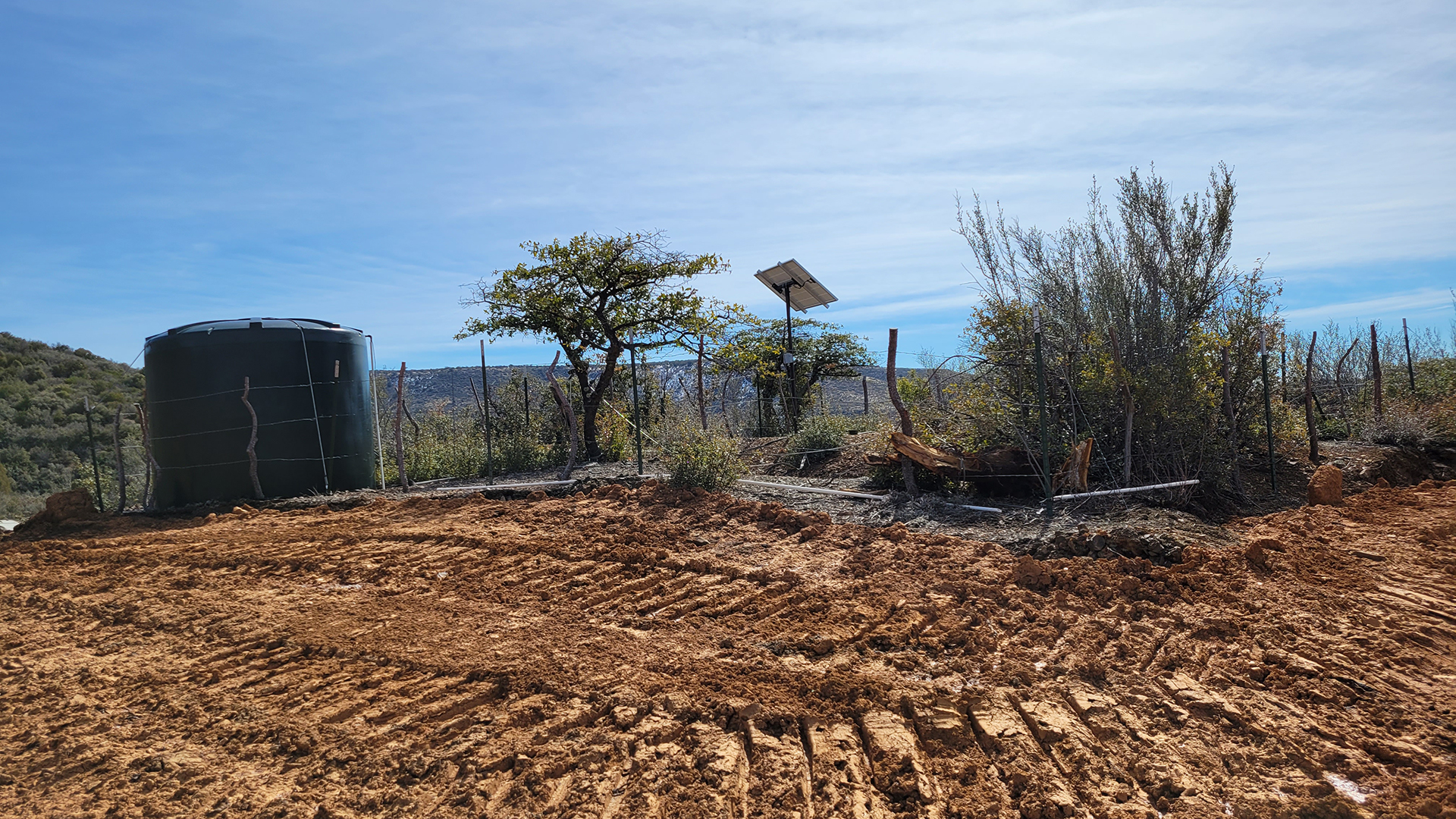 Zac Ziegler
This form of closure is being used because of the mine's potential as habitat for bats and other animals. In cases where there is no habitat value, the shaft would be sealed with polyurethane foam.
Along with wildlife habitat, the mine also holds another valuable resource in the area, years of water that has collected in the shaft, filling it enough that a local rancher has asked if he could provide a solar-powered pump to retrieve the water and send it to a nearby trough.
"We'll have a hatch door so that they can get this pump down in there later to pump out the water and to service the pump," Schwab said while describing the cupola.
While the construction of the enclosure sounds complicated, Schwab said it will likely take workers about a day to complete, notably less time than it took to build a road to access the site.
This is not the only access point that crews will seal on the Uncle Sam mine. The mine also features an adit, a horizontal tunnel that ties into the shaft from the side of the hill.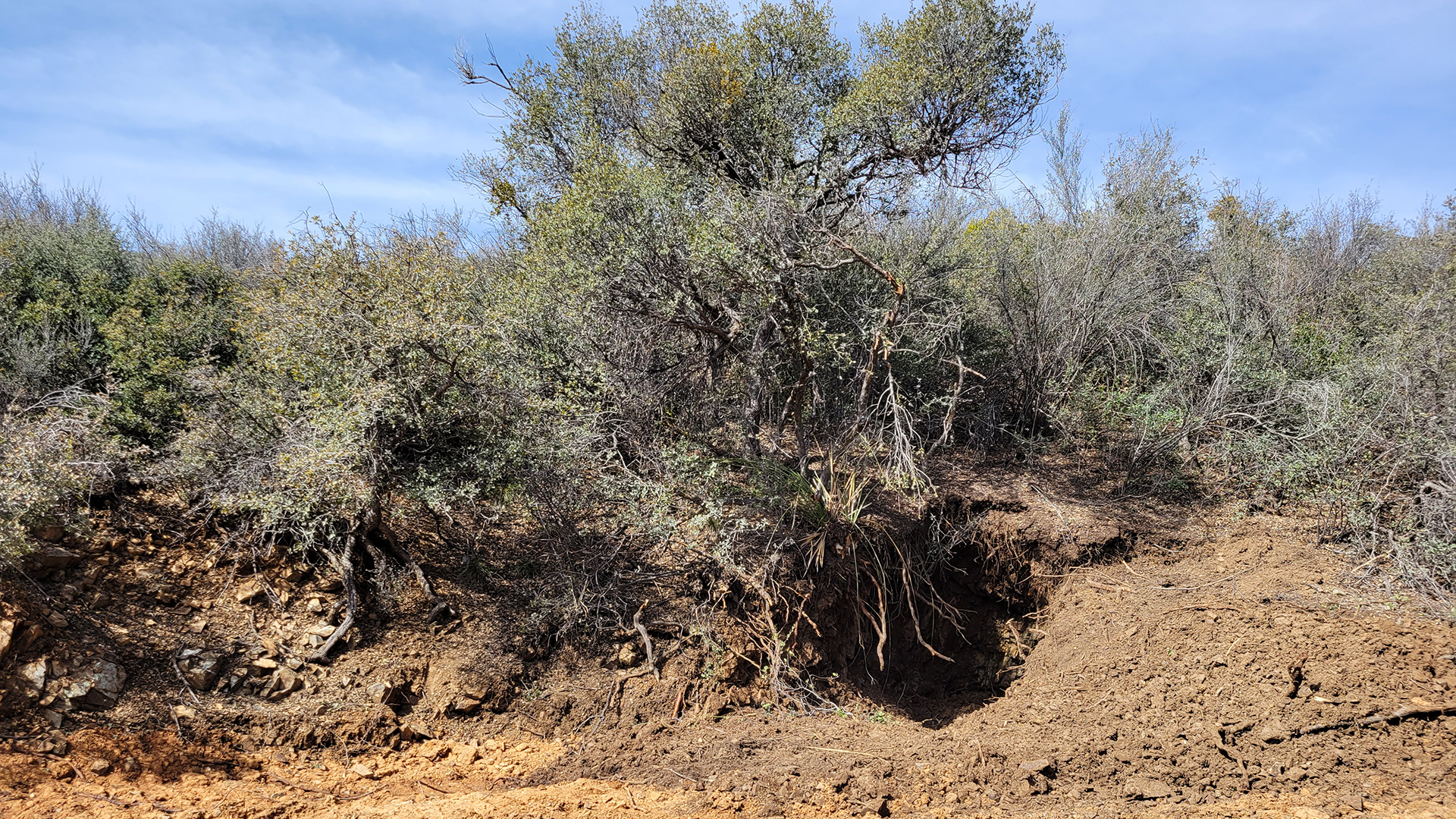 A collapsed adit that led into the shaft of the Uncle Sam Mine.
Zac Ziegler
The adit has sloughed in, but crews will use an excavator to dig it out and install a culvert with a similar enclosure over the exposed end.
Such small sites likely dot the mountains that surround this area, and Prescott National Forest Geologist Frances Alvarado said they are simply a fact of life in the area.
"You hear it pretty often, I'll hear about it in the local paper. There's a lot of historical mines in the vicinity because that's how these communities came about, because of the mining."
Alvarado said it can be hard to keep her personal life and work life separate sometimes because of it.
"I'll be driving around or hiking, I'll look and there's another site. I make a note to self, you know, I may have to address this one later."
There are conflicting reports of how many abandoned mines are found in the state, but a pair of University of Arizona professors are trying to change that by building a comprehensive database that serves the need of the many agencies and groups trying to mitigate the problem.
Mark Barton is the director of the Lowell Institute For Mineral Resources and Julie Neilson is the director of the Center For Environmentally Sustainable Mining.
One of the professors said the project is important because it is tough to answer the question of just how many abandoned mines there are and how much concern they should create.
"In the old days before statehood, anybody who was out exploring for minerals would dig a hole in the ground," said Barton. "So at one end of the spectrum, anything that's a hole gets called a mine. And for that there's over 100,000. We don't know exactly how many there are and there's a hazard that's associated with them."
Neilson said the different kinds of sites likely mean different hazards and thus different remediation needs.
"It can be a shaft, which I took a picture of one when I was hiking in the Tucson Mountains on Saturday, or it can be a huge open pit for larger operations. But then you have all these waste piles, and I think we have to separate where the ore was excavated, which is a site that you could fall into, versus the contamination associated with the smelters, tailings and waste rock piles."
She said that, given the timing of Arizona's mining heyday, environmental contamination worries are very common.
"One of the other complicating factors is that in the 1800s and early 1900s, a lot of these tailings were hauled to the site of streams like the San Pedro River and the Aravaipa, perennial streams, because they needed the water to process the tailings."
The reasons that such a database would be helpful are myriad, but the actual assembly work is tricky. Arizona is almost 114,000 square miles, and small mineshafts like the Uncle Sam are mere feet wide.
That leads to relying on a mix of old documents and modern technology.
"There are a lot of records on where things were developed, even just simple topographic maps generated from the early 20th century would show pits and so on. That kind of information has been digitized, and we have a large set. That's where the numbers of 100,000-plus come from, Barton said. "We're also using remote sensing, trying to use modern technology to help with it, and we're using inference that comes from our own understanding of basic geology."
He said while all the agencies that hope to take advantage of such a database have a variety of information they'd like to see, all are hoping for something similar to a GIS-based system that helps them simply identify what is in a specific location and what the primary concerns it poses are.
MORE:
Arizona
,
Environment
,
Government
,
Mining
,
News
,
Public Lands
,
Public Safety
,
The Buzz
,
University of Arizona
,
U.S.
,
Water