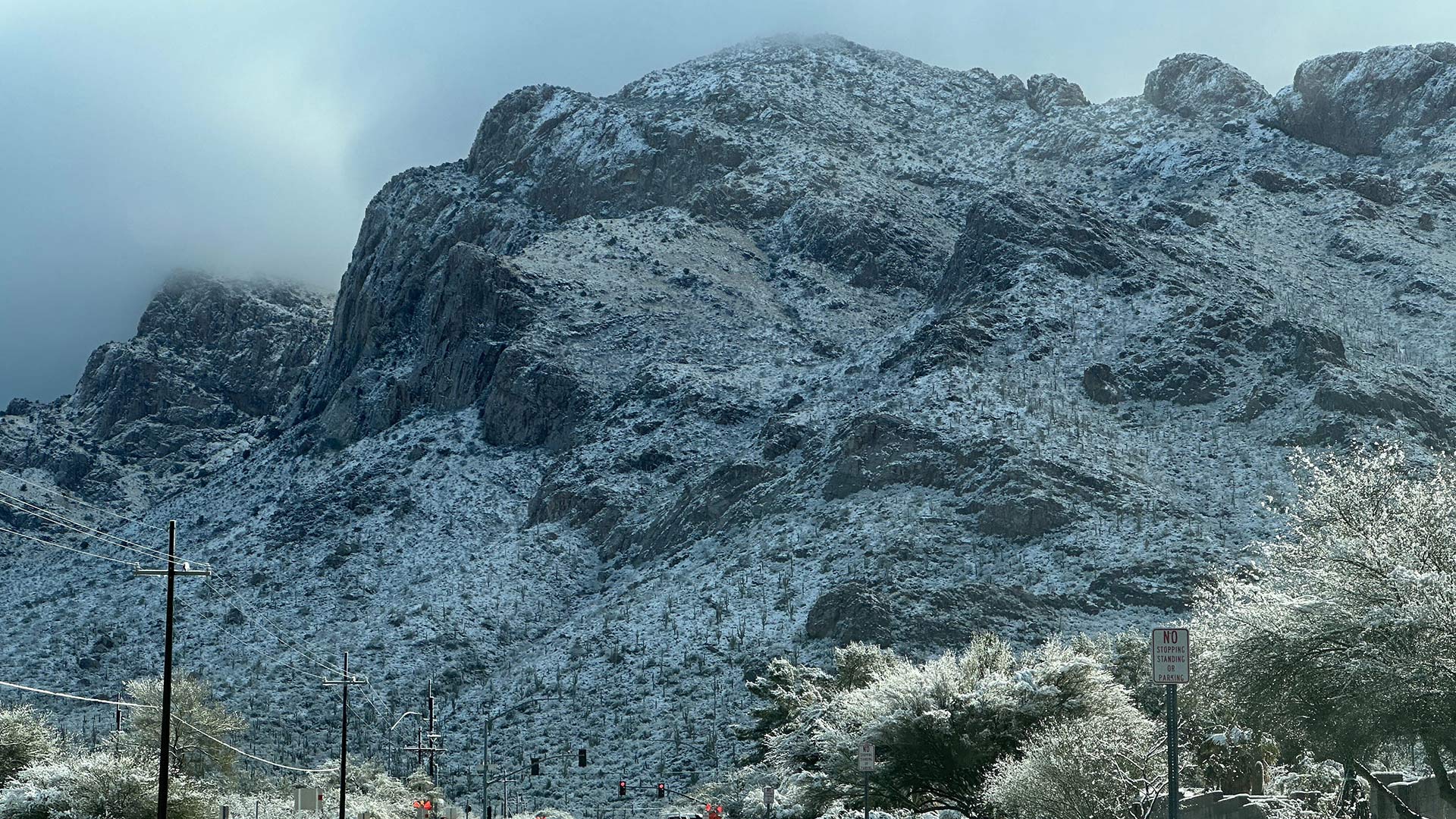 Pusch Ridge after a March snowstorm.
Shawn Teague, AZPM
It's been a wet winter in southern Arizona. Rain gauges monitored by the National Weather Service's Tucson office are showing an average reading of 0.9 inches above average since October.
And snowpack in the mountains of northern Arizona is similarly above average. Flagstaff had one of its snowiest winters ever, and mountains in eastern Arizona saw around 140% of normal snowfall.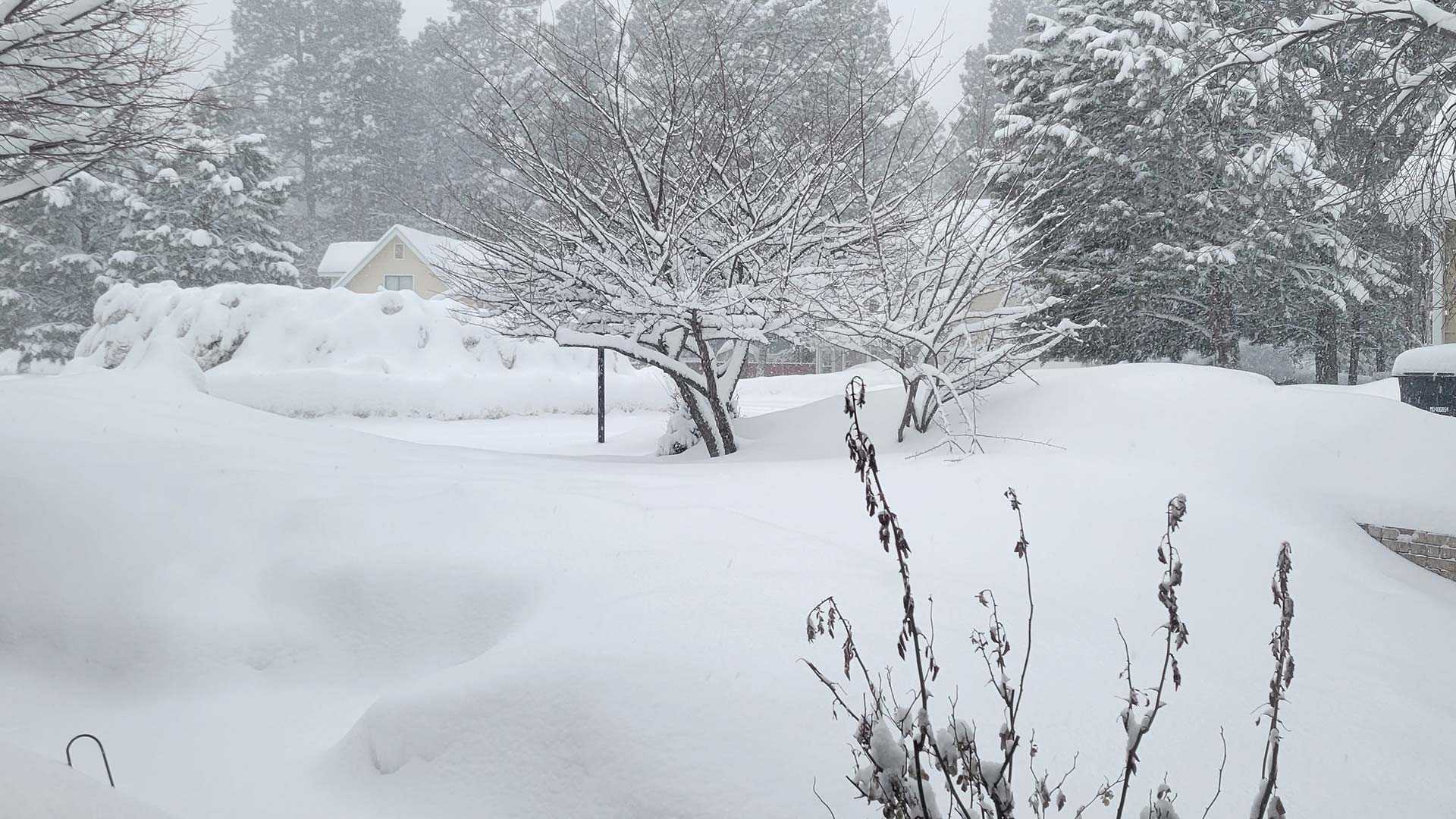 A March snowstorm left homes in Northern Arizona under a blanket of snow. A series of storms dropped around two feet of snow in Flagstaff in March, pushing seasonal totals to 142.9 inches
Zac Ziegler
The moisture has the state mostly out of drought conditions, and the state's reservoirs are so full that they are releasing water to make room for snowmelt.
The Salt River Project began low-level releases from two reservoirs that are fed by the Verde River in recent weeks.
"When we started spilling earlier in March, there were no rainfall events on the horizon, but there was a lot of snowpack up on the Verde River watershed. In fact, when it peaked in March, the snowpack was the biggest it had been since 1993," said SRP's Bo Svoma.
Then came a rain event that melted some of that snowpack and caused a rush down the river that caused overnight evacuations Wednesday into Thursday in communities like Sedona and Clarkdale.
This time last year, the river flowed at around 70 cubic-feet-per-second near Clarkdale. It peaked at more than 20,000 CFS. That amount of water would have been tough for SRP to accommodate had it not been planning ahead with those releases.
"If we didn't start those low-level releases in March, we wouldn't have the amount of space available in Bartlett and Horseshoe Reservoirs. So it's going to be easier to manage this flood because we're going to be able to capture a good chunk of it."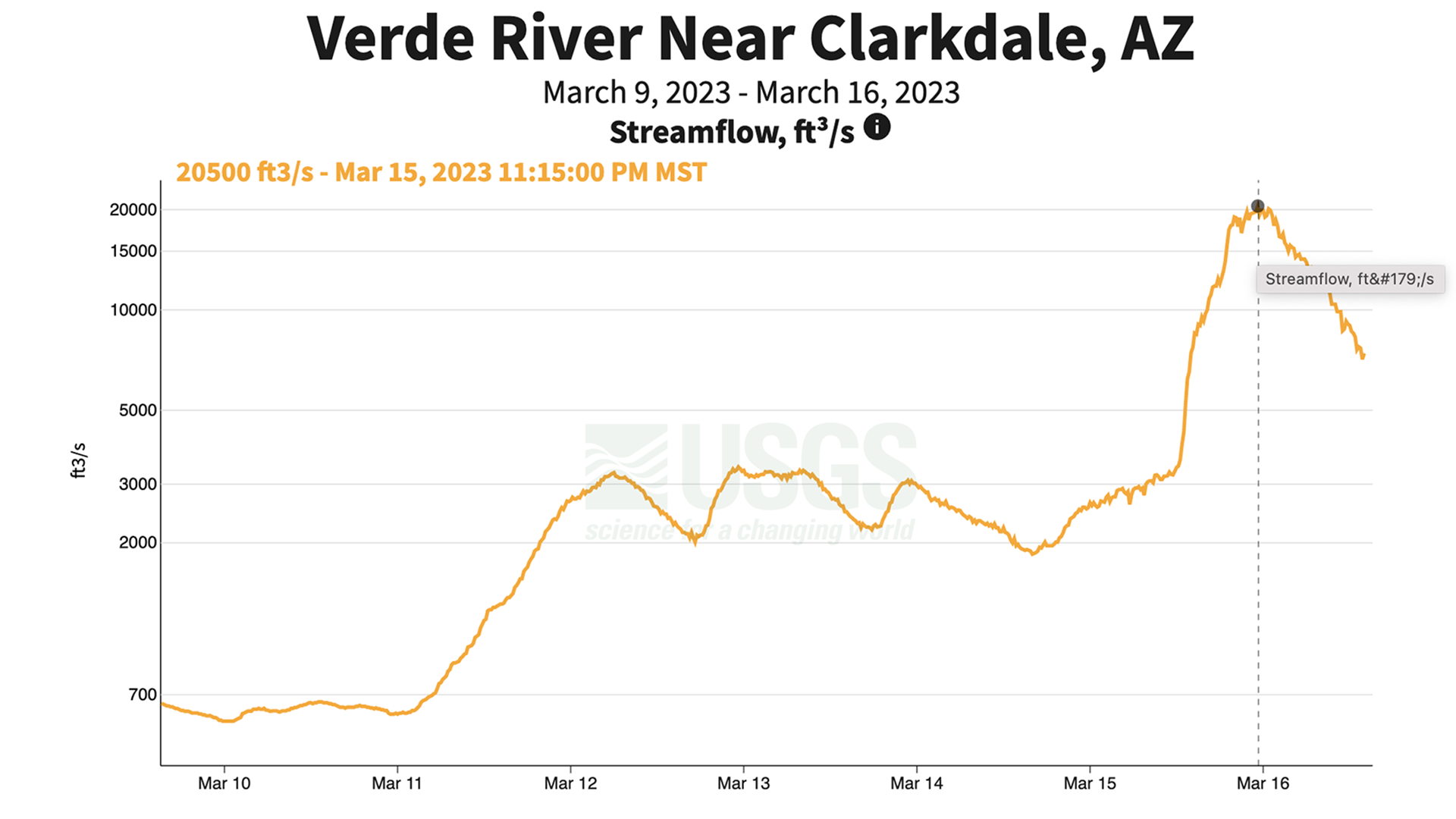 USGS data showing flow on the Verde River in the past week.
Svoma said low-level releases are often a benefit downstream since they allow water to seep into aquifers, though high-level releases can damage some infrastructure and present danger for areas that do not normally see such flows.
Areas that do not have the damming infrastructure of rivers like the Verde or the Salt have been dealing with conditions similar to those that happened during the monsoon this summer, be they disadvantageous like road closures along the drainages near the Santa Catalina mountains of Tucson or advantageous ones like the filling of local aquifers. Snowmelt traveling down from southern Arizona's sky island mountains is rarely detained in reservoirs, but it still helps the area's water supply.
"We are nearly 100%t focused on wells bringing ground water out of our aquifers [in the Tucson area]," said USDA hydrologist Joel Biederman. "The two main sources of that are the recharge from the mountains and Central Arizona Project water that has delivered here since the late 90's."
Biederman said the Rillito River shows how water comes off of mountains and enters aquifers, noting readings that came from Wednesday morning.
"Upstream at the Dodge Avenue Bridge, the USGS gauge was reporting 55 CFS. It's probably half that where we're standing at Campbell [Avenue Bridge]. And down at La Cholla [Boulevard] there's no surface flow any more. I did a little back-of-the-envelope calculation, 55 CFS flowing at the Dodge Bridge that's all disappearing into the aquifer works out to about 400 gallons per second or 1.5 million gallons per hour. Just today, that's about 35 million gallons."
While area aquifers and reservoirs are filling up thanks to rain and snow in the state, another important water storage place is likely not being affected.
"The vast majority of the water in the Colorado River really comes from the Upper Basin states: Colorado, Wyoming, Utah," said Kathy Jacobs, director of the University of Arizona's Center for Climate Adaptation Science and Solutions. "We don't get much water into the Colorado through the state of Arizona."
She said that snow in those states has been notably above average this year, but is likely a drop in the bucket to fill Lakes Powell and Mead.
"We have a long-term deficit here, and it's going to take way more than one year to make up that deficit, particularly in the Colorado River where the reservoirs are designed to hold four full years of water supply, and it will take way more than four wet years to fill them. They're nearly empty. They're 25% [full] right now."
Dr. Jacobs noted that even though conditions are not going to be back in a good standing on the Colorado River this year, it is good news that the state's local water system will be on solid footing as spring begins.
"Within local basins, this rainfall and snow makes a huge difference. We're gonna see an increase in soil moisture, it's going to be a much better year for agriculture, local reservoirs are full in many cases, including in Arizona."
MORE:
Arizona
,
Climate Change
,
Pima County
,
Environment
,
News
,
NPR News
,
Public Lands
,
The Buzz
,
Tucson
,
U.S.
,
Water
,
Weather