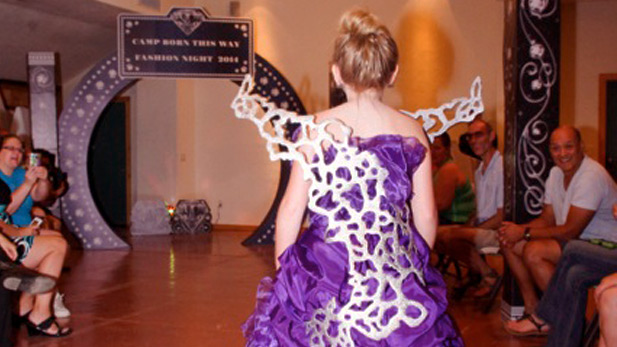 One of the Camp Born This Way children at this year's camp's fashion show.

James Scott Pignatella
Listen:
Summer camps often bring experiences that help kids and teens find their identity. After a months-long or weekend-long stay with like-minded peers, a network of support is built.
Camp Born This Way offers the same to children who are transgender and gender creative - the freedom to express themselves. This camp is also opening dialogues within families and local society about gender identity.
Kerrie had a baby boy five years ago. But growing up, her child wanted pink underwear for potty training and liked wearing sparkling dresses and high heels at childcare.
"We really just thought, 'Our child is a creative spirit and loves this stuff, it's bright, it's fun,' and we didn't really think that much about it," said Kerrie, who asked her last name not be used.
She and her husband would buy their child boy and girl clothes, trucks and dolls. The parents didn't want to interfere with their kid's current likes.
"As parents we thought, this is something that our child is interested in and there is no reason to discourage it," Kerrie said. "Around the time that our child was three and a half or four years old, he started asking for clothes, like dresses, that he could wear to school, wanted to wear them every day. He wanted to be called a girl, he'd always say, 'I want to grow up and become a mama and have my own babies.'"
At first it was a strange feeling. They were uncertain of what to do.
As a social worker, Kerrie had some training on transgender children but it wasn't enough to answer all her questions. About one year ago, she heard of a support group for parents and family members of transgender and gender nonconforming children.
Trans Parents has been around since 2009, and it's a branch of the Southern Arizona Gender Alliance.
The group has helped clear many of Kerrie and her husband's doubts and concerns.
"Our biggest value as parents is to raise a child who is confident, who is intelligent, who is kind in the world," Kerrie said. "We raise our child as a girl, she goes by a new new name, she likes to be called a girl, she likes to have long hair, to wear dresses. In talking to people and to our family, I always say, 'Our child is the same child she's always been,' we just understand who she is."
Kerrie and her family started attending the group last year, a few weeks before Trans Parents hosted its second Camp Born This Way.
The camp is a weekend-long retreat for transgender and gender creative children between ages 5 and 12, their parents and family members. It aims to foster a welcoming environment for transgender kids to be themselves and to provide parents with a supportive community. It's taken place for three consecutive years outside of Tucson during Labor Day weekend.
"The children who come to camp, they look forward to it all year, because it is the one long weekend that they truly don't have to self-censor their activities or worry about what they wear or worry about how to express themselves..." said Diana Wilson, director and creator of Camp Born This Way. "The look of pure joy on their faces is pretty impactful for everybody that attends because it is something that we would hope the children would feel all the time."
The camp started in 2012, some time after Wilson came across You Are You, a nationally-organized camp on the East Coast for transgender children and their families. That camp made her realize she wasn't alone.
"It was very gratifying," she said. "I felt like once we were given that gift, it was my turn to give back to this community and be of support to other parents and families who were going to be coming up through the ranks behind us."
Since talks of the camp emerged, support poured in. The first Camp Born This Way grant came thanks to a Jewish congregation.
From there, they've also received aid from the Fund for Civility, Respect and Understanding, which was created by U.S. Rep. Ron Barber's family in response to the Jan. 8, 2011 Tucson shooting. This year's camp got some funding help from a variety of agencies including the Alliance Fund, a local lesbian, gay, bisexual and transgender community organization, the Trans Justice Funding Project and dozens of individual donations, Wilson said.
"Their support...has given me more confidence to reach out to more families...to reach out for more help," Wilson said.
An entity such as Camp Born This Way has a great influence in the self-esteem of a transgender child, who can often fall victim to discrimination and bullying both at home and the outside world, said Ian Ellasante, the program coordinator for the care of LGBT youth at the University of Arizona's Southwest Institute for Research on Women.
"Identity affirmation and support surrounds children who are gender conforming, and it is really a contrast to the lack of identity affirmation for children who have a gender identity or expression that differs from the one assigned with their birth...sex," he said.
"Whenever possible, parents and caregivers need to create an environment in which gender variant children's identity is acknowledged, affirmed and celebrated. These environments help bolster a child's self-acceptance, but it also helps the child to know there is a standard for acceptable, appropriate treatment from others to them, and this camp is a great example of an environment like that," Ellasante said.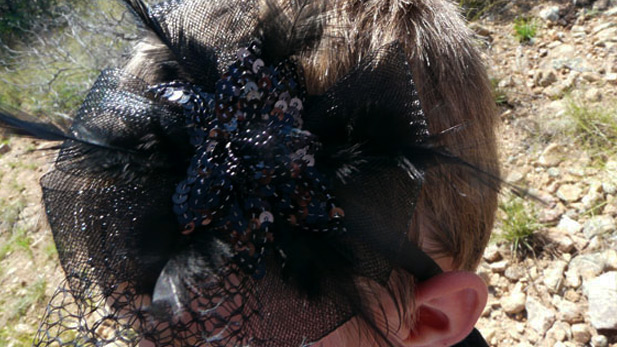 Courtesy of Camp Born This Way
Amy is also a Camp Born This Way mom. She, too, heard about it through Trans Parents.
Now a daughter, Amy's 13-year-old hasn't experienced much peace at school.
"People would ask if she was a boy or a girl, or you would hear people calling her an 'it,'" said Amy, who asked to be referred to by her first name for privacy. "The hardest part is just seeing her face go really quiet and sad."
Initially, Amy's husband at the time wasn't supportive either.
"Her father still has further growth to do in this area. It's getting better but in the initial years, it was hard for her knowing that her father didn't understand," she said. "He has been allowing her to be herself a little bit more, but it is still hard for him to navigate saying, 'she' or 'daughter,' or the name she prefers."
The camp has brought an overwhelming relief to Amy's life. She said they've also found a church that is supportive, and have other family members who have been a positive presence in Amy and her daughter's transition.
"You feel isolated...you have all these different feelings going on, and then to go to the support group and see several other families there, and then to go to camp and see many families there, hearing similar stories, knowing that you are doing the right thing (by supporting your child)...you get the validation," Amy said. "We have families who have not had supportive family members or community members, or who have been attacked for supporting their children, we have had people come in with that mindset and they really feel alone."
For Kerrie, the camp is a place where she and her husband can get advice.
"It was pretty powerful to hear people who had gone through it ahead of us," she said. "To see how they navigated all these different areas, starting school, summer camp, sports, the doctor, and how they had created networks of support around them, it was very helpful because we didn't really had a map."
At camp, adults speak about concerns and successes, kids participate in activities seen at any other summer camp. And volunteers, many of whom are transgender adults, are there to advise the parents, and to ensure families that they can overcome any challenge.
Scotty Pignatella is a volunteer. He's been involved with camp since the beginning. Growing up female but identifying as male, Pignatella said he wishes he could have had a Camp Born This Way.
He recalled one moment in camp that made him realize the impact he and others can have on the kids' lives.
"Last year, we had one young transgender boy...part of the camp is not just talking to the kids but talking to the parents, giving them experiences that some of us have been through...for them to have better information for their kids...and the parents went back and shared with their child that I was trans," Pignatella said. "The next morning at breakfast, this little kid gave me the biggest, brightest smile and said, 'You are just like me.' I can't imagine the effect that would have on a 7-year-old child. That was very powerful for me."
Director Wilson said the camp ultimately would like to work itself out of a job. She said things are changing in society, and she hopes the outside world will soon be more welcoming to children and adults of all parts of the gender spectrum.