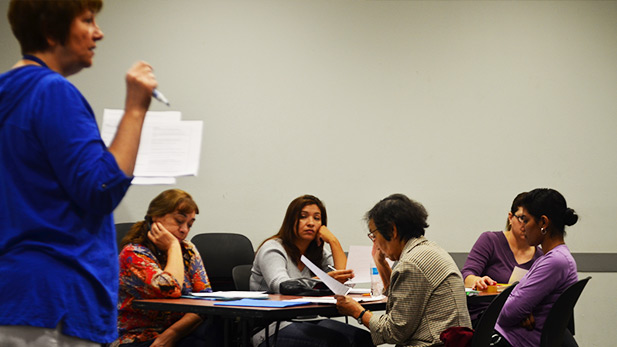 Volunteer tutor Kathy Zuodar teaches a group of students the difference between "could" and "would."

Maria Inés Taracena, AZPM
Listen:
Being an immigrant or refugee in the United States can be isolating. And with most not being able to speak English when they arrive, the transition to a new life becomes that much more difficult.
Mexico native Juanita Zadroga is among the tens of thousands of refugees, who hope to plant new roots in Arizona, while also trying to rapidly learn the language.
Tucson's English Language Acquisition for Adults program hopes to help with that.
In Pima County, about 25,000 households are "linguistically isolated," meaning no adult speaks fluent English, according to data from the Arizona State Department of Education's Adult Education Services.
In recent years, the U.S. Census Bureau and the Arizona Department of Economic Security showed more than 30,000 people coming to Pima County were refugees, with the vast majority not being able to speak English. Statewide, less than 10 percent of those people are getting the resources needed to absorb the language.
The English acquisition program, also referred to as ELAA, is a branch of the local nonprofit, Literacy Connects. It has been around for decades, and it offers free English classes to adult immigrants and refugees living in Tucson.
Zadroga took her first class with ELAA merely 15 months ago. Now, she is nearly fluent in English.
"I was so determined to learn because I knew, if I don't speak any English, I am not going to be able to overcome my fears here in the United States, I wanted to start going out or be in contact with people..." she said.
In August 2013, Zadroga fled her home country after receiving threats from local officials over the social work she did in southern Mexico. She had a project that helped educate indigenous women in the region. When the threats were directed to her family, Zadroga and her husband, Frank, who is an American citizen, immigrated to Tucson.
"I was like, oh my gosh, how am I going to survive in a country where I don't know anything...and my feelings were like emptiness, frustration and something like I was losing everything," she said.
Zadroga found refuge in an ELAA classroom. There, she started learning English and found a community of immigrants and refugees who, like her, abruptly left their native countries. Those people became the foundation she needed to overcome the overwhelming culture shock.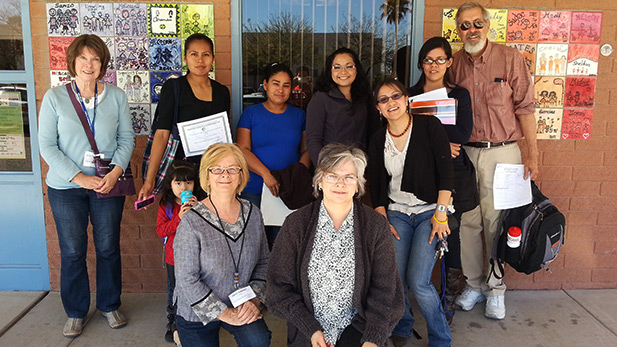 Juanita Zadroga, third to last on the right, with ELAA students and tutors. Photo courtesy of Juanita Zadroga.
"We consider ourselves to be the frontline, full access, out in the community where the people are," said Jennifer Stanowski, director of ELAA. "There are other programs that do ESL or language, Pima (Community) College adult education is one of the big providers, but students who go there do have to have documentation and go through some standardized testing..."
At ELAA, students can attend classes freely. There are no barriers.
"We compliment the other services that are here in town," she said.
ELAA has a partnership with libraries around Tucson to host classes several days a week at various times of day. Currently, there are nearly 50 classes at more than 10 library branches. Last year, more than 1,000 people from 45 countries benefited from the courses, which are taught at three different levels: beginner, intermediate and advanced.
Kathy Zuodar, who recently moved from Chicago, leads an intermediate class every Monday and Wednesday at the Woods Memorial Branch Library. She, like the other 60 to 70 ELAA tutors, is a volunteer.
"If you can't communicate, your world has to be pretty small," Zuodar said after gathering notebooks and handouts following one of her Wednesday classes. "People, their lives get easier, worlds get bigger...they can shop anywhere they want, they can go to any doctor they want when they learn English. They feel a lot better about themselves."
The ELAA classes vary in sizes. Zuodar's has about 10 students. Their ages range from early 20s to late 70s. Some recently made it to American soil, others have been here for decades.
"This class improved my self-confidence..." said Leila Mahmoudi, who is a young woman from Iran. She is here hoping to eventually start studying at the University of Arizona. Mahmoudi has been in the ELAA program for about a month.
There is also Fernando Duarte, a native of Chihuahua, Mexico, who is here while his wife gets a doctorate degree at the UA. He's been in the U.S. for one year.
Aside from learning English, "My favorite part is that I know a person from different countries...for example, Leila is from Iran and she speaks Persian and I speak Spanish, and we are studying English, here we can speak and I have the opportunity to know her," he said.
Both Stanowski and Zuodar said, in the classroom, immigrants and refugees can fight off a sense of isolation.
Stanowski said the classes help build bridges between people, who may otherwise not have the opportunity to get to know each other. And that camaraderie makes it easier to absorb what they are being taught.
"So many of our students say, 'This is the one place where I can relax and learn English and practice my English without feeling embarrassed or feeling scared,'" Stanowski said. "It is so much more than just the language. It is developing the comfort and the knowledge around surviving and thriving in our community."
The classes don't have a set curriculum. The content is based on what the students express they need: How to communicate with their doctors, how to speak to their children's teachers, or how to fill out a job application.
Stanowski said many refugee programs lack that type of help.
"To meet the need is kind of the goal," she said. "Right now, we are trying to see where are the gaps, where are the biggest gaps to services for immigrants and refugees around language."
Many of the students move on to take college courses or get better jobs.
Zadroga is now a teacher's aide in an ELAA beginner class. She also helps Literacy Connects with some accounting work, which is one of her passions.
And, at the end of October, she was the student speaker at Literacy Connects' annual fundraising event, Everybody Wins, giving a speech to a ballroom full of people.
Memories of her life in southern Mexico bring melancholy. But when she reflects on what she has been able to accomplish in less than two years, Zadroga's dark brown eyes light up.
"Learn the language and you are going to leave your fears and you are going to have many opportunities…" she said. "For me it was being ambitious, because I wanted to speak out my experiences and help other people and also be part of the community…not always be in prison because I don't have the skills to learn or speak another language…"
As Tucson's immigrant and refugee population grows, Stanowski said Literacy Connects hopes to get more volunteer tutors and expand the English classes to every corner of Tucson so that no one is left behind.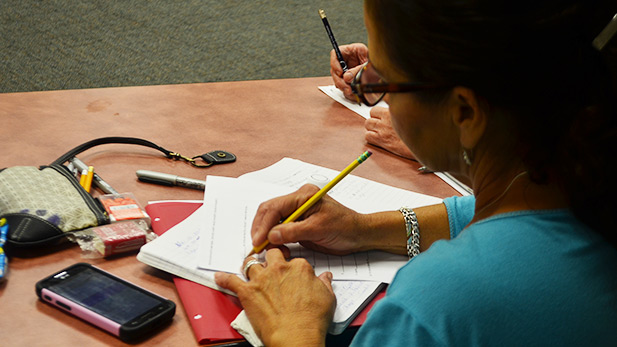 Maria Inés Taracena, AZPM