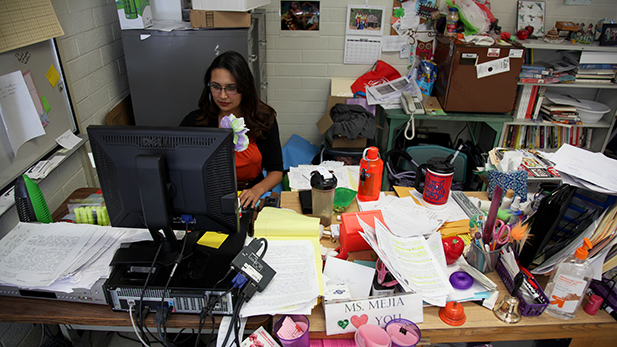 Jessica Mejia stays after school to fulfill state's request for documents from Culturally Relevant Classes.

Fernanda Echavarri, AZPM
Listen
Jessica Mejia teaches history at Pueblo High School and unlike other teachers in the history department, she has to submit every lesson plan, assignment and class reading to the state.
That's because she teaches government and American history with Mexican American viewpoints, two culturally relevant courses in the Tucson Unified School District that the Arizona Department of Education is monitoring closely.
"I'm doing way more work than any of the other teachers especially within the history department," Mejia said. "We're covering the same topics and I'm the one that has to turn in all the work."
Last month Diane Douglas, the state superintendent of public instruction, said despite the previous school chief's complaints, TUSD's ethnic studies curriculum is not illegal.

"However the department remains deeply concerned that some TUSD teachers are not following the curricula for the ethnic studies classes, and while TUSD has clearly corrected a few situations, there is still work to be done," Douglas said.
Because some teachers were deviating from the accepted curriculum while in the classroom, she ordered that all teachers of culturally relevant classes submit detail paperwork of what they teach and how.
For Mejia that means arriving at Pueblo an hour before school starts and staying at least an hour after school to work with students and compile the documents required by the state. And if she doesn't finish at school, the work goes home with her.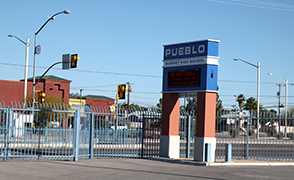 TUSD's Pueblo High School

Fernanda Echavarri, AZPM
During spring break, Mejia worked at least 15 hours on documents for the ADE, she said. The district had to call in a substitute teacher for Mejia recently so she could take a Tuesday off and finish compiling all the information required by the state.
TUSD Superintendent H.T. Sanchez said district administrators and the legal department are also involved in making sure the documents from classes in Mexican American and African American studies are turned in to the state in time.
"I'm not complaining about it, it's additional work we will pay additional money for that," Sanchez said. "With the state wanting to have more ethnic studies-centric type of curriculum that honors contributions from all ethnicities, our staff is looking at it as an opportunity to begin creating that kind of work but I do know it's taxing on our teachers."

TUSD teachers are also creating new content for culturally relevant classes that is in compliance with state law, something Sanchez said will be beneficial in the long run.
Officials with the department of education have visited Mejia's classroom a few times in the last three months, but she has not received much feedback she said.
The state's strict supervision of the way teachers are implementing the ethnic studies curriculum is expected to continue until the end of the academic year in May, said Sally Stewart, a spokeswoman with the Arizona Department of Education.
In response to how taxing this is on teachers she said "Yes, the first year of creating lesson plans that are compliant is more stressful, but once established, future years will be much easier."
Look below for timeline of Tucson Unified School District's Mexican American Studies