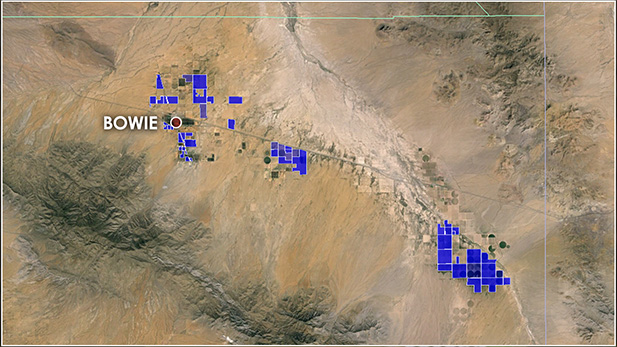 According to public records from the Cochise County Assessor's Office, Mark Cook and the Heuler family have purchased 11,474 acres since 2010 (light blue). Arizona Department of Land Records show they lease another 1,750 acres (dark blue).
Part 1: Bowie nut farming.
Listen:
Jeramy Terry moved to Bowie last August and had been in town a couple of weeks when wells went dry.
"Running water is definitely something you take for granted," Terry said. "It's a conscious thought that you don't have back in the cities."
Terry was among the fortunate. He lives on an old cotton farm that has its own well.
About 500 people in Bowie were not so lucky. Those who use the area's municipal water system saw their taps stop running. The problem started when one of the town's two wells stopped drawing water.
"And then we noticed that within three to four days, No. 1 Well started acting up," said Dan Oneal, Bowie Water Improvement District business manager.
It took three days and almost all of Bowie Water's emergency funds to get No. 1 Well back online.
"We extended it 60 feet, and then we got water," he said.
The second well still isn't pumping and needs $80,000 worth of work.
Water levels in the aquifers under Bowie have been dropping for 17 years. An Arizona Department of Water Resources monitoring station shows levels held steady through the 1980s and into the 1990s. Measurements stayed between 96 and 100 feet below the surface.
But at the end of 1998, levels dropped below 100 feet, where they have stayed ever since.
The most recent measurement, taken in December, showed a reading around 113 feet below surface.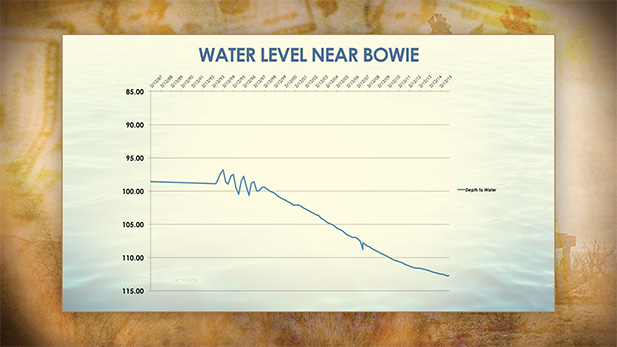 Water levels from an Arizona Department of Water Resources monitoring station east of Bowie.
It is not hard to find people in town who think they know what is causing the problem.
"The shortage, of course, won't go away for several reasons," Bowie resident Daniel Knight said. "One being all the planting that they're doing, and the other being there just isn't that much water in the desert."
Bowie is surrounded by farmland, and the fields in the area are seeing a boom in pecan and pistachio tree plantings. Some say many of the newly arrived farmers do not have sustainability in mind.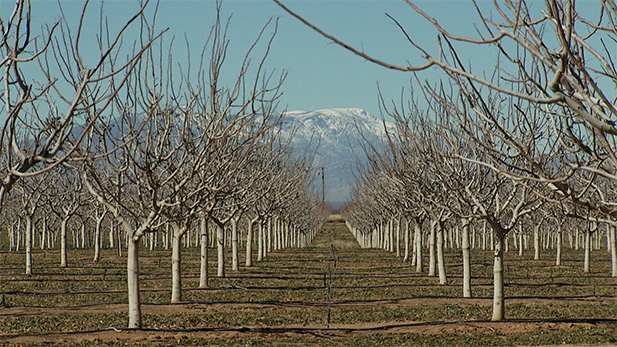 Young pistachio trees planted in 2010 by Mark Cook's company North Bowie Farming. The trees were planted in 2010 and are nearing maturity. Cook said if planting is not done wisely, water will become too expensive and farming will no longer be economically viable in the area.

Steve Riggs
"That group of people will not have to face the consequences of over-developing property because they are simply not going to be here in 20 years," said Mark Cook, a second-generation nut farmer in Bowie.
Cook has partnered with a family of California nut farmers, and together they have bought nearly 12,000 acres in Cochise County. He estimated half of it is in the Bowie area.
Cook said much of that land will never be planted. His group intends to keep it fallow to save the water for the operation's other property.
"Our group has about 2,500 acres sitting vacant here around Bowie, simply because we don't believe it can be supported for 50, 60, 70 years, as we'd like it to be."
Pecan and pistachio trees can outlive a human, and Cook hopes the trees he has planted will be producing when his land is handed down to future generations. To accomplish that goal, he and his partners buy land so no one else can plant on it.
"We're trying to develop something that we can hand to our grandkids, and that right there, simply put, may be the answer," he said.
But Cook can only control the acres he buys or leases from the government. That means large pieces of land are still available to other farmers, he acknowledged, and they may not be so water conscious.
Cook said as long as those practices continue, aquifers in the area will continue to drop.
That means wells will have to go deeper.
Bowie Water spent most of its $10,000 emergency fund to get one well functional, but improvements and repairs on the other will cost much more.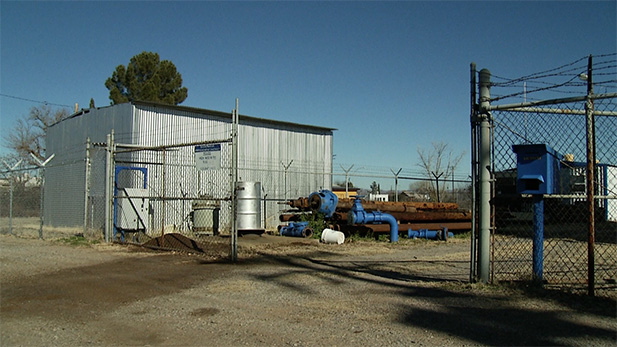 The long pipes that would normally pull water from the ground as a part of Bowie's Well Number Two lay on their side next to the deep hole. The Bowie Water Improvement District estimates it will cost $80,000 to get the well back up and running.

Steve Riggs
Estimates are in the range of $80,000, water manager Oneal said. The company brings in about $7,000 a month, and almost all of that is used for day-to-day operations.
That leaves water Oneal looking for other ways to pay for needed improvements.
"We're trying to research and find some grants that we can get a hold of, or someone that's got some big pockets that would like to give us a little money and help us," he said.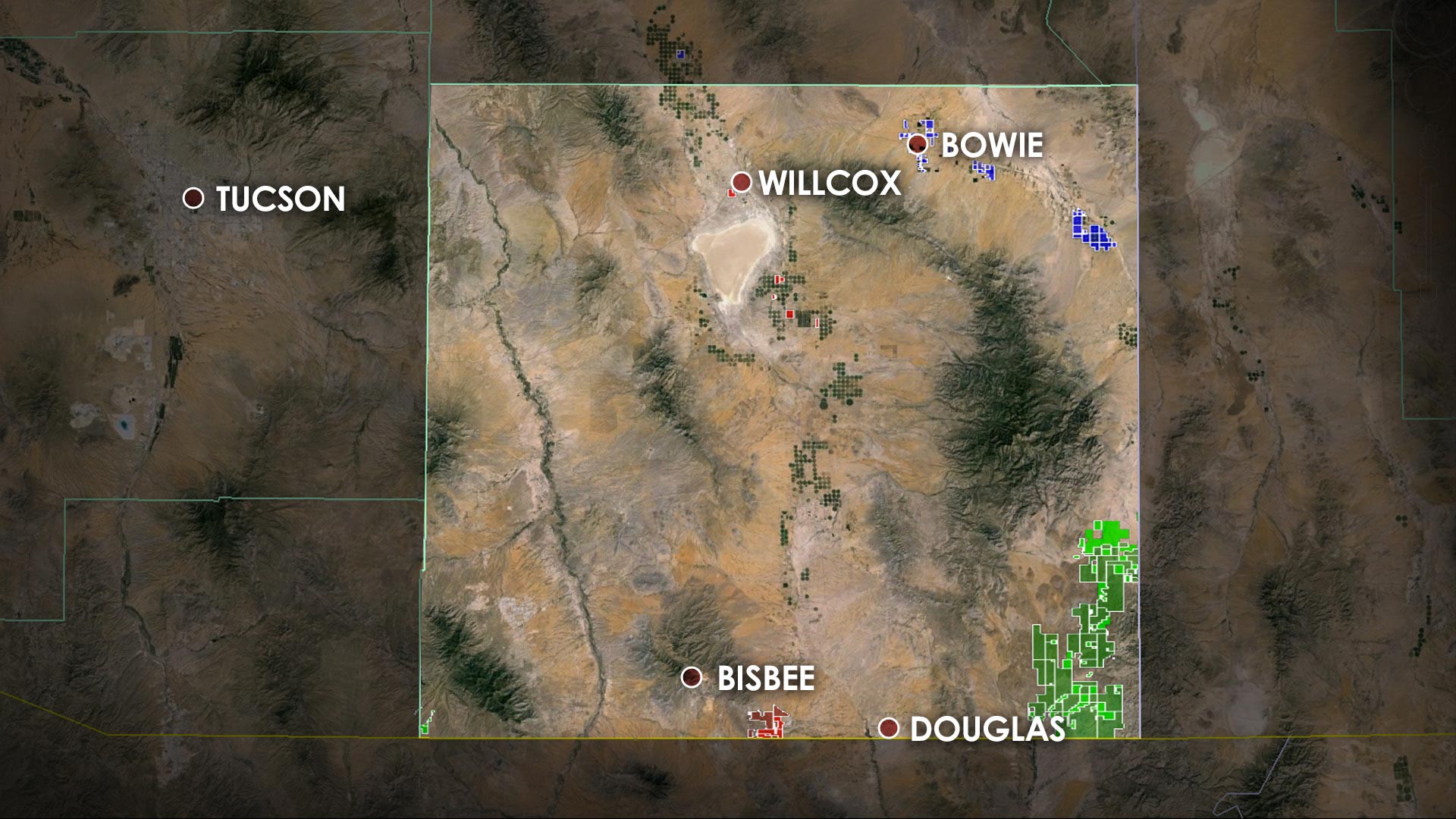 VIEW LARGER Three groups have purchased large portions of land in Cochise County since 2010. They include Mark Cook, a long-established pecan and pistachio farmer working with a California nut grower (blue); Howard G. Buffett, the son of billionaire Warren Buffett (red); and Stan Kroenke, a land and professional sports mogul (green).

AZPM Staff
And if recent farming expansions continue to draw groundwater faster than nature replenishes it, Bowie and other Cochise County communities will continue struggling to sustain their water supplies.
Wednesday - Part 2: For Sale in Cochise County: An interview with Howard G. Buffett, son of billionaire Warren Buffett, who has bought almost 4,000 acres near Willcox.
The map on the right shows land held by three groups in Cochise County. They include Mark Cook, a long-established pecan and pistachio farmer working with a California nut grower (blue); Howard G. Buffett, the son of billionaire Warren Buffett (red); and Stan Kroenke, a professional sports mogul (green).