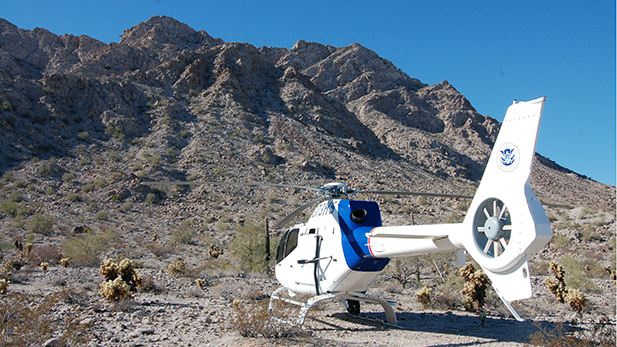 An Air and Marine EC-120B helicopter rests in Sunday Pass in Arizona's southwest desert, in 2009.

Courtesy of U.S. Customs and Border Protection
By Michel Marizco, Fronteras Desk
There's no visible trail along this hard slope scrabbled out of granite and sharp edges that slice. Boulders perch on smaller rocks and look as if they haven't been disturbed in millennia — until they slide crashing down the mountain.
The West Desert is among the most haunting and unforgiving of regions in Arizona. The nearest highway is State Route 85 running from Ajo down to Mexico, a faint silvery band quivering in the sun. And perhaps, because of that desolation, someone has been perched here, 1,000 feet high in the mountains, watching the movements of federal agents roaming the desert below.
Agent Paul is a tracker with the U.S. Border Patrol's Operation Waypoint, a mountain scout interdiction team based in Ajo. He asked we not use his full name for security concerns. He digs through the remnants of a campsite, roughly 800 feet above the desert.
"Socks, some of the trash, the lids, the hot sauce. Pots and pans they use to cook. Here's some carpet booties. They use these to hide their foot sign when they cross the open expanses in the soft terrain," he said as he fingered a pair of blue and white moccasins in a gloved hand.
This campsite is only about halfway up the mountain. The agent continues upward now through black lava and slippery quartz. It's a favorite place for what agents here call spotters, and what are known in popular slang in Mexico as halcones, or falcons.
"Right there is Montezuma's Head, right there is Ajo Range. There's nothing you really can't see here," Agent Paul said.
For years, Agent Paul and the Border Patrol's Tucson Sector were plagued by these mountain scouts radioing down agent's positions to their envoys moving migrants and dope across the border — as quick and elusive as their bird of prey namesake.
But then one day in November 2014, Agent Paul got a break when he spotted a pair of heads shifting on a mountaintop.
"So I talked to the pilot. The pilots said, 'Yeah, I'll try.' I said, "There's probably not a place to land. You might just be able to put one skid down, us jump out.'"
The pilot landed one chopper skid on a boulder and Agent Paul and his partner stepped off onto the mountaintop. They caught two men; his partner chased a third.
"There was a little cave real close to me. I saw a lot of trash. I found a pair of binos, found couple phones, some solar panels, I think there was one or two radios," he said.
Evidence photos show the men wearing camouflage; they had a rifle, a jug of water, food and at least 10 radios and cellphones. One of the men they arrested was Abelardo Niebla Torres. Agent Vicente Paco had encountered Niebla Torres two years before.
"What they were doing was they were dropping them off along with supplies and other individuals to scout this location," Paco said.
Prosecutors were able to tie that previous case to this one and used it to prove Niebla Torres was scouting out safe passage for drug traffickers.
"It wasn't a coincidence that he was on a mountaintop. A prior arrest showed that he was doing similar things," Paco said. He testified about that previous arrest in court.
"He was arrested in the same circumstances. He was arrested with gear that was used at the time and now for scouting activity. He was arrested with supplies. He was arrested with solar panels. He was arrested with sleeping bags," he said.
Since then, prosecutors have brought cases against about 80 of these scouts in the Tucson Sector. Niebla Torres was found guilty of conspiracy last year. Rosemarie Valdez represented him in court.
"The government is basically prosecuting these individuals that are found in caves or on mountaintops because of what they allege is scouting equipment despite the lack of evidence they were actually part of a conspiracy," Valdez said.
Valdez filed an appeal and that's currently being heard in the Ninth Circuit Court of Appeals.
"I've actually taken this issue on by myself because I find it so disturbing that the government is going down this route. For me it really starts a slippery route," Valdez said.
Back up on that mountaintop, Agent Paul is readying for what he anticipates will be more scouts, maybe the one who left this frying pan behind. The marijuana harvest season starts in October in Mexico.
And after his arrest of Niebla Torres, he's optimistic.
"If you can take away the scout, you basically level the playing field."